Dead trees are readily visible while driving U.S. 264 near the intersection with U.S. 64 in the Alligator River National Wildlife Refuge. These ghost forests are visible signs of climate change. Video: Corinne Saunders
EAST LAKE—The signs are written on the trees.
Dead trees.
Groups of what scientists call "ghost forests" bear witness to climate change, a reality that can be observed by driving U.S. 64 or U.S. 264 through the Alligator River National Wildlife Refuge.
Stark light trunks and barren branches sharply contrast with remaining green trees. The dead trees line ditches and canals throughout the refuge, pointing to a swiftly changing landscape.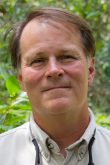 "It's dramatic," said Scott Lanier, manager of the Alligator River and Pea Island wildlife refuges.
Lanier was one of three original Alligator River personnel when the U.S. Fish and Wildlife Service began staffing the refuge in 1985 following its acquisition in 1984. Lanier stayed at the Alligator River and Pea Island refuges until 1991, then returned in 2006. He's noticed a loss of refuge land from climate change.
"More land has become inundated," Lanier said. Certain places where he once was able to walk are now underwater. The Alligator River refuge "is at a low elevation to begin with, so it displays the effects of sea level rise and saltwater intrusion pretty readily."
As global warming has led to sea level rise, saltwater has increasingly come farther into the refuge and stayed longer than in the past.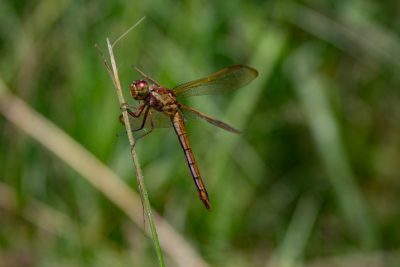 The habitat changes are the most noticeable, Lanier said. Some marshy places have become open water; areas that were previously "shrub/scrub habitat" are transitioning to marsh; and some forests adjacent to water bodies have started turning into shrub/scrub habitat as trees die from prolonged exposure to saltwater.
"You get these wholesale changes, and it's happening at a rapid pace," Lanier said. "You can notice those differences in 30 years."
The pond pines found in the refuge can tolerate wetter ground than the more familiar loblolly pines, but even pond pines can't handle too much saltwater, he said. Older pond pines have died off along with members of other tree species, contributing to the ghost forests.
Saltwater intrusion, drier land and forest fires
The Alligator River refuge covers about 160,000 acres on the Albemarle-Pamlico Peninsula in mainland Dare and Hyde counties. The refuge is bordered by the Albemarle Sound to the north, the Croatan Sound to the east and the Pamlico Sound to the south. The Alligator River — for which the refuge is named — cuts deeply into the western part of the land.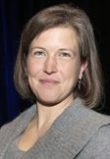 Emily Bernhardt, a Duke University professor, is leading a team of students who are studying the exact amount of land loss that sea level rise is causing and the habitat changes saltwater intrusion has prompted, Lanier said.
Bernhardt and two scientists from North Carolina State University spoke in a 10-minute video titled, "The Seeds of Ghost Forests," which was published in May at sciencefriday.com.
Bernhardt explained that commercial farmers wanted to keep the land dry enough to grow corn, soybeans and other crops, so from the 1960s through the '80s, they drained large swaths of forested wetlands with man-made canals and ditches. "Even though they were made to drain water off, they can do opposite," she stated. "You can have storms that can push saltwater deep into the interior."
Climate change causes more extreme weather patterns, such as stronger storms and more intense droughts. When droughts occur, the sounds get saltier, "in part because they're evaporating and in part because they're not getting fresh water off the landscape," Bernhardt said in the video. This, like sea level rise, intensifies saltwater intrusion.
"The thing that's actually happening is that salt is getting into a landscape and killing individual organisms, be they trees or microbes — so it's actually happening at a very granular scale," she said.
"The thing that's actually happening is that salt is getting into a landscape and killing individual organisms, be they trees or microbes—so it's actually happening at a very granular scale."

— Emily Bernhardt, Duke University
Drier land also contributes to the potential for raging forest fires.
These are different than the prescribed burning the Fish and Wildlife Service does about once a year on the Alligator River and Pea Island refuges. "Fire is a part of the life history of these pocosin forests," Lanier said, and the habitats in the refuge need fires at different intervals.
But when people drain the forests, "fires can be catastrophic then."
This has been seen already.
In 2011, the Pains Bay wildfire burned more than 45,000 acres, partly on southeastern refuge land and partly on the East Coast's most active bombing range, which is located in the middle of the refuge, Lanier said. The fire shut down all operations on the bombing range, which the U.S. Air Force owns and the U.S. Navy also uses.
"It actually took Hurricane Irene to finally put it out," Lanier recalled. "We ran into a period of drought and the peat soils were drained, water tables were low … we had a lightning strike and away (the fire) went."
Contrast that with a fire prior to 2011, when a lightning strike set off a blaze in the refuge that burned out naturally after consuming 300 acres at most, Lanier said. "It behaved the way a pocosin fire should behave in a natural area."
That's because it was in the refuge's most natural area, meaning it wasn't ever ditched or drained, he said, noting the importance of restoring the refuge's hydrology.
Pocosin is an Algonquin word for "swamp on a hill," Lanier said. The pocosin forests have deep peat deposits — soils made of thick, decomposed plant matter built up over thousands of years that store huge amounts of carbon.
"Carbon contributes to global warming," Debbie Crane, communications director for The Nature Conservancy, said in an email. "Peat soil is about 50 percent carbon."
When the soil is dry, it emits carbon into the atmosphere, she explained. Rewetting the soil to restore the natural water patterns not only prevents that, but also prevents large-scale, damaging wildfires, which emit even more carbon.
A recent fire in the refuge, sparked by a lightning strike on July 3, sent a thick smoke cloud over much of Dare County and even the southern end of Currituck County.
The fire burned 160 acres until it was officially put out on July 10, according to Lanier. "It is normal for the refuge to experience natural-caused fires such as this when we go through dry periods," he said. "All of the weather indices that we monitor were pointing to a high probability of a fire."
Planning ahead
The Nature Conservancy was instrumental in helping the Fish and Wildlife Service acquire the refuge initially and remains a consistent partner.
"We know as the sea continues rising, that place out there is not only going to change, but we can potentially lose a good part of it."

— Scott Lanier, Manager, Alligator River and Pea Island National Wildlife Refuges.
The service, The Nature Conservancy and other conservationists are working with state agencies and any individuals interested in preserving wildlife to acquire lands located immediately west, and then farther west of the current refuge.
"We know as the sea continues rising, that place out there is not only going to change, but we can potentially lose a good part of it," Lanier said. "We want to create corridors to link together, so as the sea rises, wildlife has a place to go."
The refuge is home to a vast array of animals, including American alligators, neotropical migrant bird species, the endangered red-cockaded woodpeckers and red wolves, "one of the most endangered mammals in the world," Lanier noted.
It's also home to one of the largest American black bear populations in the eastern U.S. "We probably have one bear per about 4 square miles," Lanier said. Four square miles is 2,560 acres, so that's more than 60 bears.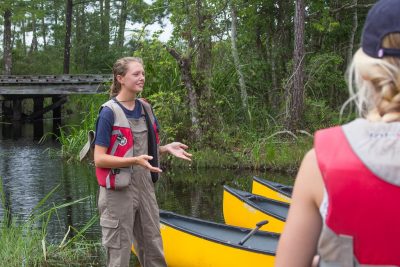 In the meantime, The Nature Conservancy helped design and install six water control structures and four ditch plugs in recent years. The water control structures allow water to drain off the refuge at a more natural rate and also prevent saltwater intrusion from taking place on "wind tides," when a strong, steady wind pushes the sound up into the refuge. "When you have a hurricane, all bets are off," Lanier noted.
Also, to help minimize the effects of wind tides and erosion caused from higher sound water levels, The Nature Conservancy built 1,400 feet of oyster reef on the refuge around Point Peter Road. That project began in 2010 and wrapped up earlier this year, Crane said.
The conservancy and refuge also partnered to help restore hydrology in the 40,000-acre bombing range. The Air Force uses the range for target practice, and although the bombs pilots drop are inert, "because of the kinetic energy when dropping them, it can still cause fires," Lanier said.
He and other refuge employees hope that by experiencing the beauty of the refuge, people will realize its importance and want to help preserve it. Canoe tours are offered several days a week during the summer at a cost.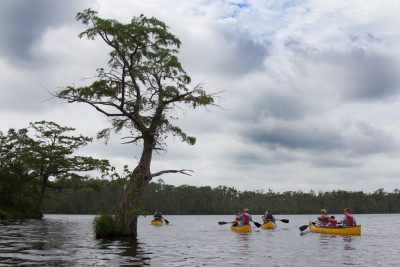 Dani Canning, a refuge summer intern, led a tour on July 18. She gave a brief overview of the refuge's wildlife and explained how the refuge was typically the northernmost range for alligators, but with warming temperatures, they've recently been seen closer to the Virginia line.
Jasmine Paesmans participated in the tour with her husband Patrick Randour and their three daughters. They're from Belgium, so she enjoyed the different scenery and was excited to spot a small green snake in the water while paddling.
"We don't have this kind of park in Belgium; it's too small," Paesmans said. Their family and friends, also from Belgium, planned to hike a trail in the refuge immediately after the canoe tour.
"These pocosin wetlands offer incredible ecosystem services," Lanier said. "They help with being a buffer with large storms like hurricanes, serve as filters for water and preserve water quality."