Updated 3 p.m. July 18 with comments from Division of Coastal Management
DARE COUNTY — The Navy says its plan to permanently fill 30 acres of wetlands at the Dare County Bombing Range will have no significant effect on the environment.
Coastal environmental advocates said Wednesday they were unaware of the Navy's plan.
According to an environmental assessment the Navy released Tuesday, the filling "will not significantly affect the quality of the human environment or natural environment or generate significant controversy." The Alligator River National Wildlife Refuge surrounds the range.
The Navy said the project was needed to "continue to provide realistic training scenarios and complete maintenance operations while enhancing range personnel safety and increasing operational range clearance capabilities." The Dare County Bombing Range is about 46,000 acres and the closest training range for pilots from Naval Air Station Oceana and Naval Station Norfolk.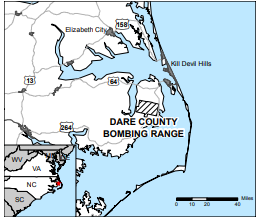 The Navy said its review was conducted according to National Environmental Policy Act, or NEPA, requirements and Navy regulations.
The Navy is to seek to mitigate the wetlands damage by purchasing wetland credits in the same watershed as the bombing range. The Navy will have to get a permit under Section 404 of the Clean Water Act and a state certification under Section 401 before construction.
The Navy operates the northern portion of the range under an agreement with the Air Force, which uses the southern portion.
Patricia Smith, public information officer for the Division of Coastal Management, told Coastal Review Online Thursday that DCM received the negative determination from the Navy in February and reviewed the project.
"DCM concluded its review and agreed to the negative determination in April because the proposed activity occurs entirely federal property and off-site impacts are not anticipated," she said. DCM referred the Navy to the Division of Water Resources state certification process because authorization may be required.
Learn More