Reprinted from Island Free Press
BUXTON — National Weather Service and Dare County representatives met Tuesday with the about 40 attendees to discuss hurricane preparation steps and online forecasting tools at a Hurricane Community Forum.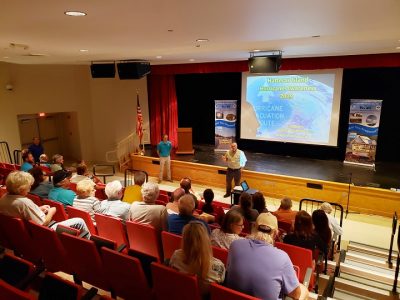 The forum was one of two held on the Outer Banks, with the first was in Kill Devil Hills on July 8.
Meteorologist Carl Barnes of the service's Newport-Morehead City office focused on the importance of paying attention to flooding and storm surge impacts, as opposed to the category of the storm.
"I won't say which one, but we stopped at a tackle store on the way here, and the people there told us what category of storm they evacuated for," said Barnes. "It was hard to hear … If you're deciding not to evacuate based on that category number – (which gauges) the wind – you're missing a huge portion of the threat."
The importance of focusing on storm surge and flooding as opposed to the category of the storm was reiterated several times during the presentation, with Barnes noting that half of all storm-related fatalities in the past 50 years were related to storm surge, and a quarter of all fatalities were because of rain flooding. "That's 75% of all fatalities related to water – not wind," he said.
He also stated that in the past few years, all storm fatalities were related to water, and outlined several examples of when a lower-category storm caused significant damage. "It's not about the category – it's about the impacts," he said.
Barnes touched on the interactive storm surge/flooding maps introduced during Hurricane Arthur in 2014, which have been revised and upgraded in the years since to provide more accurate details on the threat of flooding by neighborhood.
"These graphics show what to prepare for," said Barnes. "If 2 feet of flooding is likely, we might say there could be 3 to 4 feet, because the slightest deviation can change everything."
Barnes also discussed the importance of avoiding flooded roads, using a road in Hookerton in Greene County during Matthew as an example. In before and after images, the road appeared flooded during the storm, but once the water receded, it was evident that the road had been washed away, leaving a deep hole behind.
Dare County Emergency Manager Drew Pearson stressed to the crowd the importance of creating an evacuation plan before any storms are on the horizon and outlined seven steps of creating a preparation plan, which included determining where to go, securing an insurance check-up, and assembling disaster supplies well in advance.
He also shared other tips, which included contacting Dare County Social Services in advance if a resident had special needs, or was aware of someone who would require extra assistance during the storm.
He also stressed the importance of knowing valuable sources for information such as on the ReadyNC app which provides storm-related information, as well as the relatively new flood gauges which are stationed throughout Hatteras Island and record flooding in real-time during a storm.
Pearson recommended using Dare County Emergency Management's new alerts system. By signing up for text, email, or over-the-phone alerts, the public is notified of any time-sensitive and essential information during an emergency.
Learn More
This story is provided courtesy of the Island Free Press, a digital newspaper covering Hatteras and Ocracoke islands. Coastal Review Online is partnering with the Free Press to provide readers with more environmental and lifestyle stories of interest along our coast.