This story has been updated.
RALEIGH — In a unanimous vote Monday, the state Senate approved a bill that will give Beaufort jurisdiction over its neighboring waterways and part of the Rachel Carson Reserve.
House Bill 204, "An Act Adding Certain Described Navigable Waters And The Unincorporated Portion Of The Rachel Carson Reserve To The Corporate Limits Of The Town Of Beaufort," passed the House 110-1 in April before it headed to the Senate.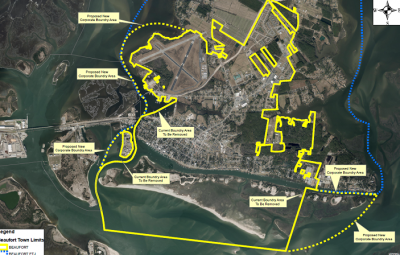 Currently, the town's jurisdiction does not include the Gallants Channel area and the east end of Taylors Creek, areas that affect water quality in town, Mayor Rett Newton told Coastal Review Online.
He said that the bill "Extends Beaufort's jurisdiction north to Gallants Channel and the east portion of Taylors Creek, to include the east end of Carrot Island on the Rachel Carson Reserve. This action will increase safety and allow town enforcement to include decreasing gray and black water discharge and resolving issues associated with abandoned and derelict vessels."
The 2,315-acre Rachel Carson Reserve is a state-owned nature preserve across Taylors Creek from the historic town of Beaufort and is made up of several undeveloped islands that are home to wildlife, including wild horses. The reserve is one of 10 protected sites of the North Carolina Coastal Reserve & National Estuarine Research Reserve, a program of the state Department of Environmental Quality's Division of Coastal Management.
"Beaufort town staff worked closely with Rep. McElraft and Sen. Sanderson to work on this initiative. We greatly appreciate their support," Newton added of the Carteret and Pamlico county, respectively, Republicans.
Because Beaufort is striving to be a leader in the state as a clean water coastal community, the bill is a "natural extension of Beaufort's navigable waters ordinance enacted after Hurricane Florence," Newton said.
The town passed the
 Navigable Waters Ordinance
during its September 2018 regular meeting.
"The ordinance resulted in swift action after the storm to remove 11 derelict vessels, over 120,000 pounds of debris, 34 illegal moorings, and seven car tires from Beaufort waterways and adjacent habitat," Newton said. "This massive effort was supported by a $67,000 NOAA marine debris grant that had been approved  before Hurricane Florence."
A provision in a previous version of the bill would have given Atlantic Beach, Bogue, Cape Carteret, Cedar Point, Emerald Isle, Indian Beach, Morehead City, Newport, Peletier and Pine Knoll Shores authorization to regulate navigable waters within its boundaries.
Because it's a local bill, it becomes law when both the Senate pro tem and House speaker's signatures are affixed. Local acts, which affect 15 or fewer counties, do not go before the governor and are not subject to a veto, as per NC Const., Art II, Section 22(6).