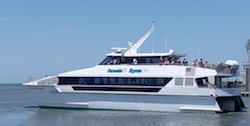 HATTERAS –Reservations can be made to travel aboard the Ocracoke Express passenger ferry, which began its first day serving travelers Monday, the state Department of Transportation announced Thursday.
Reservations are now being accepted through June 15 and can be made at www.ncferry.org and or by calling 800-BY-FERRY. Walk-up reservations will still be accepted as long as space is available. Introductory fares are $2 for a round trip, with children 3 and under free. There is no additional charge for bicycles.
The Ocracoke Express currently departs Hatteras at 9 a.m., 1 p.m., and 5 p.m., and leaves Ocracoke at 11 a.m., 3 p.m., and 7 p.m. The passenger ferry will run seven days a week through Sept. 5.
A free tram service is available to carry visitors around Ocracoke Village, as well as bikes and golf cart rentals
Over the course of the three days since the ferry began operating, Ocracoke Express shuttled 1,021 passengers on the 70-minute trip between Hatteras and Ocracoke Village, according to the release.
The division is leasing the ferry, the M/V Martha's Vineyard Express, from the New Jersey-based ferry company Seastreak Marine. The 102-day rental of the propeller-driven, two-deck catamaran-style aluminum boat built in 2005 that will seat 147-seat will cost $867,000, not including fuel, according to a previous report.
Before the North Carolina Department of Transportation moved to lease the passenger ferry, the division was having a new vessel built by Armstrong Marine Inc. in Swansboro, which is now U.S. Workboats. The company was awarded in 2017 a $4.15 million contract to build an aluminum, catamaran-style ferry but there were several construction delays, including a full stop in February prompted mainly by concerns over its aluminum welds. The company resumed building March 25 but could not perform welds without the presence of the quality assurance specialist.
For more information, go to www.ncferry.org and click on "Ocracoke Express.
Learn More