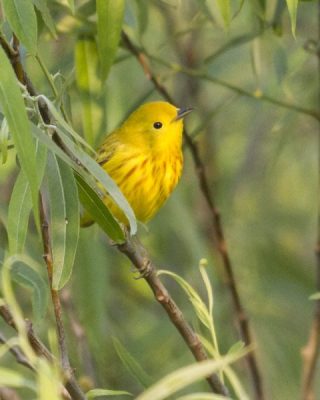 Reprinted from Outer Banks Voice
Spring birding on the Outer Banks is awesome in May. Our summer breeders have already arrived and are in place, defending territories, building nests and raising young.
A good variety of beautiful, migrating songbirds, headed north, are flying through. Many will pass to the west of us, some will fly over us, but good numbers representing a great variety should drop in for refueling. These are the ones we're after.
One of the best things about spring migration, in comparison to fall migration, is that the birds, whether songbirds, shorebirds or wading birds, are in their most beautiful plumage.
Unlike during fall migration, indigo buntings are actually indigo, scarlet tanagers are actually scarlet, red knots are actually red and black-bellied plovers actually have a black belly.
An early May morning venture into an Outer Banks forest has the potential to produce a long list of feathered jewels: warblers, vireos and flycatchers, with an occasional cuckoo, oriole, tanager, bunting, grosbeak or thrush mixed in.
Wood-warblers are very popular among most birders. In addition to the 12 species that breed in Dare County, plus lingering yellow-rumped and palm warblers, look for the other regularly occurring warblers. Yellow warbler, pretty easy in open habitats with small, brushy trees, especially willows. Magnolia warbler, any wooded habitat, but not easy — listen for its song. Black-throated blue warbler, look in the forest understory. Blackpoll warbler, any wooded habitats — listen for the very high-pitched song. American redstart, usually dancing around high in the trees. Northern waterthrush, in damp woods near water or bobbing up and down on the ground next to the water.
More challenging warblers to hope for in spring include Cape May, Blackburnian and blue-winged warbler. Do you feel lucky? In the "very difficult" category are chestnut-sided, bay-breasted, cerulean, golden-winged, Tennessee, Nashville, and Canada warbler. Most of this last batch are "mountain birds."
Likely sites for migrant songbirds of all types include Buxton Woods, Bodie Island Woods, Nags Head Woods, Fort Raleigh and vicinity, Kitty Hawk Woods, the Duck boardwalk (edge habitat), and the Corolla Lighthouse area. Other possibilities include patches of woods in any of the southern villages, the woods of Southern Shores, and any wooded areas that are accessible from Sanderling to Corolla, especially those spots closest to Currituck Sound.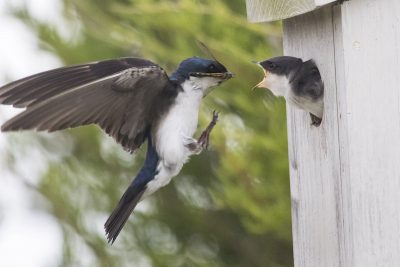 Open habitats near water are great places to look for purple martins and a variety of swallows. Tree swallows, bluish above and white underneath, nest in tree cavities and in birdhouses.
One dependable location is on the Coastal Studies Institute's campus in Wanchese, where several pairs compete with the bluebirds for the boxes. Barn swallows, nesting under bridges, piers and boat docks, as well as in barns, are colorful with a red throat, cinnamon underparts, and a beautiful, long, forked tail. These common birds are wonderful acrobats and amazing to watch as they hunt aerial insects.
Brown and white northern rough-winged swallows, with their distinctive buzzy calls, nest in holes in cliff banks. Bank swallows, challenging to find, are similar to rough-wings but are smaller and have a brown breast band. They have been spotted in recent years in the Buxton campground area and in the Whalehead Club area in Corolla.
Cliff Swallows, with a dark red throat and a buffy rump, are very hard to find on the Outer Banks. They do not nest here yet but are expanding their range. They are nesting under the U.S. 17, Roanoke River bridge in Williamston, as well as under several bridges in the Greenville area.
May is a huge month for shorebird migration, and these birds are mostly in breeding plumage, too. Search the beaches, shorelines, inlets, impoundments and grassy fields for up to 35 or so species of plovers, sandpipers and other shorebirds.
Pea Island National Wildlife Refuge, with its sandy beaches, wet grassy areas, mudflats and shallow waters, is the most obvious place to look first. Bring a spotting scope, if possible, a good field guide and start early. Not only are the birds very active in the morning, but the light is awesome and disturbance from N.C. 12 traffic is minimal.
In the surf zone and on the dry ocean beaches, where traffic is usually not a problem, look for sanderling, willet, whimbrel, red knot, ruddy turnstone, American oystercatcher, black-bellied plover, the rare Wilson's plover, semipalmated plover and piping plover. Many of the black-bellied plovers will have jet-black underparts — stunningly beautiful! If you spot a Wilson's plover, an irregular nester in our area, please report it to U.S. Fish and Wildlife. Please stay out of any posted nesting areas.
Along the sound edges on low tides, as well as in the impoundments, look for many of the same birds listed above, as well as many more species. You should certainly spot greater and lesser yellowlegs, ruddy turnstone, semipalmated and least sandpipers, Dunlin, short-billed dowitcher, black-necked stilt, American avocet, black-bellied plover, and semipalmated plover. Solitary, spotted and stilt Sandpipers and marbled godwits are fairly likely, too.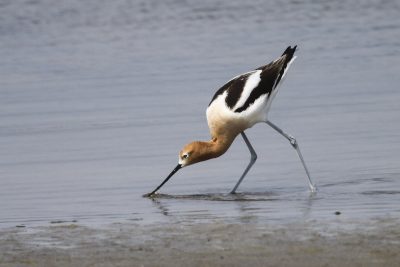 Several species of terns are possible in May. Best locations are along the beaches, especially near the inlets, as well as in the Pea Island impoundments, especially roosting on sand bars. Least terns, gull-billed terns, common terns and black skimmers are beginning to nest on the beaches, while royal and Sandwich terns are setting up house on some of the nearby spoil islands in the sound.
You may also see Forster's terns, black terns and (huge) Caspian terns on your birding forays. Black terns are very different from the rest; instead of plunging into the water, these small birds feed mostly on insects and other animal prey, usually plucked from the water's surface. An adult black tern is a very striking bird, almost entirely black and dark gray, they do have a white vent area.
In wooded Outer Banks back yards, the month of May provides you with good potential to see some of the migrant birds mentioned above. A good variety of native trees and shrubs will help tremendously, as will feeders and water features.
Migrant birds that will come to feeders include indigo buntings, rose-breasted grosbeaks and Baltimore orioles. Species attracted to water are — virtually all of them. Late afternoon until dusk are good times to sit quietly and watch the bird baths, and remember, moving water is best, by far.
Hope to see you in the field!