RALEIGH — The Senate will take another look at a controversial bill that would make wind energy development nearly impossible in much of eastern North Carolina, according to the bill's main sponsor.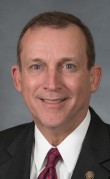 Sen. Harry Brown, R-Onslow, said he plans to bring back Senate Bill 377, the Military Base Protections Act, which did not pass ahead of this month's crossover deadline. Brown, one of the Senate's main budget writers, said he plans to get the legislation back before the Senate as early as this week, but would not do so through the budget process, as some observers had speculated.
Opposition to the bill in the Senate includes Sen. Erica Smith, D-Northampton, whose district lost out on a wind farm project due to the state-imposed 18-month moratorium that expired in December, and Sen. Bob Steinburg, R-Chowan, whose district includes the wind farm in Pasquotank and Perquimans counties commissioned by Amazon, which started operation in 2017.
Smith and Brown sparred two years ago over the wind energy moratorium that Brown championed. Brown said the state needed the time to work on maps of potential conflicts with military training and operations. Smith called the maps an unnecessary intervention in the process, but Brown, the Senate Majority Leader, succeeded in getting the moratorium through the House and Senate.
The map connected to the new bill, titled "Vertical Obstruction Impact on the NC Military Mission," was released earlier this year. In eastern North Carolina, it designates all but a sizable chunk in the state's far southeastern region and small sections near the coast of Pender and Currituck counties as "significant," meaning a high risk of conflicts with Department of Defense safety and training operations. Brown's legislation would put any area designated as significant off limits to wind energy facilities.
Opponents of the legislation say the map is far too restrictive given that wind energy projects already require a rigorous review process run by the Defense Department's Military Aviation and Installation Assurance Siting Clearinghouse.
In an interview last week, Brown said he's determined to push the legislation forward as soon as this week. Brown said he was considering changes to the bill, but didn't spell them out.
"We're looking at some things," Brown said. "The reason I slowed it down is I knew there was a lot of bad information being tossed around, most of it dealing with the clearinghouse."
He said the key point he's trying to make to Senate and House members is that an OK by the clearinghouse isn't a guarantee that wind energy project conflicts won't be detrimental in a future round of military base realignment and closures, or BRAC, process.
"I think we need to make it clear that what the clearinghouse decides to do still doesn't protect you from a BRAC," Brown said. "I think we've got the information we can share next week that will verify that's the case."
Meanwhile, Steinburg and others have been making the case against the use of the new map.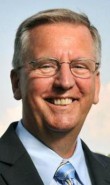 In an op-ed published May 14 in the Elizabeth City Daily Advance, Steinburg writes that the bill would prevent many of the state's most economically distressed counties from taking advantage of a potential major boost in their economies. He notes the bill as written violates private property rights and overrides a strict state permitting process and Defense Department reviews.
"Fortunately, there are protocols in place by the U.S. Department of Defense Clearing House that will make opposing Senate Bill 377 a no brainer for me," Steinburg writes in his op-ed, "the military's mission will be protected, personal property rights assured and free markets will continue to flourish in a part of the state in desperate need of further economic development."
In another op-ed published earlier this month by the Fayetteville Observer, David Kelly, senior manager of North Carolina political affairs for the Environmental Defense Fund, said Senate Bill 377 was misguided and would hurt poorer counties. He noted that Pasquotank and Perquimans counties had benefited greatly from the Amazon wind farm, which is the largest taxpayer in each county, by far.
"No elected official or piece of state legislation can guarantee our bases won't ever be subject to review. That's a fact of life our military communities face. But we can rest assured that wind energy has not and will not cause a base to be put at risk. The proposed wind ban, on the other hand, does guarantee that communities across eastern North Carolina will be deprived of the opportunity for substantial new economic investment," Kelly writes.
The bill's supporters say they also intend to press their case.
Last week, Sen. Jim Perry, R-Lenoir, announced that he had confirmation from clearinghouse director Ronald Tickle, that clearinghouse approval does not protect a base from closure.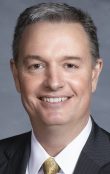 A statement Perry released quotes Tickle as saying "Our Clearinghouse reviews do not explicitly address a potential future (base closure proceeding). We assess proposed wind farms based on current and reasonably foreseeable missions. Therefore, your statement is correct."
Perry, whom Brown said, would take the lead on the wind energy legislation while he is in budget talks, said he stood by the map.
"The military is more likely to close bases in areas where training is more dangerous. The study using data provided by the military installations confirms that there are areas where wind turbines pose a 'significant risk,'" Perry said in a statement.
New Information
The online risk maps themselves have taken a somewhat mysterious route, posted first on the state's Department of Commerce website, then made accessible only with a special password and then finally moved to the website of the Legislative Services Office at the North Carolina General Assembly, which posted a version late last month.
The map site now has additional features, including a breakdown of the criteria used to determine the risk of conflicts.
It also now comes with a guide and an extensive disclaimer that states in part, "The geographic mapping data utilized in this mapping product was collected from a variety of sources, is subject to change, and is offered without any warranty. This product is not issued with any professional seal and is not a final product of any licensed land surveyor or engineer."
It bases the assessment of risk on "The threat of physical damage and personal harm, degraded radio communications/electromagnetic uses, interference with Doppler coverage, and increased degradation of radar due to reflectivity."
The document defines as "Significant," those areas where construction of tall structures above 249 feet above ground would a pose "significantly high" impact to safety and training. The "Moderate" designation refers to those areas where there is a "moderately high" impact to safety and training and suggests further review for proposed tall structures that are 500 feet above ground level.
At their highest point, the blades of the 104 turbines generating power for Amazon in Pasquotank and Perquimans counties reach about 500 feet.