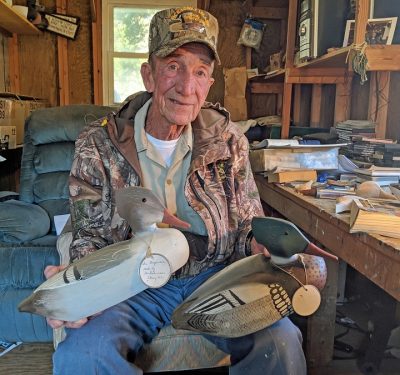 Reprinted from the Ocracoke Observer
Dan Robinson always loved the outdoors.
Growing up in Beaufort County, he and his friends did just about everything outside, but he especially loved duck hunting, leading to a lifelong passion that has made him one of Ocracoke's renowned decoy carvers.
He is this year's featured carver at the second annual Ocracoke Waterfowl Festival from 9 a.m. to 5 p.m. Saturday in the Ocracoke School gym, where carvers and collectors from up and down the eastern seaboard will pack the tables with decoys and artifacts related to the region and especially North Carolina's rich waterfowl tradition.
"When growing up in Core Sound, the redhead was the king duck," Robinson said about the species he chose for this year's featured carving.
"They would show up around Thanksgiving in the thousands and everyone would be waiting for them. There were a lot of lawyers and big businessmen from New York City that would come down to gun."
As a youth, he didn't try to use decoys when duck hunting, but if he came across one or more in the marshes, he would set them.
A retired Coast Guardsman, Robinson's interest in decoy carving developed by way of family.
"In 1960, I married my wife, Jean, who's from Stacy," he said. "Her daddy, Eldon Willis, was a decoy carver along with his good friend Elmer Salter. I watched them and thought, I think I can do that."
The first decoy he carved, which he still has, is a Bufflehead made in the early 1960s.
"At that time, I was stationed at Cape Lookout and if you had duty on a Sunday, you had two hours to do what you wanted to do," he said.  "One day I decided to walk on the beach and pick up some driftwood and make a decoy. I found some juniper (aka red cedar) and got some balsa wood.
"There was not a band saw so I had to use a coping saw to cut most of it out. Then I went to carving this thing with the dullest knife you had ever seen, and I cut myself tremendously."
Nor did he have any paint, so he used some Coast Guard paint — dark green, black and white colors, all enamel.
"When I got through with it, I said 'I ain't never making another one of them things,'" he said, laughing.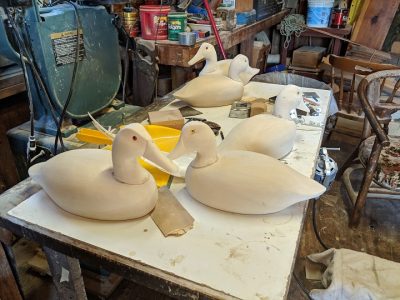 But he did continue making decoys. Lots of them. While on the ships during his Coast Guard career, he didn't have many opportunities to carve, but he could when on shore duty.
"One time I was assigned to the Coast Guard Academy in New London, Connecticut, teaching rigging and sailboats to the cadets," he said, showing a male and female red-breasted merganser he carved while stationed there.
Around 1966, when assigned to the Sea Level Station, Robinson's carving interest took off and he started to develop his own style. One of his carving styles is a thinner head for red-breasted mergansers.
He moved to Ocracoke in 1974 and built his house behind Blackbeard's Lodge.
Later, when he retired from the Coast Guard to live full time on the island, Doward Brugh, the owner of Blackbeard's, needed a maintenance man and hired Robinson, who has worked there ever since.
"I'm never going to retire," he laughed. "I wouldn't know what to do with myself."
Last year's festival's featured carver, Dave O'Neal, also began carving while in the Coast Guard.
"Dave was in the Coast Guard over at Hatteras as was my son, Dale," Robinson said. "They would carve together, which is how I got to know him."
His other son, Scottie, is also a skilled carver and all three will have tables at the festival.
These days, Robinson carves roughly 30 decoys per year, using primarily juniper, white pine and tupelo wood.
"I've carved working decoys in the past, but now do decoratives," he said. "People will ask me to carve a particular duck and I also carve others and bring them to waterfowl festivals," he said.
About Ocracoke Waterfowl Festival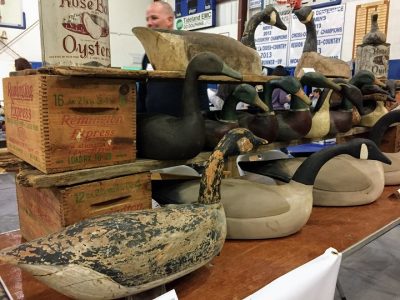 Carvers and collectors from along the eastern seaboard will pack the Ocracoke School gym for the second annual Ocracoke Waterfowl Festival 9 a.m. to 5 p.m. Saturday.
The more than 30 vendors will display carvings of redheads, ruddy ducks, blue bills, swans, geese, shorebirds and more, along with artwork and artifacts related to North Carolina's rich waterfowl tradition.
There will be plenty of food, kids decoy painting sessions, raffles and a decoy head-carving contest.
The clam chowder cook-off, a fundraiser for Ocracoke Child Care, will be part of the food offerings this year, along with fish sandwiches, desserts and more. T-shirts, hats and a poster will also be on sale.
The event is presented by the nonprofit Ocracoke Island Decoy Carvers Guild,which formed in early 2018 to preserve this art form in Ocracoke history. About 600 attended the first event in 2018.
Festival parking will be at the National Park Service parking lot at Pilot Town Road and Irvin Garrish Highway, near the ferry docks in the village. A free tram service will be running from the parking lot to the festival and back all day.
For more information about the festival, visit Ocracoke Island Decoy Carvers Guild, email Decoysjohn@gmail.com, or call 509-930-4988.
Organizers recommend checking the ferry schedule if you plan to travel to Ocracoke via Swan Quarter or Cedar Island.
This story is provided courtesy of the Ocracoke Observer, a newspaper covering Ocracoke island. Coastal Review Online is partnering with the Ocracoke Observer to provide readers with more environmental and lifestyle stories of interest along our coast.