Reprinted from the Ocracoke Observer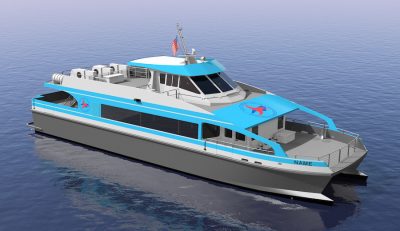 OCRACOKE — The North Carolina Department of Transportation Ferry Division said Monday that the Ocracoke-Hatteras passenger ferry under construction will not be available in May as planned.
Recent tips that the passenger ferry being built by U.S. Workboats in Hubert flunked a Coast Guard inspection cited inadequate welds on the hull, but the Ferry Division did not confirm that detail.
NCDOT Ferry Division spokesman Tim Hass responded Monday to repeated calls to division officials for comment in an email statement.
Hass's email was as follows:
"The N.C. Ferry Division has been made aware of construction challenges with the passenger ferry. In an effort to fully understand the issues that are keeping the builder from completing the vessel, the Ferry Division has been on site multiple times in the past two weeks and has embedded a contractor on site to monitor and provide quality control and assurance.
"While it will take some time before we know if this increased oversight is having the desired result, the Ferry Division at this time does not believe the vessel will be in commission by May 1. Once a full mitigation plan has been received and approved by the U.S. Coast Guard, the Ferry Division should be able to tell the local stakeholders of the anticipated delivery date."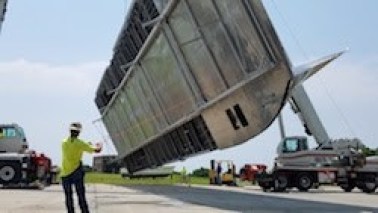 The $9.1 million aluminum catamaran-style ferry, named Ocracoke Express, was scheduled to debut on Tuesday, May 14, with delivery to the Ferry Division in February. The vessel will carry up to 98 passengers on a 70-minute trip from Hatteras directly into Ocracoke Village.
The Ferry Division announced in May 2018 that the new boat being built by US Workboats near Swansboro wouldn't be ready for the busy tourist season. They suggested it might be ready in the fall, but the fall came and went and the next debut date was to be in May.
The idea of adding a passenger-only boat to the busy Hatteras-Ocracoke run came about in 2015 when a longer route across the Hatteras Inlet was officially sanctioned after the short ferry route between Hatteras and Ocracoke became unnavigable due to shoaling in 2013.
This one-hour ferry ride has resulted in fewer runs between islands, longer wait lines at the Hatteras terminal and fewer day-trippers journeying to the island.
Islanders' concerns with this prompted the Ferry Division to explore the purchase of a passenger ferry to help relieve the traffic lines at Hatteras.