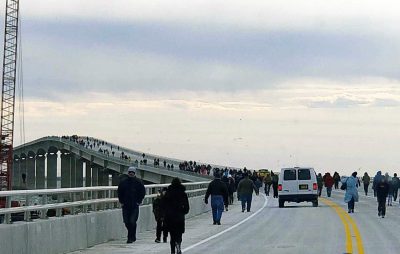 WINSTON-SALEM – The decision on what to name the Bonner Bridge replacement over Oregon Inlet is final.
After much discussion by the Dare County Board of Commissioners  and requests for input from the public, the North Carolina Board of Transportation voted Thursday morning to designate the new N.C. 12 bridge over Oregon Inlet the Marc Basnight Bridge, according to a news release.
A segment of the old bridge will become a pedestrian walkway and will retain the Herbert C. Bonner name. Bonner was a Democratic congressman who served 1940-1965 and represented 14 northeastern North Carolina counties.
Dare County Board of Commissioners and Kill Devil Hills, Manteo and Nags Head town councils requested the resolution to name the new bridge that opened to traffic on Feb. 25. A community day was held Feb. 9, when pedestrians were permitted to walk across the bridge.
The resolution also rescinds the 1983 designation that named the entire length of N.C. 12 from U.S. 64 to the Ocracoke Ferry Terminal as the Marc Basnight Highway."
Born in Manteo, Basnight represented Dare County in the Senate from 1984 until 2011, serving as president pro tempore from 1993 until 2010. NCDOT described Basnight as a force behind the replacement project from the beginning.