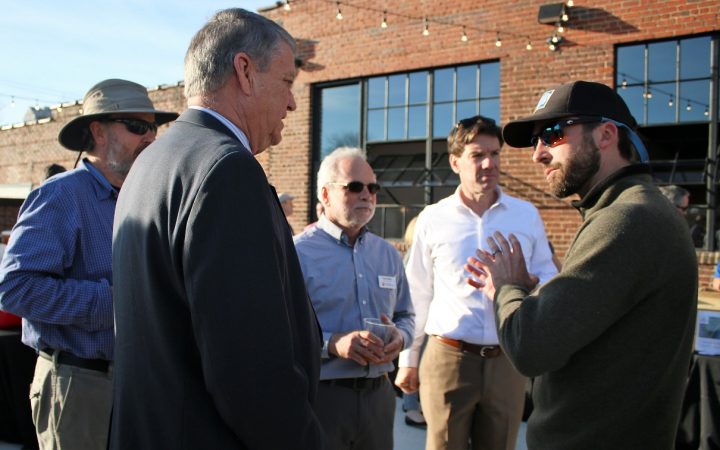 This story was updated Thursday at 9:25 a.m.
RALEIGH – Legislators at the helm of key House and Senate committees said they will try again to reach a broad agreement on the path forward for the state's mariculture industry.
A bill that would have established a new leasing program and new rules to encourage mariculture in state waters failed in the final days of last year's session of the North Carolina General Assembly over concerns that it could close off too much of the coast to other uses.
The new bill in draft form includes potentially controversial moratoriums on shellfish leasing in Bogue Sound in Carteret County and in waters between the Wrightsville Beach bridge and Peden Point near the Masonboro Island Reserve in New Hanover County. It would also allow permitted shellfish nursery operators to, under certain times and conditions, transplant seed oysters and seed clams from areas where harvesting is otherwise prohibited or restricted.
Speaking Tuesday at the annual North Carolina Oyster Summit in Raleigh, Rep. Pat McElraft, R-Carteret, and Sen. Norm Sanderson, R-Pamlico, said they plan to introduce new legislation that addresses concerns from a variety of groups about the size and extent of the leasing program.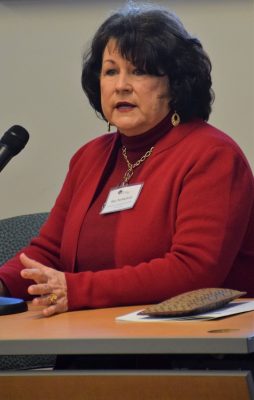 "Yes, we saw with the last shellfish bill that there were lots of conflicts," McElraft told summit attendees. "There were conflicts from the tourism industry, from the boating industry. There were conflicts coming from the duck hunters. There were conflicts from commercial and recreational fishermen," McElraft said. "So, we kind of stepped back and said we need to get input from all these stakeholder groups and find out what the conflicts are and how we can address those."
McElraft said other coastal states had the same conflicts when they began to address shellfish issues and had to address them. North Carolina is no different, she said.
"We do not want a fight between our shellfish growers and our tourism industry and others. We want everybody to support the shellfish industry," she said.
McElraft said the new bill had been sent to stakeholders in draft form and that there were already suggestions for changes.
She said the new bill would include Shellfish Enterprise Areas, or SEAs, to establish areas that would be optimal for shellfish growers and don't present conflicts with other users. Those areas would be set up and "ready to go" for shellfish growers. Other areas, where there could be conflicts, would go through a stricter permitting process that would provide for public comment and feedback from other users.
"We want everybody to be happy with our oyster industry." – @mcelraft_pat #OysterSummit2019 #ncoysters

— NC Oysters (@nc_oysters) March 12, 2019
Sanderson acknowledged the headwinds encountered last year and the difficulty of working on a solution, but said he was committed to making new legislation happen.
"The reason I am willing to go after this again is because of its potential for North Carolina," Sanderson said. The benefits, he said, would ripple through the economy beyond just improving opportunities for shellfish growers.
"[The oyster industry] is important enough to do whatever it takes…it is great economically, environmentally, for commercial fishermen, and recreational fishermen." – @normsanderson #ncoysters #OysterSummit2019 @NCCoastalFed #ncpol

— NC Oysters (@nc_oysters) March 12, 2019
"Things don't flow as smooth as silk all the time, especially when you're dealing with a piece of legislation that crosses a whole lot of different entities," Sanderson said. "You have a lot of moving parts and you have to take the time to do it right."
But he warned that this is a key session for the shellfish industry. If a bill doesn't move this year, he said, it would likely be two years before another one could be considered.
Sanderson said he was optimistic that a bill can be drafted to resolve the conflicts. Anytime you can get commercial and recreational fishermen together on a piece of legislation "you've done something remarkable," he said.
The new bill, he said, is heading in the right direction, based on initial feedback.
"I think this year is going to be different," Sanderson said. The new bill, he said, is needed to help lay the necessary groundwork to guide the growth of the industry.
"After that, this industry can grow at a pace where it just doesn't overwhelm everybody and gets out of control from the very start."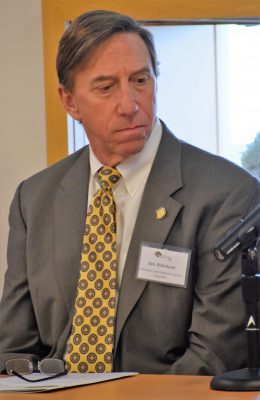 McElraft and Sanderson were joined by Sen. Rick Gunn, R-Alamance, who chairs both the Senate Commerce Committee and an appropriation subcommittee that oversees spending on agriculture, natural resource and environmental programs.
Gunn said that as a consumer of oysters he often wondered why he could get Virginia and Chesapeake oysters but couldn't get North Carolina oysters at his favorite seafood spot near Lake Norman. He said the state has an enormous opportunity to grow a native industry.
Gunn said it's more than growing the oysters and harvesting them. The state also has to assist with building markets inland and leveraging the tourism appeal of a unique oyster industry.
Last year's bill, championed by former Sen. Bill Cook of Beaufort County, initially envisioned of up to 2,000 acres that were designed to draw large-scale operations. As negotiations wore on, the size of the leases was reduced, and a final compromise plan capped the total leases at 200. But opposition to the bill wasn't limited to the size of the leases, and the compromise broke down over concerns about how quickly leases would proliferate, as well as the permitting process itself.
In the interim, the legislature turned to work underway at the North Carolina Policy Collaboratory at the University of North Carolina Chapel Hill on a broader study of the state's oyster programs and the economic and policy challenges to expansion.
The collaboratory's report, which included a strategic plan for growing the shellfish industry over the next 10 years, took an in-depth look at the goals the state was setting and the strategy for obtaining them. One key finding was in how the state modeled its strategy. The report found that, given the conflicts with multiple uses of public trust waters, large-scale operations such as those in Virginia and Louisiana would not work in North Carolina. Researchers turned to a strategy based on keeping the sizes of leased areas smaller and concentrating on increasing productivity.