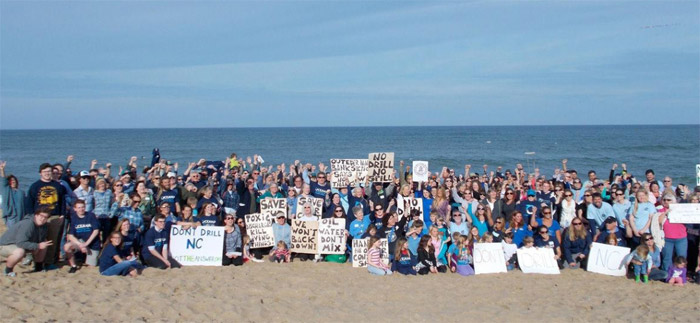 Reprinted from the Outer Banks Sentinel
KILL DEVIL HILLS — The Bureau of Ocean Energy Management, or BOEM, is expected to hold an open house meeting regarding the proposed 2019-24 National Outer Continental Shelf Oil and Gas Leasing Program on May 14 at the Ramada Plaza.
That information was shared at the Dare Board of Commissioners meeting Feb. 19 by Commissioner Rob Ross, who said he had learned of the scheduled meeting from Michael Flynn, a coastal advocate at the North Carolina Coastal Federation.
That news comes in the wake of a preliminary injunction filing last week by communities and environmental groups that have brought a suit seeking to block Atlantic seismic testing, a precursor to offshore drilling. Environmental advocates and many public officials have rallied against the Trump Administration plans for drilling in the waters off the Atlantic coast.
Flynn said he has learned that the Department of Interior had reserved the ballroom at the Ramada Plaza 3-7 p.m. May 14  to host the open house to provide information on the proposed energy plan, similar to one that was held in Raleigh last February.
Asked for a confirmation and additional details on this meeting, BOEM Deputy Chief of Public Affairs and Media Relations Manager Tracey Blythe Moriarty said, "A final decision has not been made on the Proposed Program … so I do not have much to share yet."
Moriarty added that BOEM expects to publish the Proposed Program and Draft Programmatic Environmental Impact Statement "in the coming weeks." During the 90-day public comment period that follows, she said, "public meetings will be held in coastal cities adjacent to program areas still under consideration for oil and gas leasing."
She also stated that, "It is easier to reserve venues way in advance and cancel later, rather than competing for space during high tourist season, especially for venues located in smaller towns."
Back in May 2015, BOEM also held an open house at the Ramada Plaza, drawing nearly 700 participants who visited six information stations featuring a video presentation, maps and a description of the proposed actions for the 2017-2022 Oil and Gas Leasing Program.
At the same time, an estimated crowd of 300 people jammed into the ballroom of the Comfort Inn next door as protesters passionately declared their opposition to drilling off the North Carolina coast. They later gathered on the beach for a rally and group photo.
The BOEM meeting in Raleigh February 2018 followed the same format. The Coastal Federation and 13 other members of the Don't Drill NC Coalition chartered four buses to shuttle people from the coast who wanted to make their voices heard. At one point during that event, drilling opponents staged a boisterous rally, cheering speakers that included Outer Banks Visitors Bureau Executive Director Lee Nettles, Kill Devil Hills Mayor Sheila Davies and Dare Board of Commissioners Chairman Bob Woodard.
Acknowledging that May 14 "does seem to be a ways off," Flynn said the Don't Drill NC Coalition has already started "to plan a response" to a May BOEM meeting. He said that, as part of that response, the coalition "plans to gather in the ballroom of the Comfort Inn North located next to the Ramada Plaza for a public rally/press event."
This story is provided courtesy of the Outer Banks Sentinel, a weekly Dare County newspaper that is published in print every Wednesday and headquartered at 2910 South Croatan Highway, Nags Head. Aside from the print paper, the Sentinel also produces a continually updated digital version at www.obsentinel.com.