WILMINGTON – The reporter who first broke the news of GenX and similar compounds in the region's drinking water supply has taken a position with the Cape Fear Public Utility Authority as its public information officer.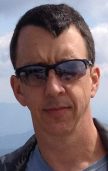 Vaughn Hagerty, a freelance reporter for Coastal Review Online for much of 2018 and a former StarNews city editor, is set to begin his new job effective Jan. 9, according to the authority's announcement Thursday.
A Wilmington resident since 2005, Vaughn has more than 25 years of news-media experience in a variety of roles at organizations that also include the Miami Herald.
He spent most of the last two years researching and writing articles about GenX and related compounds from Chemours' Fayetteville Works plant that have affected the Cape Fear River and drinking water of hundreds of thousands of North Carolina residents.
His new role will be as a spokesperson for CFPUA and liaison to the community, the media, governments and others seeking information about CFPUA. His starting salary is $90,000.
"As we head into a new year and our second decade of service to the residents of New Hanover County, we'll have much to share with our community, from upgrade plans at the Sweeney Water Treatment Plant to work that makes our water and wastewater systems more resilient to storms and other potential threats," said CFPUA Executive Director Jim Flechtner in a statement. "If you've followed developments about GenX, you've probably encountered Vaughn's work. He brings significant experience as a communicator and a solid understanding of issues important to CFPUA and its customers, so we're pleased to have him on our team."
Hagerty told Coastal Review Online Thursday that communicating clearly and effectively about complex subjects such as GenX and other emerging contaminants in the public's drinking water is especially important. "CFPUA clearly has been at the forefront of efforts to help our community understand such issues and to look out for our interests regarding them," he said.
Hagerty said that he would miss being a journalist, "But, much of what has consumed the biggest part of my life for almost two years will still be a major part of my life going forward. Honestly, I think this is a good place for me to be and a place where I can do good work.

"