Reprinted from Outer Banks Voice
Widening the full length of the beach in Southern Shores would cost between $9 million and $13.5 million if it is done at the same time that neighboring towns renourish their shorelines in 2022, according to a recently completed assessment.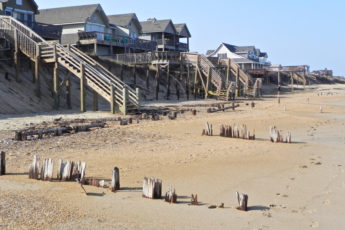 Taking into account varying heights and widths of the primary dunes, the management plan looked at 3.7 miles of shoreline.
The Vulnerability Assessment and Beach Management Plan by Aptim Coastal Planning and Engineering of North Carolina looked at scenarios based on a storm similar to 2003's Hurricane Isabel, which was so powerful it carved a new inlet through southern Hatteras Island.
Also taken into account were long-time erosion rates, the impact of storms, tide cycles and past, present and future sea level rise.
"The Beach Management Plan provides a long-term vision for the Town of Southern Shores to sustain the beaches that support a significant portion of their local economy and maintains the tax base of the Town," a summary of the plan said.
The most expensive option looked at what it would take to protect the shoreline if a storm similar to Isabel hit at the estimated sea levels in 2048. The other two applied the data to 2018 levels.
Aptim summarized the three following options:
665,650 cubic yards at $11,593,000
492,300 cubic yards at $9,010,400
803,050 cubic yards at $13,557,000
Southern Shores will need to start planning soon. The study recommended an updated beach profile survey this spring, the same time as Duck, Kitty Hawk and Kill Devil Hills, so that all would be working from similar data.
The town piggy backed on the north end of Kitty Hawk's project in 2017 to pump sand onto 1,500 feet of severely eroded beach.
Learn More
This story is provided courtesy of the Outer Banks Voice, a digital newspaper covering the Outer Banks. Coastal Review Online is partnering with the Voice to provide readers with more environmental and lifestyle stories of interest about our coast.