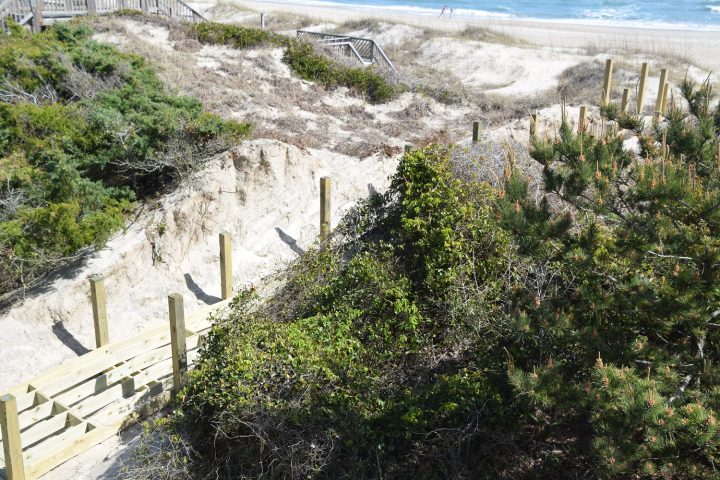 OCEAN ISLE BEACH – Changes to state sand dune rules adopted in late 2018 and now awaiting final state approval would allow oceanfront landowners greater flexibility to relocate wind- and storm-driven sand on their property.
Also, beach access ways may now be built 6 feet beyond the vegetation line, which previously had not been allowed. Officials said that the change allowing a longer, less severe slope for Hatteras ramps, a common term for a type of beach access way, will be less destructive to dunes and improve accessibility.

The state Coastal Resources Commission adopted the changes during its most recent meeting held Nov. 28 at Brick Landing Plantation in Ocean Isle Beach. The adopted rules now go to the state Rules Review Commission for review and approval later this month. If approved, the rules become effective Feb. 1.
"The commission is pleased that the amendments to dune rules add more flexibility by addressing the redistribution of sand following storms and Hatteras ramps," said Renee Cahoon, CRC chair. "The changes to walkovers and ramps should reduce the number of required switchbacks (or zig-zags) and reduce the slope of access ways, which can help with ADA (Americans with Disabilities Act) compliance."
Shifting Sand
Mike Lopazanski, policy and planning section chief with the North Carolina Department of Environmental Quality's Division of Coastal Management, told the commission that the amendments grant property owners the freedom to relocate sand that's been blown onto their property, as long as the sand stays in the beach and dune system.
Lopazanski said that the shifting sand blown by storms or prevailing winds can cover decks, driveways, pools, houses and buildings in the oceanfront area, as well as landward of the oceanfront area, including the opposite side of the road.
"It creates problems for property owners to remove the sand from around their structures while staying in compliance with the dune protection rules, and also property owners are looking for ways to enhance the protective value of barrier dunes, which included redistribution of sand on individual lots," Lopazanski said. "Commissioners have also expressed an interest in ensuring that sand, particularly in areas that received beach nourishment, remains in the beach and dune systems, that it's not carried off and placed elsewhere."
In response, division staff drafted amendments to the rule that included "a little bit more flexibility when it comes with the redistribution of sand," he said.
Under the revised language, "Sand held in storage in any dune, other than the frontal or primary dune, shall remain on the lot or tract of land to the maximum extent practicable."
Lopazanski emphasized that the change is an effort to keep the sand in place and in the dune system.
Redistributing sand moved by storm overwash or winds from buildings, pools, roads, parking areas and other structures is considered maintenance as long as the sand remains within the AEC, according to information in the meeting agenda packet. Those looking to redistribute sand must consult with the Division of Coastal Management or the local permit officer to determine whether the proposed activity qualifies for the exclusion.
"It's going to be considered under maintenance and repair. You won't need a permit for that but we are going to require a consultation," Lopazanski explained.
Town Officials Express Support
Lopazanski said that regarding structures in and around dunes, at the request of the local government, the permitted width of Hatteras ramps is increased from 10 to 15 feet, and the ramp can be built with material other than wood, if approved by DCM.
Additionally, access ways, including Hatteras ramps, will be permitted to be built 6 feet beyond the vegetation line, which wasn't allowed before, as long as it doesn't interfere with public trust rights or emergency access along the beach.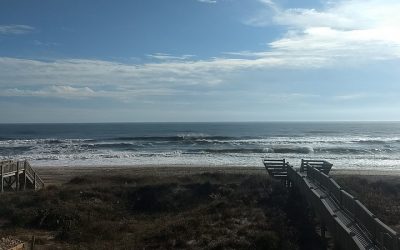 With the longer access ways, the ramps won't have as steep of an incline and the dunes will not be cut down as much, he added, because you have a broader area to work with, so it will be regulated by volume instead of strictly by height.
"We're going to change the rule to preserve the dune function as a protective barrier against flooding and erosion by limiting the reduction in the volume of the dune, as opposed to worrying so much about the dune height." Lopazanski added. "You can't reduce the elevation below it being defined as a primary dune but you can redistribute the sand by widening or flattening it out as long as the volume is maintained."
The CRC approved the proposed amendments for public hearing during its July 2017 meeting and the fiscal analysis during its February meeting. Public hearings were held in April in Nags Head and Topsail Beach. Two comments were received, which were included in the agenda packet.
Cliff Ogburn, Nags Head town manager, had submitted a statement in support of the dune rules on behalf of the town's mayor and board of commissioners. "These amendments as they pertain to allowing Hatteras Ramps to be made out of materials other than wood, allowing them to extend out onto the flat beach, and more dune protection. Nags Head has had a lot of sand that have created some dunes that are difficult to manage when it comes to providing access. We have more than 40 beach accesses and about half of them have vehicle access for the public or public safety workers. Being able to utilize these ramps will keep more of the dune in place and allow vehicle access without altering the dunes."
Steve Smith, a Topsail Beach town commissioner and chairman of the Topsail Shoreline Protection Commission, also submitted a written comment regarding the dune rule amendments. "Some of our communities have started erosion control structure plans and designs, will these amendments stop these plans? If you lose the frontal dune, will these amendments allow the community to come back and restore a frontal dune system in the area? This is unclear."
Smith said Topsail Beach would prefer to see language that "no new dunes shall be created in inlet hazard areas," removed or modified. "We would also like to see some strengthening of 7H .0308(d)(3) to say it is for all structures in the VE (flood hazard) Zone and take into consideration that dune height plays as important of a role as pile depth. Topsail Beach is supportive of the areas in the amendments that address how to build in a dune area."
Lopazanski told the CRC that residents of Nags Head expressed support for the changes, particularly regarding the Hatteras ramps.
In Topsail Beach, residents expressed concerns about erosion control structure plans and designs as well as the ability to restore the frontal dune system if destroyed. They also questioned the provision of the inlet hazard area rule, which states that "no new dunes shall be created in inlet hazard areas."
The amendments will not interfere with the Topsail Beach's erosion control structure plans and don't change provisions for dune establishment in emergency situations, Lopazanski said in response to the above questions.
Atlantic Beach Mayor and CRC member Trace Cooper expressed during the meeting his support for the changes.
"I think these rules make a lot of sense. In Atlantic Beach, with our access ways and moving sand, we've worked hard to make all of our access ways ADA accessible … these are common-sense rules for access and for dune preservation," Cooper said.