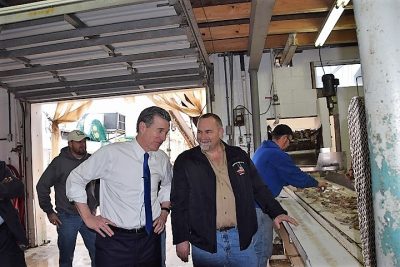 BEAUFORT – Gov. Roy Cooper watched Thursday afternoon with Brent Fulcher, owner of Beaufort Inlet Seafood Co., as hundreds of pounds of shrimp were processed at the seafood business on Old Causeway Road.
The two were discussing the continued recovery effort from the aftermath of Hurricane Florence.
Cooper said he was in the Carteret County town because he wanted to listen to commercial fishermen to hear about the effects of Hurricane Florence.
"Clearly there's a period of time after the storm that's devastating economically for our commercial fishermen," Cooper explained, adding that significant funding has been proposed to help commercial fishermen. There's a program now in place, for which commercial fishermen can apply to receive financial help to help them recover.
The 2018 Hurricane Florence Disaster Recovery Act and an act to provide additional disaster relief allocated funding to the Department of Environmental Quality. This legislation directed $1.6 million to the Division of Marine Fisheries to compensate commercial fishermen and shellfish harvesters for equipment and income losses from harvest reductions. Another $10 million was directed to the division for commercial fishing assistance for holders of a Standard Commercial Fishing License, Retired Standard Commercial Fishing License and N.C. Resident Shellfish License between Sept. 1 and Nov. 30, 2018, for reductions in landings as reported from trip ticket data compared with average landings over the prior comparable period. In all, the legislature approved $11.35 million for economic assistance to the industry.
"They're telling me that fishing is pretty good right now, and they're getting back in the groove, but having been stopped from fishing for such a long time, that this is difficult economic times for them, we want to try and help as much as we can," Cooper said. "We've provided state funding that we hope to start distributing soon. We've had over 900 commercial fishermen apply for those funds we just appropriated. We are also trying to figure out how to leverage as much federal funding as we possibly can to help."
Cooper described commercial fishing as "an important cog in our economy," because it provides jobs and supports the restaurant industry and tourism. "One thing builds on the other to make for a strong economy."
Fulcher, who is also chairman of the board of the North Carolina Fisheries Association, told Coastal Review Online as Cooper was heading to his next stop, that the industry needs help now and over the long term. "For (Cooper) to be mindful of that, tells you that it's very important to him, that not only the two or three, four or five weeks after Hurricane Florence, people have needs and needed assistance … and they're going to have to have help or further assistance down the road."
Glenn Skinner, North Carolina Fisheries Association executive director, said, "I can't tell you how much we appreciate the governor and the General Assembly helping get the funds appropriated to keep fishermen going. Obviously, the storm was devastating to most of the folks along the coast and our industry took the brunt of it. It is probably going to keep a lot of people from getting out of fishing."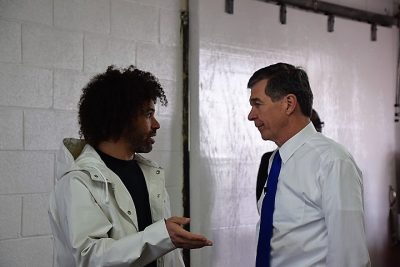 Ryan Bethea, owner and operator of Oysters Carolina on Harkers Island, agreed. "It's amazing that he came all the way out here to spend just 30 minutes with us, that was huge for him, I know how busy he is," adding, that he seemed interested in what the commercial fishermen had to say. "It's a big deal that he came."
Cooper was accompanied on his visit to Beaufort, which also included stops at the elementary school and a few businesses on Front Street downtown, by Mayor Rett Newton, who reiterated the importance of the commercial fishing industry to the community, understanding the impact of the storm and helping with recovery.
"It's great to have the governor here and his support," he added.
Before Cooper arrived, Steve Murphey, director of the Division of Marine Fisheries, explained the significant hit Florence delivered to commercial fishing industry.
"… Some people have had a lot of damage, these people were included in that, it's going to be a long haul coming back."
Murphey said there are promising signs in some fisheries, including shrimp. "Shrimping has been very good, as a matter of fact, there's a shrimp trawler that's getting ready to offload here," he said gesturing behind him to the seafood processing business. The freshwater from the hurricane and subsequent rain events since, have pushed a lot of the shrimp out into the ocean, "So they're having a really good year with shrimp."