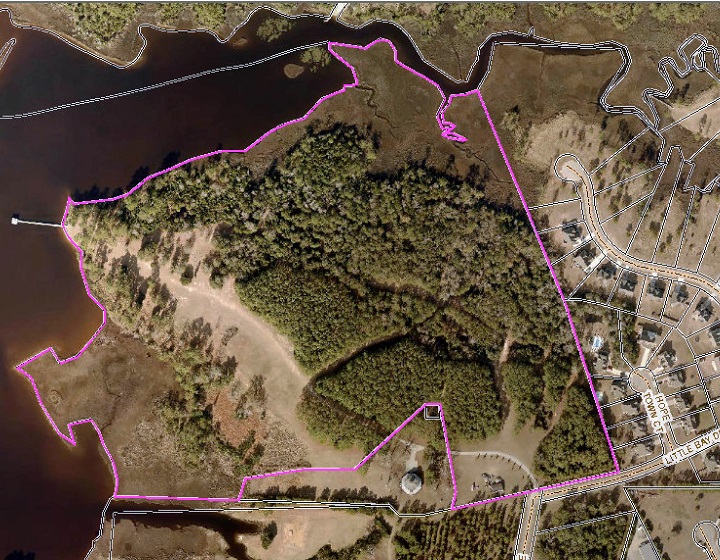 CEDAR POINT – The town is $250,000 closer to its first park, a 56-acre parcel of land, 18 of which are wetlands, on the White Oak River.
Town Commissioner John Nash announced Dec. 11 via Twitter that the town had received a grant award of $250,000 from Coastal Land Trust to go toward the park land purchase.
The Town of Cedar Point is excited to announce our grant award of $250,000 from Coastal Land Trust! This grant money will go towards the park land purchase. #CedarPointNC #TownHall

— John Nash (@jmnashnc) December 11, 2018

Town voters approved on Election Day a bond referendum of $2.5 million to pay for most of the $2.8 million needed for the land, also known as the Masonic property, to be the town's first park. The town is to contribute $300,000 from its general fund.
"We are certainly ecstatic that the Board of Directors for the Coastal Land Trust chose to help fund this acquisition project," Chris Seaberg, town administrator for Cedar Point, responded to Coastal Review Online in an email, adding that the money would be used to offset part of the purchase costs. "We are also pursuing grants from both the Clean Water Trust Fund and the Park and Recreation Trust Fund."
In addition to providing a setting for passive recreation such as wildlife viewing, walking, biking and canoeing, the purchase will conserve estuarine marsh and maritime forest.
Janice Allen, deputy director for the North Carolina Coastal Land Trust, said Cedar Point was chosen because the U. S. Fish and Wildlife Service had made a North American Wetlands Conservation Act, or NAWCA, grant to the Coastal Land Trust to be used for protection of coastal wetlands. This project meets the Coastal Land Trust's conservation criteria as it protects important coastal wetlands and maritime forest adjacent to existing conservation lands, a portion of the Croatan National Forest.
"A Pender County project we'd planned to use part of it for fell through, and, at the same time we were contacted by the town, which asked if we could assist in any way," Allen explained. "We were fortunate to be able to reallocate the grant to this project, which has excellent coastal wetlands, and it also met the Coastal Land Trust's project selection guidelines. This is a very, very unusual situation, as we don't generally have such grant funds available, so we were glad it worked out."
Allen said that the Coastal Land Trust asked the town to sign an agreement to ensure all Fish and Wildlife Service requirements related to the purchase were followed.
"One requirement is for the town to record a Notice of Grant Restrictions which essentially identifies that some federal NAWCA funds were used to purchase the property and provides that if the Town were to sell or transfer the property out of conservation for a park (e.g., for residential or commercial development), the USFWS may request their proportional share back," she said.
The plans Cedar Point has for the land falls in line with Coastal Land Trust's goals, Allen added.
"The Coastal Land Trust is very interested in connecting people to nature and has worked with several local governments to create parks for people to enjoy nature," she continued, for example, "We purchased the 132-acre property along Upper Broad Creek near New Bern and donated it to Craven County and it is now the Latham-Whitehurst Nature Park. We also acquired a 911-acre property along Town Creek and donated it to Brunswick County to become their first ever nature park, and we assisted the City of Havelock with funds to help acquire parcels along Slocum Creek for their Slocum Creek Waterfront Access Park."