WILMINGTON — Cape Fear Museum of History and Science has been designated as a Smithsonian Affiliate.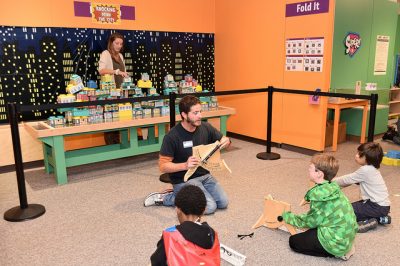 Smithsonian Affiliations is a national outreach program created to make Smithsonian collections and resources available as well as connect other affiliates. Cape Fear Museum joins the more than 200 affiliated organizations in the nation, seven of which are in the state of North Carolina.
The museum and New Hanover County commemorated the designation with a ceremony Monday during the board of commissioners meeting.
"We are excited and honored to begin this new Affiliate relationship," said  Sheryl Kingery Mays, the museum director, in the press release. "We look forward to partnering with Smithsonian Affiliations to expand and strengthen our ongoing education and exhibition programs and gain greater access to Smithsonian's resources and artifacts so we may better serve county residents, especially those living in our surrounding neighborhoods."
From 10 a.m. to 2 p.m. Saturday and 1-4 p.m. Sunday, the museum will celebrate with refreshments and introduce residents to the perks of Smithsonian national membership. Membership through Smithsonian Affiliations allows members of Cape Fear Museum to also become members of the Smithsonian for a $125 annual sponsorship.
The museum also will screen a Smithsonian Channel film, "Earth From Outer Space" at 11 a.m. Saturday and 2:30 p.m. Sunday. Weekend events and Museum admission are free until further notice.
"The Cape Fear Museum truly is the ideal partner for Smithsonian Affiliations," Myriam Springuel, director of Smithsonian Institution Traveling Exhibition Service and Smithsonian Affiliations, said in a statement. "The museum is a cornerstone of the Lower Cape Fear creating exceptional exhibits and programs. The Museum has hosted a number of Smithsonian traveling exhibitions in the past, and we are happy to expand our relationship. Its resilient spirit and service to the community is an inspiration."
Established in 1996, Smithsonian Affiliations is designed to facilitate a two-way relationship among Smithsonian Affiliates and the Smithsonian to increase discovery and inspire lifelong learning in communities across America.