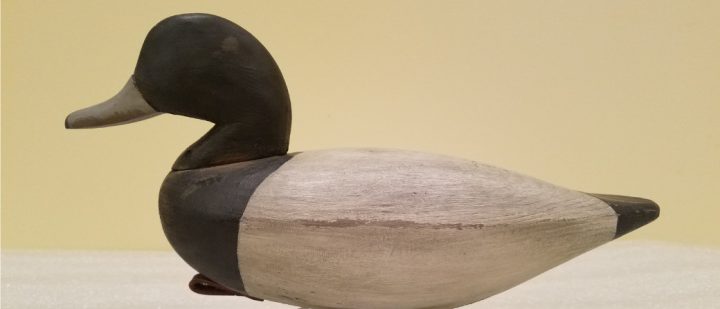 HARKERS ISLAND – This tight-knit, unincorporated community in Down East Carteret County felt the brutal strength of Hurricane Florence bear down on its homes, churches and its meeting place, the Core Sound Waterfowl Museum and Heritage Center.
The museum is more than just a structure housing artifacts and a venue to host weddings, it serves as place to remember and honor the past, and to celebrate the community as it is today.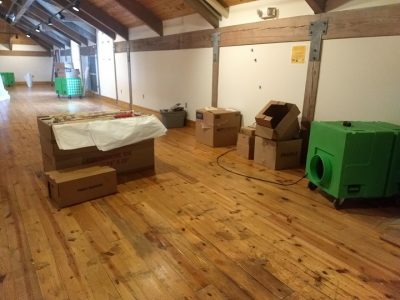 The museum suffered thousands of dollars in damage after the mid-September hurricane. While all artifacts — decoys, artwork, documents, recordings and records — survived unscathed and are being stored offsite, there's much work to do to the 22,000-square-foot building, which has had 75 percent of the drywall removed and 90 percent of the flooring removed since the storm.
Though there are months' worth of repairs ahead and no reopening date scheduled for the museum, that's not stopping staff, volunteers and supporters from celebrating their community with the annual Waterfowl Weekend held the first weekend in December.
"There never was a question about if or where Waterfowl Weekend would happen – here on this place of ours. We had to prove to ourselves we can do it and reassure everyone who has invested in us and this building to know their trust was, and is safe, no matter how hard the wind blows," Karen Amspacher, the museum's executive director, told Coastal Review Online.
She added that the museum staff members were eager for everyone to see how strong the building is and how much work remains.
"Those who were here during the early years will remember the framing from all those years we raised money and built this museum 'one important piece at the time.' We can do it again — and we will. Everyone knows now how important this place and all the work we do is, and they will make sure we are back again, stronger than ever, come spring," she said.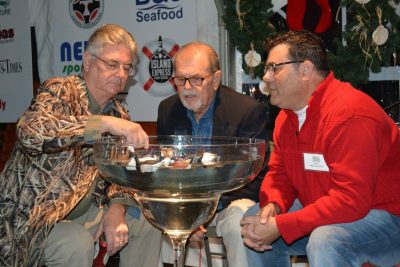 The island will be bright with festivities starting with the Friday Night Preview Christmas Celebration at the museum.
Doors open at 6:30 p.m. Friday for the Core Sound feast of seafood, game and fancy desserts, catered by Beaufort Grocery Co. and friends, and the fourth annual Janice Smith Champagne Waterfowl Decoy Competition, when detailed decoys small enough to fit into a champagne glass are judged and awarded. Attendees can also get a peek at the vendors and artisans. Tickets are $75 per person and reservations are recommended.
At 9 a.m. Saturday, folks can visit with the more than 75 exhibitors and crafters, including carvers, artists and photographers who will be set up in the hull of the building, taste local seafood and bid on silent auction items. Bidding began Nov. 23 online.
Vivian Howard of the Kinston restaurant Chef & the Farmer and the Public Broadcasting System's TV series "A Chef's Life" will make her way Down East for a book signing from noon to 2 p.m. Saturday. Copies of her book, "Deep Run Roots: Stories and Recipes from My Corner of the South," can be reserved at coresound.com or by calling 252-728-1500.
"When you call (eastern North Carolina) home, storms and the mess they make are part of your reality. Those storms are also part of what makes us a resilient people, especially those living at the water's edge. I'm inspired by the Core Sound Waterfowl Museum & Heritage Center's determination to continue on with their annual celebration, Waterfowl Weekend, even though both the building and the surrounding community are damaged," Howard told Coastal Review Online in an email. "I look forward to signing books, hopefully hearing some classic Down East accents and learning more about Carteret County food traditions."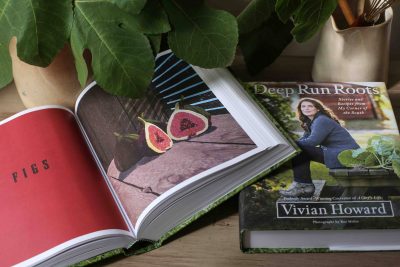 Amspacher said in a statement that Core Sound welcomes Howard to Down East "to be part of our most important weekend of the year, Waterfowl Weekend."
"We believe she will find this to be a place that appreciates her commitment to local foods and the importance of community food traditions with a deep understanding of how what we cook reflects our place in the world. We hope this will be the first of many visits 'to the end of the road' to share recipes and stories of home and the people who grow, catch and cook the foods we love."
This year, Waterfowl Weekend organizers have added a new event, a food truck round-up, which will start at 5 p.m. Saturday evening. Visitors can grab a bite while waiting to see the lighting of the Cape Lookout Lighthouse at 6:30 p.m. Carteret County musician Morris Willis will provide entertainment throughout the evening. The lights will again shine on the iconic lighthouse 6:30-9:30 p.m. Christmas Eve Dec. 24.
Cape Lookout National Seashore announced Tuesday that the exterior of the lighthouse will be illuminated Saturday to recognize the effort of the museum and Down East communities "to keep the annual Waterfowl Weekend going, despite the terrible destruction taken from Florence's winds and rains."
As in years past, there will be a Sunday church service and breakfast during Waterfowl Weekend beginning at 8 a.m. at the museum. This is a time to reflect with Harkers Island natives Corey Lawrence and Kerry Willis who will share Christmas memories. After the service will be a Core Sound Family Day with Mr. and Mrs. Santa Claus ready for photos starting at 1 p.m. The announcement of the Harkers Island Decorating Contest winners begins at 2 p.m. The Core Sound Christmas Shop will be open at the museum all weekend, too.
"This year has been yet another 'test' of our determination and commitment and once again, you have overwhelmed us with your caring support and willingness to work," Amspacher wrote in a letter to museum supporters. "Thank you for helping us write the next chapter of Core Sound's history with courage and a renewed appreciation for the community that we are. Thank you for the overwhelming support you have given to our Down East communities, over $100,000 raised, and the concern and caring you have extended to the Core Sound Waterfowl Museum & Heritage Center.  We have work to do, but 'we can do hard things.'"
Shuttles will be available Saturday and Sunday to transport visitors between the 31st annual Core Sound Decoy Festival at Harkers Island School and the Core Sound Waterfowl Museum and Heritage Center for the Waterfowl Weekend.
Learn More