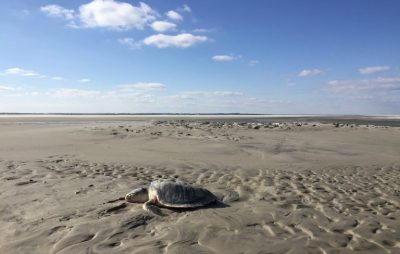 Reprinted from Ocracoke Observer
OCRACOKE — The Network for Endangered Sea Turtles, or NEST, is seeking volunteers interested in helping patrol for and transport sea turtles that wash up on the shore during the fall and winter months.
NEST will hold an informational meeting with training at 1 p.m. Saturday in the Ocracoke Community Center.
Established in 1995, NEST is an all-volunteer, nonprofit organization dedicated to the protection and conservation of sea turtles and other protected marine wildlife on the Outer Banks.
It is committed to contributing to the preservation of these species through research and rescue and rehabilitation efforts and to fostering greater understanding and appreciation of these species and their habitat through education and enhanced public awareness.
The network also rescues and transports sick and injured sea turtles to the Sea Turtle Assistance and Rehabilitation, or STAR, Center at the Aquarium on Roanoke Island. It has rescued hundreds of turtles stunned by the cold water and stranded in Pamlico Sound.
For more information, contact NEST's Hatteras Island Coordinator, Frank Welles at fgwelles@aol.com or 252-995-2417.
This story is provided courtesy of the Ocracoke Observer, a newspaper covering Ocracoke island. Coastal Review Online is partnering with the Ocracoke Observer to provide readers with more environmental and lifestyle stories of interest along our coast.