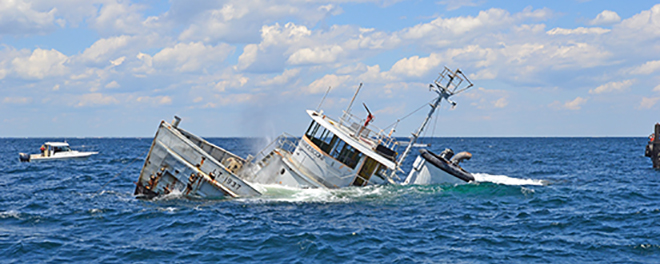 Co-published with Island Free Press
KITTY HAWK — Despite the Outer Banks' disproportionately large contribution in fishing license fees, some say the region has been shorted its share of artificial fishing reefs, compared with the rest of the North Carolina coast.
Outer Banks Anglers Club president Alan Buchfuhrer said recently that Dare County anglers pay the second highest amount of recreational fishing license fees in the state, about $1 million annually, behind Wake County, and it sells twice as many licenses as the second-ranked coastal county, Carteret.
But the anglers club is looking forward to approval within months of a permit that will allow construction of a new recreational fishing reef off Oregon Inlet – a welcomed benefit of their license fees.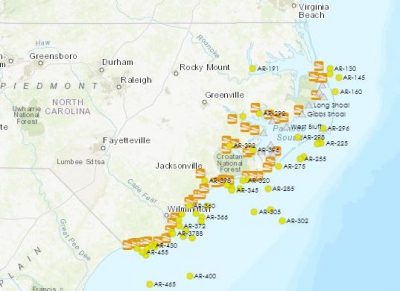 "Basically, a lot of these projects are driven by an advocacy group," Jason Peters, North Carolina Marine Fisheries enhancement program supervisor, explained Monday at an Anglers Club meeting in Kitty Hawk. "Historically, we haven't had the advocacy up here."
Nearly three years after the 115-member nonprofit group first formed the Oregon Inlet Artificial Reef Committee to apply for funds from the state Division of Marine Fisheries, it has a $887,000 grant in hand for a proposed two-year project to construct a reef south of the Oregon Inlet sea buoy.
"You captains will probably benefit from this resource more than anyone else," Richard Parker, chairman of the reef committee, said to charter boat captains in the packed meeting room at the Hilton Garden Inn. "It's a tremendous asset."
The artificial reef, known as AR-165, is planned to be built from a combination of a large, sunken vessel and reinforced concrete pipes. Paid for by the state Coastal Recreational Fishing License Grants Program in addition to $20,000 in matching funds donated by TW's Bait & Tackle, Manteo Marine and Southern Bank, the reef will be built within state waters 8 miles south of Oregon Inlet.
Parker said that somehow the availability of CRFL grants was missed on the Outer Banks, but as soon as he read about them a few years ago, he pulled the committee together.
"I retired, and I had more time on my hands," he said after the meeting.
Of a total of 68 artificial reefs along the North Carolina coast, 43 are in ocean and 25 are in the estuary, said Jordan Byrum, artificial reef coordinator. A state Marine Fisheries Reef Guide map that illustrates locations of reefs and oyster sanctuaries in five regions – Estuarine, Outer Banks, Raleigh Bay, Onslow Bay and Long Bay – shows the highest numbers of reefs in the Onslow Bay region.
Once an area is identified as a potential reef site, he said, determination is made whether it is suitable, and if so, the permitting process – which involves about 13 different agencies – is started.
The required Coastal Area Management Act, or CAMA, major permit has been approved for AR-165. After a second permit from the Army Corps of Engineers is issued, which could take six months or more, the project can start.
In his presentation, Byrum explained that reefs enhance recreational fishing and diving – the program's objective – by providing a safe place for oyster and fish larvae to grow, and for larger fish to find food.
The 10-year-old program designates $500,000 a year to a region on a rotating basis. Next up on the list for reef funding is Ocracoke, he said.
"Typically, we don't build new reef sites unless there is a specified need," Byrum said. "You're underserved here. AR-165 made sense."
Although the Outer Banks has been late in getting in the reef rotation, Byrum said, it is also getting a bonus no other area is receiving.
Once the old Bonner Bridge is demolished next year, about 80,000 tons of material will be deposited by the contractor at each of four deteriorated reefs located between 2.5 miles and 4 miles off the beach. Marked AR-130, -140 and -145, located northeast of the inlet, each will receive 15 percent of the debris, and AR-160, south of the inlet in state waters, will receive 55 percent.
And since the bridge contractor is responsible to get rid of the demolition debris, they're more than happy to dispose of the material for free at the reefs.
"You guys are getting the most money for AR-165, and you're getting the bridge material," Byrum said. "These reefs are going to be chock-full."
According to the Anglers Club, construction of AR-165 will involve sinking a 100-foot to 140-foot ship and dumping a total of 8,000 tons of assorted concrete pipe from barges over two years.
After the underwater structures are in place, fish waste no time making use of them, Peters said. Whether they're attracted by sounds, movement or smell, they'll often show up within hours, even minutes.
"We're expecting that there will be a much more enhanced area for people to fish," he said.
Learn More