Reprinted from Outer Banks Voice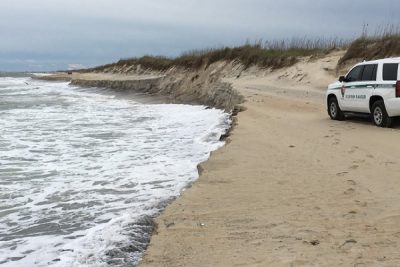 The National Park Service is advising visitors to Cape Hatteras National Seashore to be careful along sections of beach on Bodie Island and between Salvo and Avon where onshore wave action has created naturally-occurring cliffs.
Known as escarpments, they most recently appeared between ramp 2 at Coquina Beach and ramp 4 at Oregon Inlet, and at ramp 25 near Little Kinnikeet on northern Hatteras Island, according to the Seashore's weekly Cape Chronicle newsletter.
Wide gaps form in sandbars, known as a slough, which allowed high energy waves to run farther up the beach and start quickly chewing at the dune line.
Lunar tides were also above normal this past week due to the full moon.
The escarpments usually take care of themselves over time, with extended periods of offshore winds and lighter swells. But that likely won't happen until spring.
Daily updates are available on beach access and rip current forecasts for Cape Hatteras National Seashore.
This story is provided courtesy of the Outer Banks Voice, a digital newspaper covering the Outer Banks. Coastal Review Online is partnering with the Voice to provide readers with more environmental and lifestyle stories of interest about our coast.