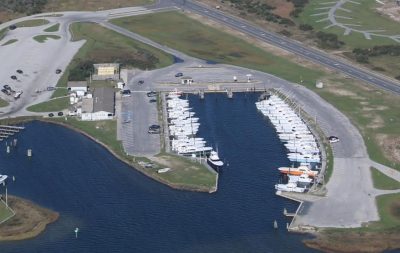 CAPE HATTERAS NATIONAL SEASHORE — Oregon Inlet Marinas LLC has the opportunity to negotiate a final lease for Oregon Inlet Marina.
The National Park Service said it received multiple responses to a Request for Proposals, or RFP, that was issued June 7 and closed Sept. 5 for interested parties to submit their plans for leasing Oregon Inlet Marina, which was operating as Oregon Inlet Fishing Center.
Oregon Inlet Marinas LLC, managed by Russell C. King, was selected as the best responsive proposal in accordance with the selection criteria published in the RFP, according to an announcement Monday by National Parks of Eastern North Carolina.
Oregon Inlet Marinas LLC has been given an opportunity to negotiate a final lease agreeable to the company and the NPS. The park service expects the lease to be completed by the end of the year.
The proposals were evaluated by a panel from parks and offices outside of Cape Hatteras. The selection was made by the National Park Service Southeast Regional Director.
In accordance with the RFP, the lessee will be authorized the use the marina premises for the following purposes:
Marina slip rentals only for for-hire fishing vessels, headboats, tour boats and dive boats.
The rental of non-motorized watercraft such as kayaks and canoes, excluding personal watercraft.
The sale by lessee to the public of opportunities for activities on lessee-owned commercial watercraft.
The sale of fishing and boating goods and services including ice, bait, tackle, fishing and boating apparel, camping supplies, fish-cleaning services, photography supplies and services and fuel.
Booking services for users of commercial watercraft.
The sale of food and both non-alcoholic and alcoholic beverages.
The sale of other retail items not included above provided that they are consistent with park purposes.
Other uses proposed by RFP applicants that are compatible with the purpose of Cape Hatteras National Seashore and approved by NPS.