RALEIGH – Collaborative efforts to grow the state's oyster industry have contributed to a nearly twofold increase in value, according to a report from the North Carolina Commerce Department's Rural Economic Development Division.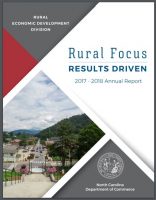 The division's 2017-18 annual report notes that farm gate mariculture value, or the value of produced shellfish minus the selling costs, increased from $1.6 million to $2.4 million in 2017. The growth also supported an additional 56 jobs in the Pamlico Sound region through shellfish restoration projects.
North Carolina Main Street and Rural Planning Center staff have served on the Shellfish Mariculture Steering Committee with the North Carolina Coastal Federation since 2016 and the Commerce Department collaborates with the federation and the North Carolina State University Center for Marine Science and Technology, or CMAST, North Carolina Sea Grant and the state Division of Marine Fisheries.
In August, the federation received a technical assistance grant from the U.S. Economic Development Administration for shellfish mariculture and is partnering with the Rural Economic Development Division.