East Carolina University says it has renewed its commitment to coastal science by creating a new academic unit called Integrated Coastal Programs.
Reide Corbett has been named dean of Integrated Coastal Programs and will oversee the new program, which encompasses the Department of Coastal Studies and the Coastal Studies Institute at ECU's Outer Banks Campus on Roanoke Island, the university announced Wednesday.
ECU said the new program is the product of years of strategic thinking about how ECU might grow and improve its coastal research and teaching programs, including the Coastal Studies Institute at Roanoke Island and the Institute of Coastal Science and Policy at ECU.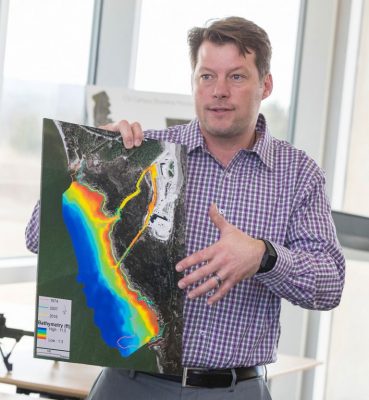 "So you had these two institutes, both focused on research, education and outreach from a coastal perspective," Corbett said in a statement. "The marriage between ECU and CSI became stronger and stronger, and there clearly needed to be a lead institution to help CSI see its vision, and ECU … stepped up to the plate to take that lead."
ECU said the partnership with University of North Carolina and North Carolina State University, as well as dive and vessel operations, will continue at the institute under the new organizational structure. Corbett said the new unit will break down barriers between disciplines to allow new approaches to coastal research.
"Think about it from a student's perspective," said Jay Golden, vice chancellor for research, economic development and engagement. "If you're in engineering you're trying to come up with new offshore energy designs or coastal engineering designs to address hurricanes, but then you have other faculty who are economists, other faculty who are looking at the social drivers for this.
"You really get a holistic approach, an interdisciplinary approach, and it's exciting; you get to take what your innovation or design might be and really ground it in truth in regards to whether it makes economic sense and how the public will perceive it."
The university said it is working to make the most of the Outer Banks campus, which is home to the institute. The facility was completed in 2012, and the campus spans 213 acres of marshes, scrub wetlands, forested wetlands and sound ecosystems.
Corbett's vision for the Outer Banks campus includes growth that will allow more students to take advantage of the facility's location and direct access to coastal ecosystems. "Ultimately we want to grow the campus so we can bring more students out there for the entire semester and offer them a full load of courses," he said.
Research at ECU and CSI includes renewable ocean energy, including harnessing the power of waves and the Gulf Stream. Maritime history students have focused on the subject and made several discoveries including the identification of the mystery shipwreck at Pappy's Lane near Rodanthe.
Coastal sustainability is another major area of research, Corbett said. Recent events like Hurricane Florence have brought attention to changing weather patterns and coastal flooding.
"It goes beyond what's been in the news for so long with saltwater intrusion and sea level rise," Corbett said. "It's not just sea level rise; it's changes in climate patterns that are going to lead to increased freshwater inundation and changes that we need to put in place for a more sustainable coastal community."
Corbett noted ECU's longtime focus on the coast, "from the coastal plain and its rivers and streams to our estuarine systems, as well as the continental shelf," he said, adding that the marriage of socioeconomics and the natural sciences was also part of that focus.
"We have all this incredible marine heritage sitting right off the coast," he said. "And we have some of the wealthiest and some of the poorest counties just east of ECU."
Innovation and entrepreneurship are also in the mix, according to ECU.
"Students are interested in developing new micro-enterprises, new types of businesses and industries that leverage the vast resources in the ocean, far greater than we have on land, whether it's energy or to feed the world, or new types of products that are more sustainable because they're natural and ocean-based," Golden said. "Or finding ways for existing businesses on the coast to be more profitable, more sustainable financially. That's going to be something that we want to leverage the campus and the faculty to do.