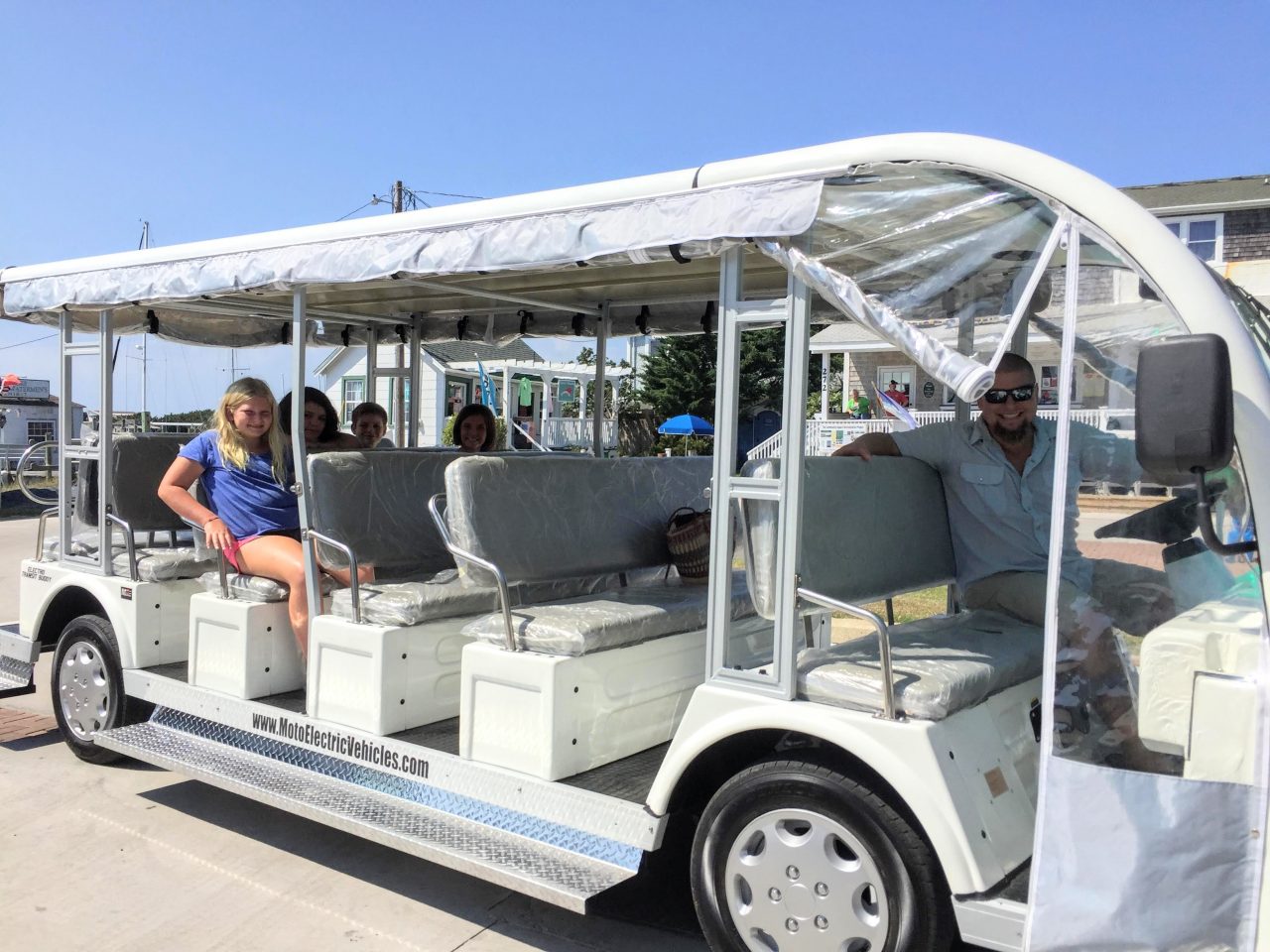 Reprinted from the Ocracoke Observer
OCRACOKE — The long-awaited tram service in Ocracoke Village made its debut Saturday under warm, sunny skies.
Joseph Ramunni, who was awarded a contract from Hyde County to manage the tram operation, began driving two of four open-air, electric trams in the afternoon on Irvin Garrish Highway.
It turned around at Howard's Pub, then went down Back Road and back to the No. 1 stop at the newly built shelter in front of the National Park Service Visitors Center at Pilot Town Road.
Although there were no walk-on passengers from the just-arrived Swan Quarter ferry at 1 p.m. Saturday, Ramunni fired up the vehicle for an N.C Ferry worker and a member of the press.
Then it was on to stop No. 1 at Community Square.
"This is history," Ramunni said as four Ocracoke School fifth-graders hopped on.
The tram service, which was authorized last year as part of soon-to-be passenger ferry from Hatteras to Ocracoke, is free for anyone to use.
Although the passenger ferry is still under construction, the electric trams will run daily from 10 a.m. to 9 p.m., as necessary, Ramunni said.
"This is awesome!" said Juliette Jordan, one of the fifth-graders. "I've been waiting for this."
"Don't feed the animals," Ramunni said as the open-air vehicle made its way through the Ocracoke "downtown."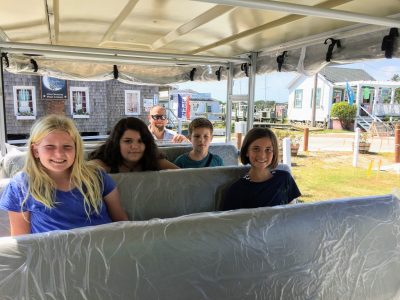 Some members of the Saturday Ladies Lunch group boarded at stop No. 4 between Howard's Pub and 1718 Brewing Ocracoke.
Debbie Wells boarded with her dog.
"Yes, it's pet friendly," Ramunni said.
Finley Austin rode up front with Ramunni and grabbed the microphone.
"Keep your hands and feet inside," she joked with the now-full tram.
"This is quite nice," said Liz Hotchkiss. "People who don't drive could use this."
"It's adorable," said Marcy Brenner, co-owner of the Coyote Den.
Later Saturday afternoon, Ramunni said Ocracoke youth were taking advantage of the ride and were observed riding again on Sunday.
"Yep. The kids are using it," he said.
He said he has several drivers to help and no special license is needed.
Starting at the NPS Visitors Center, the tram will make continuous trips on its route and will stop at the following designated stops: Community Square, the Island Inn, the Variety Store, Howard's Pub, on Back Road at Ocracoke Coffee Co. and Zillie's.
"We tried to make a stop at each area (of the village)," he said.
To fill in the service gaps, Norman LeBlanc, father of Justin LeBlanc, who owns Ocracoke Beach Tours, had that open-air vehicle waiting at the south-end ferry dock. Hand-made signs indicated the vehicle will give free shuttle service to island hotels and rental homes.
Although no walk-ons departed the Swan Quarter ferry, LeBlanc said he'd be back for the later arrivals.
According to a release Friday from NCDOT, ferry tolls have been waived for travelers on all routes until further notice due to Hurricane Florence's effects on the region.
The Cedar Island and Swan Quarter routes to Ocracoke Village are operating on a limited schedule until further notice. The Hatteras-Ocracoke ferry is currently suspended due to damage of N.C. 12 on the northern part of the island.
The Cedar Island and Swan Quarter routes to Ocracoke Village are operating on limited schedules until Friday. Ferries from Cedar Island are at 7 a.m., 10 a.m., 1 p.m. and 4 p.m. and from Ocracoke to Cedar Island, 7:30 a.m., 10 a.m., 1 p.m. and 4 p.m. Swan Quarter-Ocracoke schedule is from Swan Quarter at 7 a.m., 10 a.m., 1 p.m. 4:30 p.m. and 6:30 p.m. and from Ocracoke: 7 a.m., 9:30 a.m., 12:45 p.m., 3:45 p.m. and 9:30 p.m
Ocracoke visitors can park their vehicles at the ferry terminal and walk on. ride the trams, which are part of the new passenger ferry service that will be coming to Ocracoke in the future.
Depending on the weather, NCDOT expects pavement repairs on N.C. 12 to be completed by Sept. 28, allowing for the Hatteras-Ocracoke ferry to resume operation.
Learn More