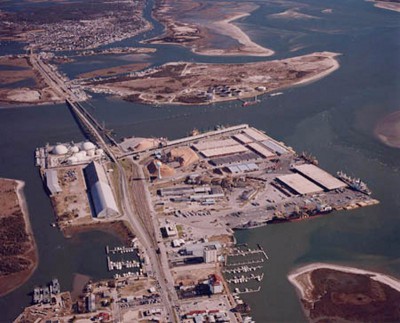 MOREHEAD CITY — Dredging should begin early next year at the state Port at Morehead City, the Carteret County News-Times reported.
The U.S. Army Corps of Engineers received two bids last week for the work. One bid came in at $19.5 million from Great Lakes Dredge and Dock and $20.1 million from Mason Construction, both less than the federal agency's estimate of $23.1 million.
The dredging is to remove 750,000 cubic yards of material from Range A, the approach to the port south of Beaufort Inlet, and 50,000 cubic yards of material from the cutoff, or the inlet, Carteret County Shore Protection Office Manager Greg Rudolph said.
The schedule for Great Lakes Dredging and Dock to begin work has not been set but Rudolph suspects it will take place from Jan. 1 to March 31, 2019, to avoid turtles in the water.
The dredge spoils are to be placed at an offshore ocean disposal site about 8 square nautical miles in under about 39 feet of water.
Rudolph said that the corps is using for the second year a regional dredging plan that adds bids and contracts for the Morehead City port with larger ports in Brunswick, Wilmington and Savannah, Ga. He explained that this regional plan gives the corps more flexibility, increases the chances of getting bids and helps lower the cost.
The News-Times also reported that the Currituck, the corps' small-scale hopper dredge, completed last week work in Bulkhead Channel near the port and that the hopper dredge should complete by Wednesday maintenance dredging in the channel to the U.S. Coast Guard station located on Emerald Isle's western point and in Bogue Inlet.
Learn More