WANCHESE – Reide Corbett has been named as East Carolina University's new dean of integrated coastal programs and director of the University of North Carolina Coastal Studies Institute, or CSI, the university announced Friday.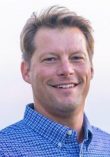 Corbett, who has been with East Carolina University since 2000, served as head of CSI's Coastal Processes Program since 2012.  His research focuses on topics that include sedimentary and geochemical processes in coastal environments, the discharge of groundwater into the coastal zone, and coastal hazards and resilience, according to the release. He was one of the founding faculty in ECU's Coastal Resources Management doctoral program.
"I am excited and honored to accept this leadership role at ECU," Corbett said in a statement.
"Together with our world-class faculty, dedicated staff, vibrant student body and engaged community, we are poised to lead the nation in addressing complex problems along our coast," he added. "ECU's focus on its coastal enterprise, including resources at the Coastal Studies Institute, shows its continued commitment to the East. This commitment truly resonates with me, having grown up along our coast and having studied this system for the last two decades."
Corbett earned his bachelor of science in chemistry, as well as his master of science and doctorate in chemical oceanography, from Florida State University. He also has served as chair of ECU's Coastal Strategic Planning Committee, tasked with developing a comprehensive strategic plan for the university's involvement in coastal research, instruction and outreach, including economic development, over the next decade.
"For almost two decades Dr. Corbett has played an important role in developing ECU's coastal programs, and he has impacted the lives of many students," Chancellor Cecil Staton said in the release. "I am proud of his efforts and look forward to seeing the results of his leadership as we continue to grow the Coastal Studies Institute and build new collaborations for the study of the unique coastal systems of our great state."
Nancy White, the founding executive director of the Coastal Studies Institute, stepped down from the role in 2017.
"After an exhaustive national search, we are pleased that one of ECU's own, Dr. Reide Corbett, has accepted our position as dean of integrated coastal programs and director of the Coastal Studies Institute, located on Roanoke Island," said Dr. Ron Mitchelson, ECU provost, in a statement.
"Dr. Corbett's leadership skills will be crucial as we build ECU's instructional and research capacities in this regionally important area. Our integration of social, natural and engineering sciences will be devoted to solving important issues at the coast as we work with coastal communities to secure a prosperous future," Mitchelson added.