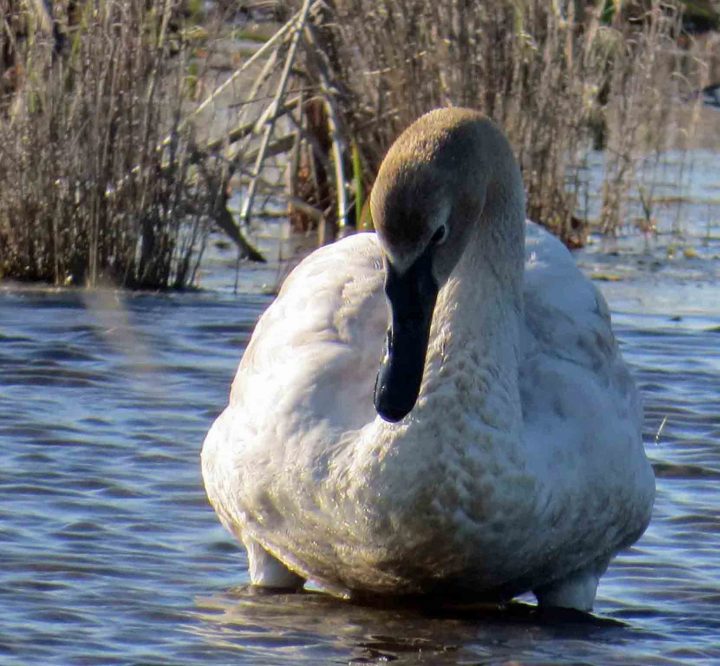 Reprinted from the Ocracoke Observer. Read an earlier story about this swan.
The young trumpeter swan's two-month sojourn on Ocracoke appears over. May 2 was the last time it was reportedly seen where it had been feeding for the last two months along Southpoint Road. Should, by chance, it reappear, we will post an update.
This species, the largest North American waterfowl with an 8-foot wingspan and weighing up to 32 pounds, was a highly unusual avian visitor, in the league of the two Snowy Owls that spent the winter on the island's dunes in 2014.
It was first brought to my attention by Denny Dobbin. A frequent visitor from Chapel Hill, he sent a text that he saw a swan at dusk in the ditch along South Point Road on March 5 and watched it fly in the direction of Springer's Point.
Subsequently, many people noticed the swan as it adopted the marsh area near the beginning of Southpoint Road. It was seen daily, sometimes at a distance at the back of the marsh, other times, close to the sandy road, permitting many striking photographs. It became a favorite for social media posters on Facebook.
When first reported, many — including myself — assumed it was a tundra swan (Cygnus columbianus). Although not common on Ocracoke, tundras have never been reported on the islands Christmas Bird Counts which have run since 1981. They winter in large numbers in the region, particularly in the Lake Mattamuskeet National Wildlife Refuge area of mainland Hyde County and the Pea Island Wildlife Refuge on the Outer Banks.
Up until now, trumpeter swans (Cygnus buccinator) have not been reported on the Outer Banks.