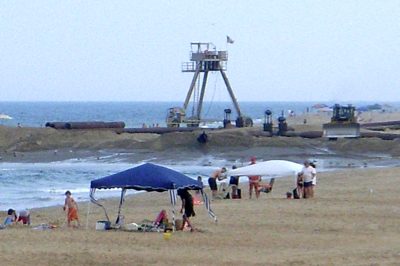 Reprinted from the Outer Banks Voice
With assurances of a substantial reimbursement from the federal government, Nags Head is moving ahead with financing for its first re-nourishment project since 10 miles of beach were widened in 2011.
The Federal Emergency Management Agency has notified the town that it will pay $16 million of the $42.7 million cost to cover sand losses attributed to Hurricane Matthew in 2016.
But Nags Head will have to borrow the money upfront until FEMA provides a reimbursement after the project is finished.
On Wednesday, the Board of Commissioners approved two bond issues, one for the FEMA reimbursement amount and another for $11.38 million.
Local property owners will pay back the second loan over five years with an addition 2 cents per $100 of value, which they have been paying since 2011. Owners along the oceanfront pay an additional 17.5 cents.
Original plans were to get started this spring. But the board delayed the project after bids came in well over the $34 million budget for pumping sand onto the beach.
Great Lakes Dock and Dredge, which handled the 2011 nourishment project for Nags Head and last year's sand pumping from Duck to Kill Devil Hills, was the low bidder for the new Nags Head project with their proposal of $36,644,500.
Bringing the total to $42.7 million are engineering costs, a contingency fund, ocean outfall work, turtle monitoring, beach profile monitoring, sand fencing and other fees.
Besides the bond money, $9.57 million will come from the Dare County Beach Nourishment Fund and $5.4 million from the town's capital reserve fund.
About 4 million cubic yards of sand will be pumped by dredges from offshore borrow areas. Bulldozers on the beach will spread the sand around and the ocean will do the rest. Up to half the visible sand will slide into the nearshore to create a protective slope, according to coastal engineers.
A survey shortly after Hurricane Matthew in October 2016 indicated that the shoreline had lost a third of the sand — 1.43 million cubic yards — from the original project.
Town officials asked FEMA to reimburse Nags Head for the cost of restoring the beach to the contour recorded in a June 2016 survey, when about 90 percent of the sand remained in the system.
FEMA considers the beach and nearshore out to a 19-foot depth.
This story is provided courtesy of the Outer Banks Voice, a digital newspaper covering the Outer Banks. Coastal Review Online is partnering with the Voice to provide readers with more environmental and lifestyle stories of interest about our coast.