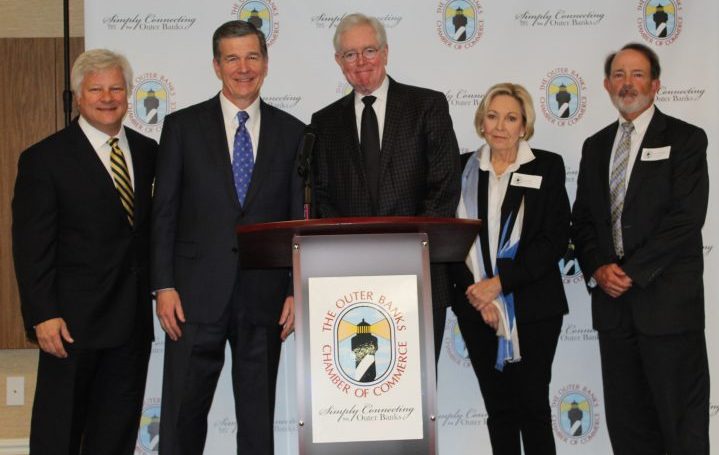 KITTY HAWK – Whether or not Gov. Roy Cooper had leapt at the opportunity to get away from Raleigh last week, it was clear that North Carolina's 75th governor was happy to have accepted an invitation to give the keynote speech at the recent Outer Banks Chamber of Commerce 2018 Economic Summit.
"What an amazing sunrise this morning," Cooper exclaimed in his opening remarks held April 12 at the Hilton Garden Inn on the oceanfront. "You guys are so lucky."
Environmental protection was part of the governor's focus on the economic importance of the state's 300-mile coastline and the 30,000 jobs supported by its nearly $3 billion tourism industry.
Cooper said that starting with visits during his childhood, and throughout his years as a state senator and attorney general, he has seen firsthand the tremendous growth in the state's northernmost barrier islands.
"We all know the Outer Banks has its challenges," he said, citing continuing threats from beach erosion, shoaling of waterways and damage from powerful storms.
"Now we have another threat and challenge – the threat of offshore drilling," he said. "I tell you this – not off our coast you don't!"
The risk of an oil spill destroying the coastal environment – and its economy – makes no sense, he said, when there are other options such as renewable energy.
Cooper again reiterated his promise to take the federal government to court if it pursues an oil and gas lease program off North Carolina.
The governor also supported diverse educational and training opportunities for the workforce, better pay for teachers, expansion of Medicaid and more help to treat and prevent opioid addiction.
Ultimately, Cooper said, in order to attract visitors and good businesses, and at the same time provide jobs in all corners of the state, North Carolina has to restore its reputation as a state that is tolerant, innovative and has a well-educated workforce.
"We want to bring people to North Carolina and bring their money with them," he said.
In a brief Q&A with reporters following his remarks, Cooper said that after meeting with U.S. Secretary of Interior Ryan Zinke, he had reason to be hopeful that the state will not be included in the pending federal offshore oil and gas leasing plan.
"I'm optimistic because the feeling in Washington was that offshore drilling was a done deal," he said. "I don't think that Washington anticipated the blowback they got up and down the East Coast. I think our arguments are winning. If they exempt Florida, they certainly have to exempt us."
Cooper also reaffirmed the state's support for wind and solar energy production. Despite an 18-month moratorium that was included in a recently enacted state statute, Cooper said the bill does not stop his administration from accepting applications for wind projects.
Meanwhile, construction of solar projects is booming.
"North Carolina is No. 2 in the country in solar energy," the governor told reporters, "and I believe it is one of our No. 1 economic assets."