NORTH TOPSAIL BEACH –  A 2,000-foot-long terminal groin would reduce erosion eating away the north end of Topsail Island and cut back the frequency of dredging in the New River Inlet, according to engineers hired to put together an inlet management plan.
A preliminary preferred alternative presented by Applied Technology and Management Inc., or ATM, to North Topsail Beach aldermen last week would seek federal and state permits to build all 2,000 feet of a terminal groin.
A terminal groin is a wall-like structure made of rock or other material placed perpendicular to the shore and adjacent to an inlet to control erosion.
Preliminary plans would call for the initial construction of a 1,500-foot structure.
By cutting off 500 feet of anchor, the town would save an estimated $1.5 million, dropping the cost to build a terminal groin from $6 million to $4.5 million, according to Fran Way, a senior coastal engineer with ATM.
Those projected costs cover construction only and do not include moving an estimated 300,000 cubic yards of sand to stabilize the beach in conjunction with the structure.
Officials would monitor the site following initial construction of the terminal groin to determine if the additional 500-foot anchor is needed, Way said.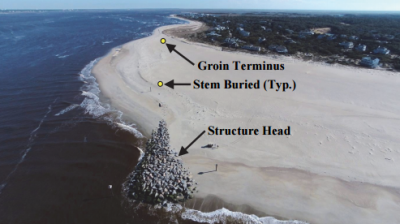 That's similar to the Village of Bald Head Island's $18 million, two-phase terminal groin project, the first phase of which includes a 1,300-foot structure completed in December 2016. The town's permit allows for an additional 500 feet of wall to be added following a two-year monitoring period.
"All said, things are looking good with the terminal groin," Village Manager Chris McCall said in a telephone interview. "It's performing as designed and intended."
Monitoring shows the terminal groin is slowing the erosion rate and reducing shoaling in the Wilmington Harbor Channel.
McCall said it's too soon to determine whether the additional 500 feet will need to be constructed.
"I don't believe we're quite there yet to say," he said. "I've always said, as the engineer has indicated, that at least three years or so of good monitoring is needed before we would make that decision."
It was unclear at last week's meeting how long North Topsail would monitor the initial phase of its proposed project. Way said monitoring could span from two up to five years.
Town leaders have emphasized they want something that will serve a dual purpose: maintain the channel for navigation and decrease erosion at the north end.
The town convinced Onslow County commissioners in July 2016 to pay half of the $500,000 it's costing for an Environmental Impact Statement, or EIS.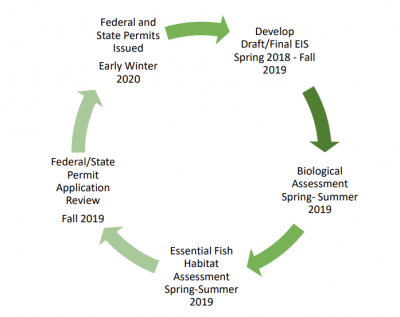 An EIS is a document that examines the positive and negative effects of a proposed project on the environment. Regulatory agencies use these documents, which are created by town-hired firms, as a tool to help determine whether to issue permits and what conditions, such as monitoring, to require in a permit.
County officials have said from the beginning that they want the EIS to include a variety of inlet- and shoreline-stabilization alternatives, not solely terminal groins.
During a meeting last November, a county representative reiterated that the county was not interested in a joint-project to build a hardened erosion-control structure.
ATM's preliminary alternatives presented to the town last week included jetties, which are longer than terminal groins and designed to maintain navigable channels.
Jetties at Masonboro Inlet span about 3,600 feet long and, according to Way, the structures have been doing well for more than 100 years.
Among the preliminary alternatives ATM created for North Topsail Beach are dual jetties, one on each side of the inlet, stretching roughly 3,100 feet to 3,500 feet. Building these would cost an estimated $20 million, according to Way.
A single jetty system would be similar to the preferred terminal groin, he said, though about 1,000 feet longer and come with an estimated price tag of $11 million.
Jetties are not currently permitted in North Carolina and it wasn't until 2011 that state legislators lifted a decades-old ban on hardened erosion-control structures.
Terminal groins remain highly controversial because they are generally believed to cause increased erosion elsewhere along the beach.
The General Assembly is allowing the construction of up to six terminal groins.
North Topsail Beach has for years been trying to combat erosion at the north end, where several homes have been swallowed and destroyed by the encroaching sea.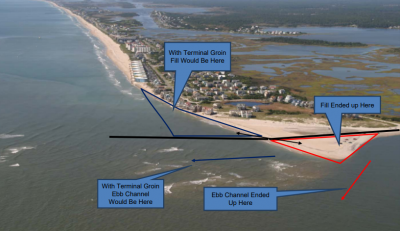 Based on two-year modeling of a northerly located terminal groin, an ebb channel would form along the structure.
"So, it's saving sand, it's keeping the beach nice and fat over here," Way said. "We wanted it to have the navigation component and the benefit of the beach nourishment."
Dawn York, project manager with Dial Cordy and Associates, a Jacksonville Beach, Florida-based firm with a regional office in Wilmington, said the firm has initiated development of a draft EIS.
"There's a lot of steps to this," she said. "I think the most important need is for the town and county to come together and discuss this preferred alternative."
County representatives, including County Manager David Cotton and County Commissioner Royce Bennett, attended last week's North Topsail Beach Board of Aldermen meeting.
They declined an invitation to speak or ask questions following Way's presentation. Way said he is open to hearing suggestions for additional alternatives from the town and the county.
North Topsail Beach Mayor Dan Tuman asked the town manager to set up a meeting with county officials.
Tuman said the preliminary preferred alternative, "seems like a good solution."
"The beaches of North Topsail Beach are a tremendous recreational asset for Onslow County so we need beaches," he said. "And, it's a huge economic engine for our town and for the county and the state. Beach nourishment is important and we need the inlet as a sand source for our beaches. I'm ready to vote, but we'll have that discussion."
Learn More