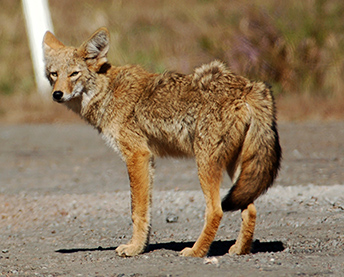 Reprinted from The Outer Banks Voice
A licensed trapper hired by Nags Head left little doubt that coyotes are a growing suburban nuisance after catching eight males and nine females on town-owned property within the 13-week season that ended last month.
The town is limited to the trapping season from December through February because it is one of five counties under rules to protect red wolves and because of limitations on firing guns in a populated area.
Elsewhere in rural areas of the state, the animals can be shot on sight on private property and during daylight hours on public land with a permit.
 Police Chief Kevin Brinkley told the town Board of Commissioners Wednesday that samples of fur from each of the eight male and nine female animals were sent to the state Wildlife Resources Commission for signs of interbreeding with red wolves.
Interbreeding has raised questions about how effectively the red wolf recovery program at Alligator River National Wildlife can maintain a pure strain and thus the need for limits on hunting coyotes.
"I don't now what it's going to show, but it would be my hope that it's 100 percent coyote, there's not any red wolf in it, and maybe that will help our cause and show them, look, there's not any red wolves over here," he said.
Coyotes can now be found in all 100 of the state's counties. They have been on the Outer Banks since 2009, but only in the past two or three years have they become a noticeable nuisance.
Wildlife biologist James Turner said in a 2016 Voice interview that coyotes can live anywhere, and in spite of their carnivore reputation, they are actually omnivores and will eat berries, fruits, even insects.
This story is provided courtesy of the Outer Banks Voice, a digital newspaper covering the Outer Banks. Coastal Review Online is partnering with the Voice to provide readers with more environmental and lifestyle stories of interest about our coast.