CURRITUCK — The Currituck Board of Commissioners voted 5-1 in a second reading Monday to require parking permits during the height of the summer season for the off-road section of the county's beaches, the Outer Banks Voice reported.
As during the first reading Feb. 19, Commissioner Mike Hall of Moyock was the lone "no" vote.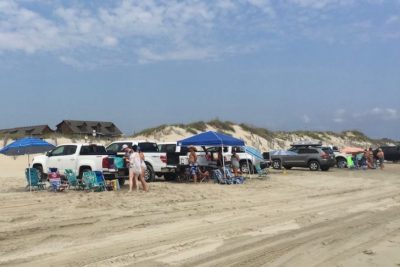 Commissioner Paul Beaumont said that residents of Carova Beach had asked the board to consider parking permits to protect the public. The parking permits would reduce traffic on the county's busy northern beaches during summer.
The permit requirement for beach parking will affect the area from Corolla village to the Virginia line from the Friday before Memorial Day until 11:59 p.m. Labor Day.
Currituck County residents and non-resident property owners will be allowed free permits for each vehicle they own, which will be assigned to the vehicles and not transferable. In addition, property owners in the off-road section of the county will be allowed two additional permits for guests.
Owners of homes in a rental program that are beyond the North Beach Access Ramp will be able to obtain up to two permits per house at no charge, which can be used by renters.
People who don't live in or own property in Currituck may purchase parking permits at the county's tourism offices in Moyock and Corolla. Visitors will also be able to purchase the permits online.
Fees for the parking permits are to be determined as part of the county's budget process, with recommendations expected by May 1.
Exemptions to the parking permits will be granted to commercial fishermen, hunters, outdoor tour operators that have valid county-issued licenses for their businesses and are conducting an active tour at the time, along with contractors who are working for the county or on projects such as beach restoration or walkways and decks to the beach.
The passes would not be required of sightseers in the four-wheel drive areas along and north of Corolla village.
This story is provided courtesy of the Outer Banks Voice, a digital newspaper covering the Outer Banks. Coastal Review Online is partnering with the Voice to provide readers with more environmental and lifestyle stories of interest about our coast.