HUBERT – The North Carolina Department of Transportation is touting its first passenger-only ferry, a high-speed, aluminum-hull catamaran being built here, as a way to provide a higher level of service to coastal travelers and boost tourism on the state's Outer Banks.
State and company officials hosted last week an open house for media at US Workboats' manufacturing plant on the Atlantic Intracoastal Waterway in Hubert, an unincorporated community in Onslow County near Swansboro. The company is building the 92-foot-long, 26-foot-wide Ocracoke Express passenger ferry that will operate from Hatteras Island to Ocracoke Island's Silver Lake Harbor. Officials expect service to begin by mid-summer.
NCDOT Deputy Secretary for Multi-Modal Transportation Julie White, who was on hand Thursday for the event, explained that shoaling in the Hatteras Inlet ferry channel and the resulting increased transit time for vehicle ferries were factors in a 20-25 percent decline in tourism revenues on the island in recent years. The passenger ferry was proposed as a solution after a 2015 
feasibility study
mandated by the North Carolina General Assembly.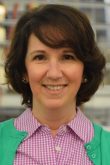 "Our goal is to get those tourism levels back to where they were," White said.
In 2013, shoaling in Hatteras Inlet prompted the Ferry Division to switch to a longer, deeper route between Hatteras and Ocracoke, the most heavily used route in the state's ferry service. What was once a 35- to 40-minute, 4.5-mile crossing for the Hatteras-Ocracoke vehicle ferry is now about an hourlong, 9-mile trip.
The effects of the change were "dramatic," according to the state's feasibility study. Daily crossings in each direction were reduced from 53 to 36, and fuel and labor costs increased by more than $7,000 each day. The change also created long queues at the ferry terminals, making it difficult for visitors to the Outer Banks to make a day trip to Ocracoke. Local business owners blamed their lost business revenue on fewer day-trippers.
"The projected loss of between 31,000 and 50,000 visitors to Ocracoke in the peak months could be attributed to the lower levels of service caused by the longer route," according to the study.
Almost all Ocracoke business owners surveyed for the study said that long wait times at ferry docks were a major challenge to their business.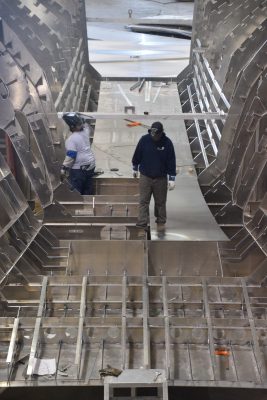 Plans call for the 100-passenger ferry to use Rollinson Channel to access the Pamlico Sound and Big Foot Slough to access Silver Lake, making four round-trips daily with the first departure from Hatteras at 10 a.m. and the last departure from Ocracoke at 8:30 p.m., May through September. The round-trip fare will be $15 per passenger.
White said the Ocracoke Express will offer guaranteed boarding, with less wait time at the ferry terminals, compared to vehicle ferries, which will also continue service after the passenger ferry runs begin. The new ferry will also offer amenities such as an air-conditioned passenger cabin with open-air seating on the top deck, concessions and bike racks for passengers wanting to bring their bicycles to Ocracoke.
"You can do the entire thing without a car," White said, adding that the plan has already sparked private business investment in Ocracoke Village. Some locals are buying golf carts to make available for rent to visitors, she said.
"Entrepreneurs in Ocracoke are seeing this as a wonderful way of experiencing Ocracoke," she said.
The state in June 2017 awarded the $4.15 million contract to build the ferry. It's part of an overall $9 million passenger ferry project that also includes parking improvements and visitor facilities at the Hatteras and Ocracoke-Silver Lake terminals. Money for the project is from a grant from the Federal Lands Access Program and an appropriation by the North Carolina General Assembly.
In addition to a faster crossing, the Ocracoke Express will arrive at Silver Lake Harbor in the heart of the village, rather than at the north ferry terminal about 20 minutes and 13.5 miles away, where vehicles from Hatteras Island arrive.
Unlike the vehicle ferries, the shallow conditions in Hatteras Inlet and Pamlico Sound won't be a problem for the Ocracoke Express. Speed and a shallow draft were the basis for the new ferry's catamaran design, which drew inspiration from a ferry the division tested in Provincetown, Massachusetts, said Ferry Division spokesman Tim Haas.
"The catamaran hull is perfect for the environment it's going to be operating in," Haas said.
The new 95-ton ferry will feature water jet propulsion and four 803-horsepower Caterpillar C18 ACERT marine engines that are advertised as meeting the Environmental Protection Agency's 2017 Tier 3 emissions standards.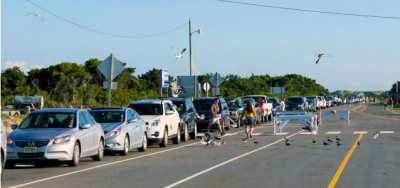 Sheila Pierce Knight, executive director of Jacksonville-Onslow Economic Development, said at the media open house that US Workboats has been "a great success story for eastern North Carolina."
The Port Angeles, Washington-based company, formerly known as Armstrong Marine, specializes in welded aluminum boat manufacturing. The company in late 2013 announced it would invest more than $8.4 million in the facility in Hubert. Originally a Tiara Yachts manufacturing plant, the site was most recently owned by Brunswick Corp., which built Hatteras Yachts here from 2005 until 2008.
Armstrong Marine completed its first boat made entirely in North Carolina in 2015, a search and rescue boat made for Sullivan's Island Fire Department in South Carolina.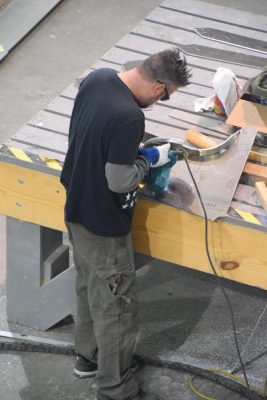 US Workboats has 24 employees and is adding about three each week, depending on work and space for workers on the vessel, said the company's Tracy Gable.
Securing the state contract to build the ferry in Onslow County is a source of pride for the community, Knight said.
"It makes sense to have a boat being built for North Carolina Citizens by North Carolina citizens," she said. "It keeps our tax dollars at home."
The passenger ferry is one of two builds underway for the Ferry Division. The other vessel is a new river class ferry being built in Louisiana and slated for launch in 2020. The addition of two new vessels is intended to reduce delays and travel times, Haas said.
"Hopefully, we'll get summer wait times down to a reasonable level," he said.
The state in October 2017 awarded a $9.7 million contract for construction of the new river class vehicle ferry. That vessel will be 183 feet long and have room for 38 regular-sized vehicles.  It will serve as a replacement for the 22-year-old M/V Thomas A. Baum, a Hatteras-class ferry that carries 26 vehicles.
Once built, the new vessel will be the Ferry Division's first new car ferry since the M/V Sea Level was christened in 2012.
Learn More