RALEIGH — A House committee set up to initiate a legislative response to GenX and other emerging contaminants approved a set of provisions Thursday to be introduced at next week's special session.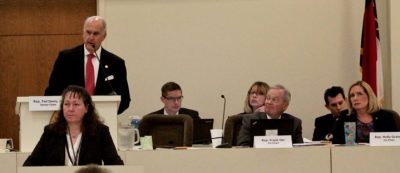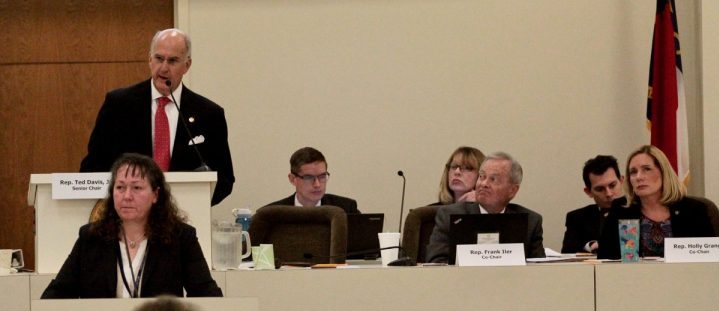 Rep. Ted Davis, R-New Hanover, who chairs the House Select Committee on North Carolina River Quality, said this first round of legislation is aimed at "non-controversial, short-term solutions."
The bill, he said, "does not have everything that everybody wants, but it's a starting point that we can subsequently build on and give us momentum as we go into the short session."
Davis said House Speaker Tim Moore had given him the go-ahead for the bill and he is in communication with Senate counterparts about moving ahead during what will likely be a one- or two-day session starting Wednesday, Jan. 10.
The draft legislation was released this week. It mandates three specific studies and a review of the science for health advisories for unregulated contaminants.
The package, which was approved in a unanimous vote at a meeting Thursday morning, did not include any additional funding for the studies or the ongoing response by state agencies.
Davis said separate funding legislation is being developed, but may not be ready in time for next week's session. He said the funding plan was "a work in progress" and if not ready in time for next week's session would be taken up during this year's short session, which typically starts in May.
Legislative leaders and Gov. Roy Cooper have continually fought over GenX response funding. Cooper called for more funding last August to cover additional testing and monitoring at the Department of Environmental Quality and the Department of Health and Human Services, but in its only GenX-related appropriation so far the legislature instead sent $435,000 for testing and monitoring to the University of North Carolina Wilmington and the Cape Fear Public Utility Authority.
Several speakers told the committee the lack of funding for DEQ made it hard to support the legislation.

Mary Maclean Asbill, a senior attorney with the Southern Environmental Law Center, said the bill continues to put off meaningful action while requiring DEQ to use resources to conduct more studies.
"This bill asks an already strained agency to do more with less and does nothing to help the people who can't drink their water," she said.
Former Wilmington mayor and state Senate candidate Harper Peterson said the state needs to appropriate the funds to do the necessary studies.
"Mr. Chairman, it's been seven months since this story broke. We've learned a lot and I think the most important thing we've learned is that we don't know a lot," he said.
Peterson said he thought the legislation was a good start, but was missing any investment of public dollars. "This is a crisis, this is not a process," he said.
Rep. Chuck McGrady, R-Henderson, one of four co-chairs of the House Appropriations Committee, called the legislation a good step forward, but asked environmental advocates to understand that, when it comes to funding, it is a process. He pointed to long-running differences between the House and Senate on environmental issues and DEQ funding.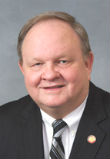 "Politics is the art of the possible," he said. The bill, he said, is the next step. "Is this as big a step as I'd like to see us take? Frankly, not, but I'm not the king here."
Rep. Frank Iler, R-Brunswick, said he didn't think some of the comments about funding were productive. "Certainly, this is a process and if you're familiar at all with legislative process, this is a pretty fast one."
Bill Breakdown
According to a draft of the bill released this week, the Department of Health and Human Services and the state's newly revised Science Advisory Board are to work together on the process for developing health goals for contaminants.
During its meeting last month in Wilmington, the board approved a deep dive into the DHHS methodology for setting the health goal and the available science on GenX.
The health goal for GenX has been a focus of concern since last summer, when DHHS dramatically reduced the acceptable levels of GenX from 71,000 parts per trillion to 140 parts per trillion.
Committee member Rep. Scott Stone, R-Mecklenburg, said the focus on the goal is important because although it doesn't have any legal, regulatory effect, it's being used as one.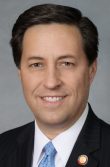 "DEQ and DHHS have been using that health goal as a regulatory number," Stone said. When the departments sent out a press release saying they were supplying bottled water because drinking water exceeds 140 ppt, "it might as well be a regulatory standard, because everyone in the world thinks it is and if it's over that number we're talking about denying permits and so forth," he said.
The legislation also requires DHHS to notify the chair of the Science Advisory Board prior to issuing a health goal for a contaminant and to submit all their newly issued provisional health goals to the board at its meeting later this month.
The bill requires also three studies.
DEQ would be required to conduct a comprehensive study of the state's National Pollution Discharge Elimination Program including the adequacy of requirements for disclosure of emerging chemicals, monitoring and analysis, the existing process and internal review procedures. The study is due Dec. 1 with an interim report to the House River Quality Committee and Environmental Review Commission due April 1.
The department is also to conduct a study of public notification and reporting requirements for dischargers of untreated wastewater and untreated waste and for the process for notifying the General Assembly and the commission about emerging chemicals.
The third study in the bill requires the School of Government at University of North Carolina Chapel Hill to review the extent of civil liability for public and private water utilities for distribution of "drinking water contaminated by a pollutant without applicable discharge standards established under State or federal law …" That study is due the House and Senate river quality committees and the Environmental Review Commission on April 1.
Another section of the bill requires DEQ to improve information sharing on contaminants in surface water and groundwater with environmental agencies in Georgia, South Carolina, Virginia, Tennessee and Virginia.
Learn More