TALLAHASSEE, Fla. –  After Florida's Republican Gov. Rick Scott, who strongly opposed the move to drill for oil and gas off the state's coast, met with United States Secretary of the Interior Ryan Zinke Tuesday, the Department of the Interior announced that Florida's coast will no longer be considered for oil and gas drilling.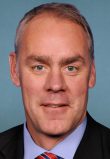 Zinke announced Jan. 4 that nearly all United States coastal waters would be opened up to allow new offshore oil and gas drilling as part of the National Outer Continental Shelf Oil and Gas Leasing Program for 2019-2024, compared to the current program where 94 percent of the waters are off limits. The proposed program includes 47 potential lease sales off the coast of Alaska, Pacific, Gulf of Mexico and Atlantic.
According to a press release Tuesday from the Florida governor's office, Scott requested to meet with Zinke to discuss his concerns with the federal oil drilling plan, which resulted in Zinke pulling Florida from consideration after their meeting.
Scott said that by removing Florida, "We can now focus on how we can further protect our environment, including our proposal for record funding for the Everglades, our springs, our beaches and our state parks. I will never stop fighting for Florida's environment and our pristine coastline."
Zinke said in the statement that President Trump directed him to rebuild the offshore oil and gas program "in a manner that supports our national energy policy and also takes into consideration the local and state voice."
"I support the governor's position that Florida is unique and its coast is heavily reliant on tourism as an economic driver," Zinke continued. "As a result of today's discussion and Governor Scott's leadership, I am removing Florida from consideration for any new oil and gas platforms."
This move by Zinke has garnered backlash by organizations and businesses.
Frank Knapp Jr., president and CEO of the Business Alliance for Protecting the Atlantic Coast, or BAPAC, has more than 41,000 businesses and 500,000 commercial fishing families supporting its mission of opposing oil and gas exploration and drilling in the Atlantic.
"Zinke is quoted upon announcing that he was removing Florida waters from being included in a five-year oil leasing plan that he was doing so because he supports Governor Scott's 'position that Florida is unique and its coasts are heavily reliant on tourism as an economic driver.'" Knappe said in a statement.
He wants to invite Zinke to visit the coastal states along the Atlantic with their governors to see that each coastal area is "unique and generates tourism, commercial fishing and recreation dollars that drive their local and state economies. Every one of these states deserves Mr. Zinke reaching the same conclusion to continue the ban on offshore drilling on their outer continental shelf."
Knapp added, "While the other Atlantic Coast states don't have a Mar-A-Lago to protect and some don't have Republican Governor's to plead their case, they do have thousands of businesses that depend on a healthy ocean for their success. Offshore drilling for oil is just as incompatible with the local economies of the rest of the Atlantic Coast states as it is with Florida's economy."
The Southern Environmental Law Center, or SELC, has also released a statement after Zinke announced he planned to remove Florida from the administration's draft five-year offshore drilling plan.
"Two days in, the Trump Administration has shown us exactly what their offshore drilling proposal is all about and it has nothing to do with listening to local and state voices, economics, or science. This is about playing politics with our coast," said SELC Senior Attorney Sierra Weaver. "If it was anything but that, Secretary Zinke would have announced tonight that he was removing Virginia, North Carolina, South Carolina and Georgia, where offshore drilling has already been rejected by local and state voices. The fact is that an oil spill doesn't know or care where one state ends, and another begins – and Florida remains at risk, just like all states in the Mid- and South Atlantic. The Administration should end its crusade for Big Oil and actually listen to voices on the ground that made it crystal clear they do not want drilling off their coasts."
North Carolina Gov. Roy Cooper tweeted Wednesday that offshore drilling "would bring unacceptable risks to our economy, our environment, and our coastal communities," and he urged the public to call the Interior Department to speak out against the plan.
Make your voice heard. Call @Interior at (202) 208-3100 to speak up against offshore drilling on North Carolina's coast.

— Governor Roy Cooper (@NC_Governor) January 10, 2018