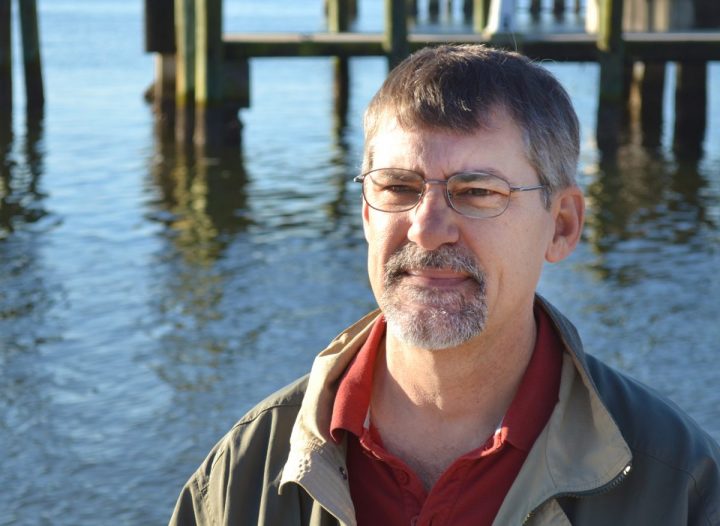 MOREHEAD CITY — Steve Murphey, named earlier this month as the new director of the North Carolina Division of Marine Fisheries, has always been around water, and interested in the things that live in it.
He was born in 1960, and grew up in Kathleen, in central Florida north of Lakeland, on a steady diet of Jacques Cousteau, fishing and camping.
"We lived on a small farm, and we had some cattle and chickens and things," he said in a recent interview. "But Florida isn't very wide, and there's water everywhere. We'd go (east or west) and go fishing in the sounds and sometimes deep-sea fishing on head boats. And I was just entranced by Jacque Cousteau's television show," he said, referring to "The Undersea World of Jacques Cousteau," a documentary series that ran from 1966 to 1976.
The 1960s and '70s, of course, were times when parents rarely prearranged their kids' activities. "You'd go outside in the morning and not come in until you were called in for dinner," he said. "You were just outside all the time, every day."
But if the young Murphey was an outdoor boy, he was also always at least somewhat interested in science. He came by it naturally; his father, a fifth-generation Floridian, was a chemical engineer and his mother was a public health nurse, so it was only natural that he was interested in geekish things, too. But when he graduated from high school, Murphey, like many at the time, didn't have much of an idea what he wanted to do.
So he took a year off school, indulging his interest in photography by apprenticing with a photographer. He also dug ditches and took some other manual labor jobs. "I pretty much checked off everything I didn't want to do for a living," he said.
He eventually settled on science and went off to college and earned a bachelor's degree in marine biology from the University of North Carolina Wilmington in 1984. His first job out of school was as a marine biology technician with the South Carolina Division of Marine Sciences in Charleston.
He met there his wife-to-be, Trish, where she held the same position. But they eventually realized they needed to make more money, and a few years later, when he saw an opening with the Division of Marine Fisheries, he applied, won the position and the family moved to North Carolina in 1987. Trish eventually became a lead species biologist for the division, and they've both been there, mostly in that state fisheries division building on Arendell Street in Morehead City, ever since, making Murphey the first person in many years, if not ever, to rise through the ranks of the division all the way to the top.
It's not something he ever expected. He has held a variety of positions that include development of artificial reefs, reef fish assessment, oyster sanctuary development, policy development and section management for habitat enhancement and coastal habitat protection.
For about 11 years, he was not with the fisheries division, but with the division of environmental health in the shellfish sanitation section, which does water quality surveys and seafood inspections, things designed to protect public health. But it was still, essentially, fisheries biology work.
"I remember Darlene Rappa," who coached Murphey's daughter, Casey, in soccer at Morehead City Middle School, "had this bumper sticker that said something like 'Luck is what happens when preparation meets opportunity,'" Murphey said. "I've always tried to be prepared to take advantage of opportunities when they come along.
"Whatever job I had at any time, I was always interested in other things in the division outside my specific job. It kept things more interesting."
It also gave him as wide an array of knowledge of the division and its missions as anyone. So when the state decided last year that Braxton Davis should no longer be director of both the coastal management and marine fisheries divisions of the North Carolina Department of Environmental Quality, who was better positioned for the fisheries post than a man who knew so many of its people and its functions? Preparation met opportunity. Some might call it luck. But it really wasn't.
Murphey is, by all accounts, a people person. He can seem quiet at times, but he's funny, personable and engaging. Several employees at the division last week said that if they'd had a choice for their boss, he'd have been at the top of the list.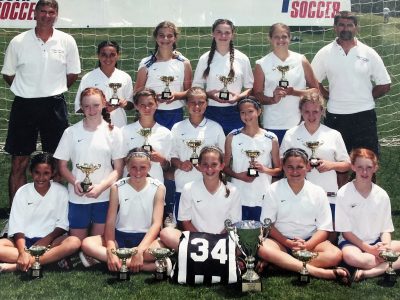 But he's also very competitive, and can be intense, when he feels it's necessary. He was an assistant girls' soccer coach with Rappa at Morehead City Middle School, helped coach Casey's club soccer team for more than a decade and was also an assistant girls' soccer coach at West Carteret High School.
He did not like to lose, and those teams were successful for many reasons, not the least of which was Murphey's balanced combination of fieriness and fun. The club team, the Morehead City-based Riptides, won a state championship in 2007. The core of that team remained together for years, played together at West and eventually became the first club team in Carteret County to make it to the top division in youth soccer in North Carolina.
That experience taught Murphey a lot, he said during the interview, and he still has a photo on his desk of a group of the girls – the Magnificent Seven, he calls them – on senior night at West Carteret High School in 2012.
One thing that experience taught him was never, ever to underestimate the abilities, drive and dedication of the younger generations. It's common now to hear folks bemoan the lack of ambition of younger folks who were raised, some think, lazy and spoiled by "participation" trophies and parental coddling.
Murphey knows better. He saw the time and effort it took for those girls – all excellent students who went to college – to excel, and to move onto good jobs and grad schools. It's something that will serve him well as fisheries director, because most of the men and women Murphey worked with at the start of his career have retired, succeeded by a younger generation, many just a few years older than those soccer girls are now.
"They are different," he said of the younger employees. They might care a little more about free time and family than some in previous generations, but "they are passionate and smart, really an exceptional group. They have handled workloads that many of us couldn't have dreamed of handling all the way through high school and college."
It's those employees Murphey will now direct at a division that is responsible for the stewardship of the state's incredible and varied marine and estuarine resources, managing all of them for the benefit and health of myriad groups of stakeholders, many of whom believe they are in competition with each other.
Conflicts – social and political – between commercial fishermen and recreational fishermen and competitive subsets within them, for years have caused controversy, and Murphey knows those won't ever go away. One of his goals is to better educate the public – those who just eat seafood, those that catch fish and shellfish for fun or for profit – so there's a wider and more nuanced understanding of the science behind fisheries management decisions.
He's soliciting ideas from the staff, and he's meeting with stakeholders. One thing he knows for sure is that the division must not only maintain and enhance its data collection efforts, but also its efforts to get that data in the hands of the public in understandable and meaningful ways. It's crucial, he said, for the public to trust the data as much as possible. And that, he said, is a challenge, because counting fish and shellfish is "like counting deer in the forest … except you're underwater and it's dark and you can't see them."
He wants to beef up the budget for data collection and analysis, if possible, "because the better the data, the better decisions you make."
Murphey has worked closely with state legislators on some issues, and thinks most, if not all, share the goals of the fishing and fish-consuming public: Equitable access to the stocks and sustainability; no one wants to see species disappear. And, he said, legislators seem to genuinely want good information from the division.
He understands the politics. The North Carolina Marine Fisheries Commission, which makes broad policy decisions for the division, is composed of members who are specifically appointed to represent various interest groups and segments of the population. The fisheries division staff's mission is to present that commission with scientifically derived data to guide those decisions. And legislators in Raleigh hear from those competing user groups and are occasionally pressed to intervene on behalf of one or the other.
Managing marine resources is a huge and complicated job, with a lot at stake. Commercial fishermen in the state landed 60 million pounds of finfish and shellfish worth $94 million in 2016, according to the division's statistics. Recreational marine fishermen that year were estimated to have landed 11.9 million pounds of fish. Roughly twice that poundage is estimated to have been caught and released. Both fisheries have tremendous impacts on the state's economy, and not just along the coast.
And, Murphey said, a warming world — and warming waters — are changing things in ways we don't yet fully understand. Some fish species are inhabiting waters in which they previously weren't seen, at least at certain times. Some appear to be moving into deeper waters.
"Why this is, is not entirely clear yet," Murphey said. "But it will have an impact on management," and potentially on public health and seafood consumption.
For example, oysters are safely harvested and consumed only in cool and cold weather months. What if those months decrease in number? What new species might show up?
Overall, Murphey thinks the state's marine resources are in pretty good shape.
"There are some challenges, and some success stories," he said. "But the elephant in the room is protection of the habitats that are essential to the fisheries. We need to look more closely at habitat, and what more we can do to protect it, and need to let ourselves think outside the box."
He said he's optimistic, in part because the state's residents care deeply about marine resources, and because the division staff is so knowledgeable, dedicated and enthusiastic.
Murphey's life is undergoing some adjustments. Because of his promotion, his wife, also a fisheries biologist, had to leave the fisheries division and is now working for the Albemarle-Pamlico National Estuary Partnership, or APNEP, an organization that tries to identify, protect and restore the resources of the Albemarle-Pamlico estuarine system, working under the state Department of Environmental Quality.
It's a good fit for Trish, he said, and he hopes his new job will be a good fit for him and the division staff.
He's looking forward to working with everyone who has a stake in those resources, and believes he can retain his vaunted sense of humor through the inevitable policy debates and disagreements.
"This is a fun place to work, and I'm very grateful for this opportunity," he said. "I get to go out on the water some and work with some of the finest people I've ever met."
Learn More