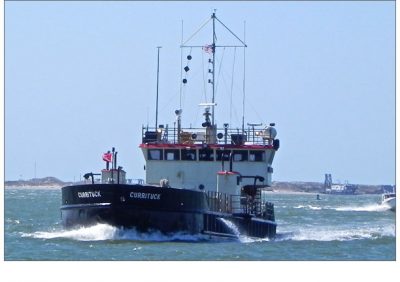 Reprinted from Island Free Press
The Dare County Waterways Commission met at the Fessenden Center Oct. 10 to review recent dredging at Hatteras Inlet, and to discuss upcoming goals and maintenance projects.
The commission also received some relatively good news.
A survey conducted on Oct. 6 showed little change to the dredged areas of Hatteras Inlet since the last survey was performed Sept. 20.
The survey was created after dredging occurred at the inlet with the hopper dredge Currituck, before it had to cease operations due to stormy weather conditions. Dredging was conducted from Sept. 14-16 for 24 hours a day, and from Sept. 21-23 for 12 hours a day.
"We were pleasantly surprised that it looks as good as it does," said Steve Shriver, team leader of the Army Corps of Engineers' survey section. "We were expecting it to be a little more filled in."
Most of the controlling depths in the channel remained in the 7 or 8 feet range, which was more or less identical to the September 20 survey results.
"The weather may have helped us," said Shriver, "as well as the couple of storms that came through (the area.)"
In the next few months, the Currituck will be the Corps' Wilmington District's only vessel available to dredge in Hatteras Inlet. The Merritt is in Wilmington en route to Memphis where its haul will be replaced, and another dredge, the Murden is committed to projects in the northeast.
As such, Steve Shriver and Jim Medlock, the Corps' civil works project manager, recommended that brief but regular maintenance dredging be performed in the months to come.
"If the Currituck cannot get in there because it's too shallow … well, it's really the Currituck or nothing," said Medlock. "We certainly don't want to lose what we've done."
At this time, there are still funds remaining for upcoming dredging projects, which should cover at least one more cycle of maintenance dredging at Hatteras Inlet. Shriver and Medlock also recommended conducting another survey before Thanksgiving, which the board approved via a motion by board member Ernie Foster.
Chris Bock, Hatteras operations superintendent for the NCDOT Ferry Division, also reported at the meeting that there will be some upcoming dredging at South Dock on the northern edge of Ocracoke Island to address, in part, damage from Hurricane Maria.
The South Dock Basin, which is the entrance for vehicular ferries, has historically been 100 feet wide.
Currently, it measures 50 feet wide, which can barely accommodate the 45-foot wide vessels.
A permit is in place to expand the basin to 225 feet, and to use the excess sand to rebuild the parking area and stacking lanes that were damaged by Hurricane Maria.
The federal contract that will allow for several upcoming dredge projects was also discussed at the October 10 meeting.
The contract essentially entails five separate projects in the eastern North Carolina area. These projects include two sites in Wanchese, a site in Carteret County, and locally 1,500 feet of Rollison Channel near the Breakwater, and Walter Slough going to the Coast Guard station.
There is also an option to dredge at Big Foot Slough and other areas of Ocracoke Inlet in the contract, but the missing piece to move forward is funds.
Medlock said at the meeting that there were several ways to move forward. An appropriations bill needs to be passed in order to obtain the $400,000 required to dredge at Big Foot Slough, but last year, this bill was not passed until May 2017. However, the Corps can request funds in advance, (before the bill is passed), and this request is in the works.
"We're going to try to get the federal funds in advance," said Medlock.
Another less appealing option is to obtain the funds from the state, however in this scenario, North Carolina would pay 75 percent and a county sponsor, (in this case Hyde County), would need to pay 25 percent or $100,000. Representatives from the newly formed Hyde County Waterways Commission, who attended the meeting, noted that this would be difficult.
Other potential long-term issues were also discussed, which included next summer's dredging. Because the Corps can only dredge from October through March, unless they have been granted an extension, navigation through the inlet may once again become an issue when summer of 2018 rolls around.
"We've got it now, and we need to maintain it," said board member Steve "Creature" Coulter. "We don't have unlimited resources or unlimited time, and I'd like to see if there's any way we can get the dredge window expanded."
For now, however, Hatteras Inlet remains in decent shape for visiting mariners.
"This is the first time that I have felt optimistic about Hatteras having a usable channel in a long time," said board member Ernie Foster. "We need to get the word out to anyone who has a boat that there's enough water to use it… And we haven't been able to say that in a long time."
This story is provided courtesy of the Island Free Press, a digital newspaper covering Hatteras and Ocracoke islands. Coastal Review Online is partnering with the Free Press to provide readers with more environmental and lifestyle stories of interest along our coast. You can read other stories about Hatteras and Ocracoke here.