SWAN QUARTER — Sometimes it helps to get the attention of the big dogs in Washington to receive more than budgetary scraps, which is how it happened that powerful U.S. Sen. Richard Burr, R-N.C., recently ended up chatting with Hyde County officials at a remote hunting outpost near Lake Mattamuskeet.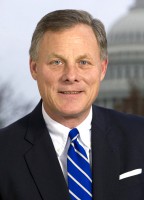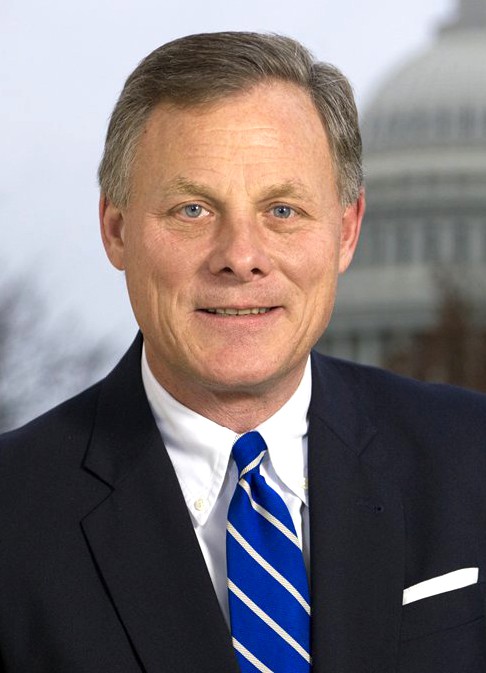 Burr was in the midst of a whirlwind tour of the northeastern corner of the state in mid-October when he agreed to a detour to hear Hyde's concerns about federal support for flood mitigation, hurricane recovery and the restoration of Lake Mattamuskeet's watershed and its historic lodge.
"It seemed very advantageous to let him know what was going on with this federal property right here," said Kris Noble, assistant county manager, referring to the lake, which is the centerpiece of Mattamuskeet National Wildlife Refuge.
Facilitated by the nonprofit North Carolina Coastal Federation, the county has partnered with the U.S. Fish and Wildlife Service and the North Carolina Wildlife Resources Commission on the planning process. The commission and the Wildlife Service collaborate on research and projects related to the lake to support that planning process.
A series of quarterly meetings with a stakeholders team began in August to identify management solutions to water level and water quality concerns. The second meeting is scheduled for Nov. 7 in Swan Quarter.
"What we're thinking is that our plan is going to lead to a series of recommendations that will probably include infrastructure changes," Noble said after the meeting with Burr, "and that's where we'll potentially be looking for federal dollars."
The state's largest natural lake has been a subject of concern and controversy in recent years, with a vocal group of duck hunters and other lake users accusing the refuge of mismanaging water levels to the detriment of waterfowl populations.
At the same time, the refuge has struggled to restore water quality and vegatation that have suffered from pollution. With stakeholders now working together on the watershed plan, the hope is that a cooperative effort can resolve the issues.
After settling around a table at the Mattamuskeet Outpost, a privately owned motel and dining facility for hunters near the refuge, Burr listened intently as Noble presented a brief synopsis about the lake's condition.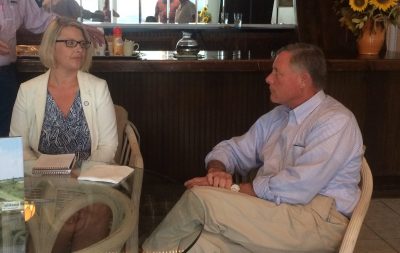 "We've been seeing a lot of the unhealthy data about our lake," she said.
"Vegetation data?" Burr asked.
"Yes," Noble responded.
"Fish and Wildlife made a decision to reduce the depth. Am I right or wrong?" the senator then asked.
"No sir, there's no infrastructure that would allow them to maintain a lower level of the lake currently," responded Daniel Brinn, Tar-Pamlico technician with Hyde County Soil and Water Department.
Elaborating, Burr said that some lake users contacted him several years ago to complain about the water levels. But Brinn explained that levels occur naturally, depending on tides, rain or drought.
Although Burr has voted against clean energy and dismisses human-caused climate change, he has been a strong advocate for permanent reauthorization of the Land and Water Conservation Fund, a program that promotes recreational use of conserved land and water resources. The fund, which operates without taxpayer funds, is due to expire in September 2018.
After showing Burr a video of the extraordinary flooding of farmland in Hyde County from last year's Hurricane Matthew, Noble emphasized the importance of agriculture to the county's economy.
With most of its land in the 100-year floodplain, the county has created six drainage districts to control flooding, including on farm lands. But at least two of the districts – the Fairfield and Mattamuskeet districts – were completely inundated by the Alligator River during Matthew.
"We've taken a huge focus on drainage," Noble said. "As a community and as a county, we've been working on mitigation efforts for 100 years. We are very blessed that we have these drainage systems."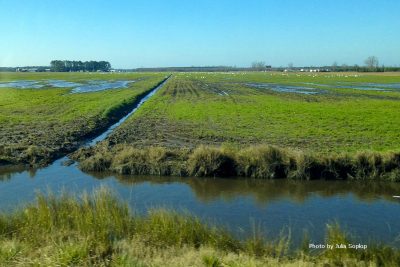 A subject of the video, the Mattamuskeet Drainage Association, manages the system of canals and pumps that provide flood control, drainage and other services to 42 members on 66 square miles of land in the district but cannot afford to fix storm damages. The Federal Emergency Management Agency, or FEMA, has so far reimbursed only a small percentage of costs.
"We incurred $800,000 in expenses in a 30-day period," said Wilson Daughtry, executive director of the Mattamuskeet Drainage Association, in a later interview. "That is almost equal to our entire operating budget for the year. We are in desperate financial shape right now and we haven't been able to do (any repairs.)"
Daughtry said that an unprecedented amount of river water was dumped on the district land, and for several reasons, he and others ended up having to do emergency pumping and other measures themselves. But because of FEMA's procurement rules, he explained, the association was denied coverage for all but $16,000 of the $800,000 in costs incurred.
An application has been made for reimbursement from the state's unmet needs fund, Daughtry said. Although the association qualifies for $2.6 million in other FEMA reimbursement funds, the application is still being processed.
Daughtry said that the Mattamuskeet Drainage Association provides, "the first line of defense" from Alligator River flooding for the Hyde County Airport, the Engelhard Sanitary District, the Fairfield district and 17 residences and 17 businesses.
"What we need to look at right away is FEMA mitigation money," Burr said.
There were also a lot of losses to farm crops, Hyde County Board of Commissioners Chairman Earl Pugh told the senator.
"The last two years we've lost our soybeans and cotton because of hurricanes," he said.
Pugh, a farmer since the 1970s, said that Tyrrell and Hyde County – one as low-lying as the other – produce 25 percent of North Carolina's corn. But in all his years farming, only one year was too dry.
County Manager Bill Rich said that going back to Hurricane Irene, it's been difficult to collect funds from FEMA. Even with losses the agency covers, he added, the compensation is inadequate. Citing an example, he said that compensation for two ruined ambulances was for a small percentage of their value.
"That kind of hit, we can't take," he said.
Burr said that mitigation funds for agriculture are hard to get, and he is working on finding a way for FEMA to provide mitigation funds to the association. In general, mitigation is high on the new FEMA director's list, he said, "Because the more mitigation they do, the less they're going to have to do in disaster recovery."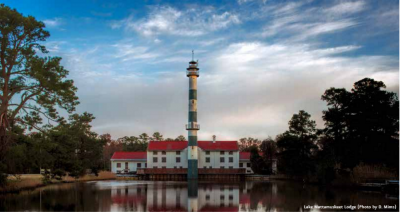 "We'll work on all this," he said. "I can't make any promises, and I hope there's a way to get the ambulances replaced."
He also said he would speak to the Army Corps of Engineers about funding needs for dredging Hatteras Inlet, another huge economic driver for the county. But Burr wasn't as encouraging about finding much support for restoration of Mattamuskeet Lodge, and suggested looking to private sponsorships with outdoor retail shops.
"Yeah, you're talking about a heavy lift," Burr said of getting money for the lodge.
And then the senator said his goodbyes, and hit the road again. During his break from Washington while the Senate was out of session, Burr – who lives in Winston-Salem and has a home in Nags Head – visited Elizabeth City, Manteo, Hertford and Edenton, stopping by several Rotary Clubs, the Alligator River National Wildlife Refuge and talking with students at the Northeast Academy for Aerospace and Advanced Technologies and the River City YouthBuild.
"It's been a busy week," he posted later on Facebook, "but it's always good to be home in North Carolina."
Learn more about the Mattamuskeet Drainage Association.