BOLIVIA – Coyotes are nothing new in North Carolina but there is a growing perception of the species as a problem.
While it's unlikely that coyotes are doing all the damage for which they're being blamed, said Jessie Birckhead, an extension biologist with the North Carolina Wildlife Resources Commission, it is clear that coyotes are here to stay and they will take advantage of food people inadvertently leave for them, or prey on pets. As more and more people move to the state, especially the rapidly growing southeastern region, they will have more and more encounters with coyotes. But there are steps to avoiding conflicts.
"People can coexist with coyotes without issue," Birckhead said. "But it takes all of us doing our part."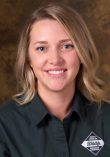 Minimizing those interactions has been the goal of a series of 16 commission workshops held around the state this year, most recently last week in Bolivia at the Brunswick County Cooperative Extension Center. Speakers covered basic coyote biology and attempted to dispel common misconceptions, such as the conspiracy theory that coyotes were introduced to the state by insurance companies. Instead, it's been a very natural progression as the coyote territory has expanded since the 1980s, when they were found in a few North Carolina locations. Larger predators have often been removed from the ecosystem, and people have developed the land.
"Coyotes are a species that does well around people, and there has been an expansion of their range as land has been developed," Birckhead said. "They're good at taking advantage of those opportunities we create."
Biologists at the event stressed how adaptable coyotes are. "They can live just about anywhere and eat just about anything," Birckhead said. Their diet includes squirrels and rodents, fawns, trash, fruit and birdseed and, on occasion, a small dog or cat.
"They're not going anywhere," said John Henry Harrelson, who is the commission's biologist for District 4, an area that includes Brunswick County. "We have to learn to live with them."
Here in Brunswick County, Harrelson said he gets a lot of calls about personal safety, and the safety of pets.
"It can happen," he said. "I tell people you shouldn't have pets unsupervised or let dogs off the leash. Here, it's because of coyotes and alligators."
Birckhead said the goal is to educate people about coyotes so they understand more if they do see one.
Often, coyotes are monogamous, mated pairs and breed within the confines of the territory they've established, to the limit that area can support. Juvenile coyotes can travel great distances when they are kicked out of their territory. In one case, a young female was tracked traveling 260 miles in three months, she said.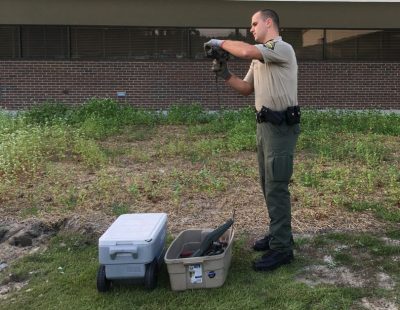 "Coyote density is usually overestimated," said Michael Nunnery, a wildlife officer with the commission. "People will say they hear 20 coyotes near their house. It's usually fewer. Three coyotes can sound like 20."
Nunnery demonstrated tips and techniques for trapping coyotes at the workshop and discussed the intricacies and legalities of doing so. Depredation permits are available for farmers who are having problems with coyotes. Farmers and landowners can also use other methods for dealing with coyotes, such as having companion animals, dogs or llamas, introduced into livestock groups.
"Believe it or not, donkeys are especially good," Harrelson said.
It's a different situation for people living in urban and suburban settings.
"In rural settings, there's more space, so people are less likely to have interactions with coyotes," Birckhead said. "And people there often have more tools for how to handle the situation when they need to. In places where there are more people, they may be unfamiliar with wildlife. They have a lot of questions and concerns, and often want to know what it is they're seeing."
Steps You Can Take
The commission offers the following suggestions for preventing conflicts with coyotes:
Make sure household trash area is secure
Keep pets inside or in fenced areas
Don't feed pets outside
keep bird feeder areas clean, with seed off the ground
Encourage neighbors to follow the same protocols
It's most important to help maintain the animal's natural wariness of people and to not offer food to coyotes, purposely or not.
"Once coyotes associate food with people, it's usually downhill from there," Harrelson said.
Common Coyote Questions
The N.C. Wildlife Resources Commission said there are some questions about coyotes they get asked again and again.
Will coyotes attack me or my child?
This is a common concern but attacks on people are rare and coyotes usually have a wariness of humans. "Often, it's a matter of talking, educating and calming," Harrelson explained, regarding when people call with worries. The biologists said it's a good idea to strengthen that wariness if you see a coyote on your property. Yell or throw a tennis ball if you see one. "Let them know you see them," Birckhead said.
What about pets?
Coyotes will occasionally prey on domestic animals, especially those that are untended.
"They're not always seeking out pets," Birckhead said. "But there is the potential for it. It is something that happens. It's our responsibility to look after the welfare of our animals and make sure they are safe."
Why doesn't the Wildlife Resources Commission do more?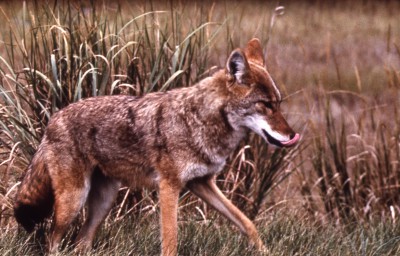 Birckhead said that decades of research show that plans to eradicate coyotes, from poisoning to bounties, don't work.
"We don't have an eradication effort going on now," she said. "It's unachievable."
This is where the plans to educate come in, hoping that will mean fewer conflicts with coyotes and a better chance at co-existing. The commission has established hunting and trapping guidelines for those interested. In some cases though, municipal rules surpass theirs.
When should I call the Wildlife Resources Commission or animal control?
Birckhead said that for the most part, people can call the commission if they want to learn more about what they're seeing. If people see a coyote that is obviously ill, and they notice drooling, listlessness or stumbling, it's a good idea to contact animal control.
The Wildlife Resources Commission has a Have-A-Problem website with more information about reporting problem animals and learning more about co-existing with wildlife. It's at www.ncwildlife.org/Have-A-Problem. There's also a phone line with call 8 a.m.-5 p.m. Monday through Friday: 866-318-2401.
Learn More