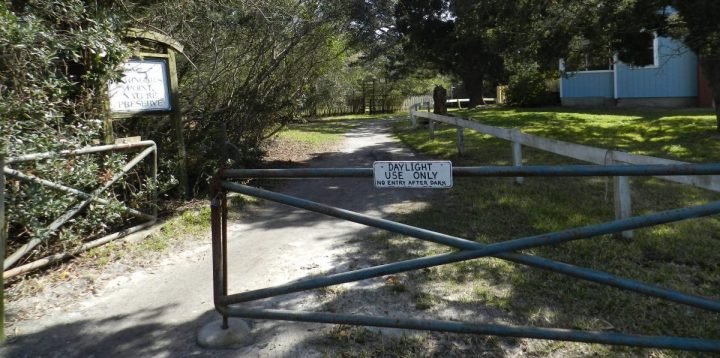 Reprinted from the Ocracoke Observer.
Ocracoke is special to so many people, and some have memorials in their names in the Springer's Point Preserve at the end of Loop Road.
These are mostly in the form of benches, and the newest one was dedicated June 24 to Tammy Finch, who died in 2015.
The Finch memorial includes an extended nature trail showcasing the rare Georgia Sunrose and a seating area overlooking the site.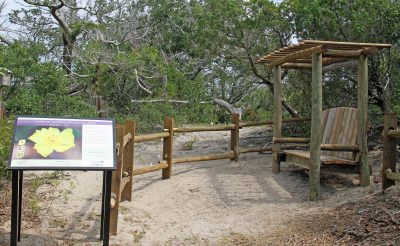 Tammy, who lived 1958 to 2016, was a licensed psychologist with years of experience working with children, teens and parents. A lifelong learner, teacher and leader, she focused her professional career on helping families lead fuller, more connected lives. A native of Ohio, she grew up in North Carolina. She spent her honeymoon on Ocracoke with her husband David and both fell in love with the island. The Finches spent every summer vacation on Ocracoke beginning in 1983, and in 1999 the family purchased a home here. Springer's Point became a favorite spot for Tammy and her family.
The initial 31 acres were purchased by the North Carolina Coastal Land Trust in 2002 and the remaining 91 acres in 2006 with funds provided by the State Clean Water Management Trust Fund. Additional funds for construction of trails, restoration work and preserve maintenance were and still are provided by donor contributions.
At the entrance to the preserve, a kiosk with a beautifully carved tree and copper leaves etched with donor names by local artist and Preserve Steward Len Skinner welcomes visitors.
The path leads to the Jim Stephenson Nature Trail. Strategically placed along this trail are the benches that were also donated.
The people honored by these benches are as varied as the preserve landscape. As the trail begins, they are:
James Edward "Sambo" Drake (1928-2005)
Sambo Drake, of Rocky Mount and Ocracoke, was the son of Annie Mary Bragg Drake and Ernest Clifton Drake. His mother was a native of Ocracoke. Thus, his love of the island began at an early age. He viewed Ocracoke as his second home and made lasting friendships with its residents.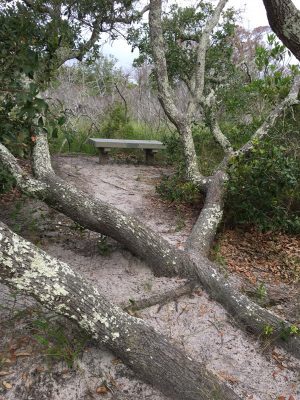 Mary B. Forbes (1902-1977)
A Newport News resident, Forbes was a seventh-grade English and Virginia history teacher and a lifelong conservationist. She was widely recognized as a pioneer for women in the field of education. Her only daughter, Sarah, was also recognized as a leading physician in Virginia. In 2012, Christopher Newport University dedicated the Mary B. Forbes Science Building in her honor.
David Elisha Esham (1941-2001)
When he was 8 years old, his family moved to Ocracoke where he became a member of the original mounted Boy Scout troop until he graduated from Ocracoke School.
A certified public accountant with the auditing firm Peat, Marwick and Mitchell in Raleigh, David, his wife Jen and their son, returned to Ocracoke in 1973 to stay with his widowed mother. The same year he purchased the Pony Island Inn and Restaurant. He was a generous supporter of the Ocracoke community, loved his family, fishing and life on Ocracoke.
Bob and June Mohan
Robert "Bob" J. Mohan and Helen M. "June" Mohan made their first trip to Ocracoke in 1972. Massachusetts natives, Ocracoke reminded them of Cape Cod where they had spent childhood summers, although by 1972, much of the cape had been developed beyond their liking. They were warmed by the kindness of the Ocracoke villagers and intrigued by the island's history. Bob spent many hours in the sound near their house doing what he dubbed the "clam shuffle," which was digging with his toes into the sand as he moved sideways along the shore. June went to the docks when the fishing boats came in and gracefully conned a few pieces of fish for dinner most nights. After Bob's death in 1981, June spent her remaining summers on Ocracoke. In 1992, she joined Bob in the Ocracoke Community Cemetery.
Dorothy W. Billings and Elizabeth O. Howard
At the water's edge, a bench honors Dorothy W. Billings, 1927 to 1988, mother of Woody Billings, and Elizabeth O. Howard, 1910 to 1996.  This bench was the first memorial installed in the Springer's Point Nature Preserve.
Elizabeth O'Neal Howard, who traced her ancestry to many of Ocracoke's founding families, became the island's first woman postmaster in 1941 and was the mother of island native Betty Helen Chamberlin.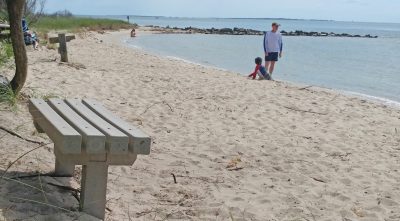 Jerry Sigal (1935-2010)
When Gerald "Jerry" P. Sigal first visited Ocracoke in 1965, he knew that he would return. Jerry earned degrees from Lafayette College and the University of Virginia Law School and practiced law in Berks County, Pennsylvania, for 45 years. After his marriage to Norma Neiman in 1966, his family vacationed every summer on Ocracoke eventually purchasing property that would become his retirement home in 2005. Jerry loved old cars, woodworking, classical music, jazz and especially reading. He served as Ocracoke's representative to the North Carolina Regional Library Board and was a great supporter of the Ocracoke Community Library. He also chaired the Ocracoke Board of Adjustment whose mission is to preserve the village of Ocracoke.
Ocracoke Island Realty
For more than 30 years, Ocracoke Island Realty has served vacationing visitors. In 2005, Bob Oakes of Nags Head and his partners purchased the firm and Sandy Shores Realty. Oakes has been an enthusiastic supporter of the North Carolina Coastal Land Trust and the North Carolina Coastal Federation. The Ocracoke Island Realty bench is dedicated to the preservation of Ocracoke Island.
Ben and Selma Spencer
Benjamin Early Spencer, 1908-1975, an Ocracoke native, was captain of the dredge LeHigh that sank in 1942. While approaching Ocracoke to deepen the harbor to accommodate World War II naval vessels, the LeHigh was overwhelmed by huge waves and the crew was rescued by Navy base personnel. Spencer later became a charter fisherman and owner of the Spencer Guest Cottages on the site of the present-day Harbor Inn. He was active in civic endeavors and the Ocracoke United Methodist Church.
Selma Wise Spencer, 1905-1995, came to Ocracoke in 1930 from Pamlico County and taught at Ocracoke School for 24 years, serving as principal for two years. After retirement, she remained active as a volunteer arithmetic tutor for the school, a member of Ocracoke United Methodist Church and the Ocracoke Quilters group.
Jim Stephenson Nature Trail
Jim Stephenson was the policy director and legislative lobbyist with the North Carolina Coastal Federation until his unexpected death in 2009. A native of Maryland, he moved to Morehead City with his wife Sally in 1997 and worked diligently behind the scenes at the North Carolina General Assembly to help pass coastal environmental bills such as effective stormwater rules, restoration of oyster habitats and abolishment of giant landfills.
Cecil T. Hutcherson Mission Statement plaque
Cecil T. Hutcherson, or "Hutch," purchased the Ocracoke Variety Store in 1983 after retiring from the Great Atlantic and Pacific Tea Co. in Virginia Beach, Virginia. Since his death in 2006, his wife, Julia, and son, Tommy, have continued to operate the store. Hutch served on the Tideland Electric Membership Corp. board for 14 years and was a past master of the Ocracoke Masonic Lodge. Hutch was known as a kind and generous man who always had Ocracoke's best interest at heart. The new Ocracoke Volunteer Fire Department building occupies land donated by the Hutchersons.
This story is provided courtesy of the Ocracoke Observer, a newspaper covering Ocracoke island. Coastal Review Online is partnering with the Ocracoke Observer to provide readers with more environmental and lifestyle stories of interest along our coast. You can read more Ocracoke news here.