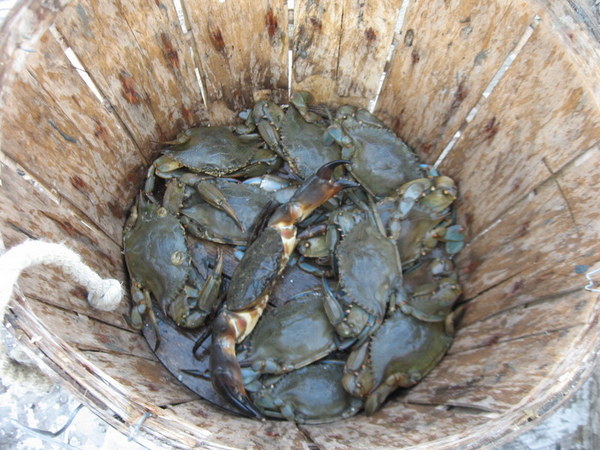 GLOUCESTER – Carteret County seafood will be served alongside a big helping of homegrown music the third weekend of August at the sixth annual Wild Caught Local Seafood & Music Festival.
Located on the shores of the Straits at 380 Pigott Road, the festival that celebrates area music, fresh seafood and produce and maritime traditions kicks off with live music at 7 p.m. Friday, Aug. 18.  The festival continues noon to 11 p.m. Saturday, Aug. 19, with local seafood and fixings served Saturday afternoon.
Charcoal mullet, a shrimp boil, hard crabs and local veggies will be served starting around 4 p.m. until about 8 p.m. Folks are welcome to bring a covered dish to add to the feast. The festival, including the music and food, is not a ticketed event, but donations to help with the cost are appreciated.
Festivalgoers should bring a chair, sun protection, bug spray and a favorite beverage. Water and tea will be provided onsite. For those wanting to make a weekend of it, free primitive camping, with no hookups or electricity, is available. There will be a shower, porta-johns, and a hand-washing station at the festival. You are welcome to bring a small sailboat, canoe or kayak. If you plan to wade, water shoes are strongly advised. Also, Wild Caught is kid-friendly, so make sure they wear bathing suits for wading or playing in the sprinkler. Organizers ask that you leave your pets at home.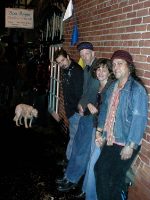 The hosts of this annual Down East celebration is Gloucester's Unknown Tongues Cajun Zydeco band. The band has been performing at festivals, dances and shows for more than 25 years. Accordion player Bryan Blake and his wife Barbara Garrity-Blake, who you'll see on the rubboard and guitar, organize Wild Caught festival and the Gloucester Mardi Gras, along with fellow band members Todd Humphreys on bass and Tom Parker on drums.
Garrity-Blake said that she and her husband were inspired to organize the event because they wanted to play a part in drawing attention to the benefits of eating local foods.
"Local fish, shrimp, clams, crabs, corn, okra, watermelon – the list goes on – we've got top quality food products caught and grown right here in our area. Yet in many grocery stores and restaurants, it's easier to find a shrimp transported half way around the world from Thailand or India than a Core Sound shrimp. Crazy!" she said. "So, we hope folks come to Wild Caught, fall in love with the humble charcoal mullet and other delectables, and start asking proprietors to provide local seafood. Eating local keeps dollars in our community, supports independent, hardworking fishermen and farmers, and is simply healthier for our families."
Garrity-Blake said this was also an opportunity to showcase local talent, with artists such as Connie Mason, Marsha Harris, East Brogues and the Beaufort Blues Project.
Garrity-Blake credits the community for being able to have a successful Wild Caught year after year.
"We couldn't have Wild Caught if it were not for the support of our community," she explained. Wild Caught is a free festival, thanks to local businesses and individuals who sponsor the event.
"Volunteers help prepare the food, move picnic tables, set up the stage and run the sound system. All seafood served at the 'smallest and localest' seafood festival is harvested from Core and Pamlico sounds, and all the produce is provided by the Carteret Local Foods Network. Our festival takes place on the shore of the Straits in Gloucester, on private property generously donated for the event," Garrity-Blake explained.
She said their goal is to provide a relaxed environment for people to enjoy great food, music and conversation with old and new friends.
"We also believe in educating in a fun way, and folks from Carteret Catch, the Carteret Local Foods Network and the Crystal Coast Waterkeeper will be on hand to talk about our unique culture and ecology that brings forth superior seafood and garden products, and how consumers can access them," she said. "If the winds are right, we have a little sailing regatta just offshore as well, to honor Down East's maritime heritage."
Carteret Local Food Network's mission is "to protect and promote a local food system that builds community, supports the local economy, nurtures a healthy environment, and produces healthy, delicious food."
"Carteret Local Food Network enjoys our role as a cosponsor for the fun weekend at Wild Caught because we help farmers show off what they're still harvesting from their fields and we help festival attendees know that local food is still abundant and delicious," said Catherine Elkins, board president. "We help grill master Kevin Keeler procure local shrimp, potatoes, onions, corn, peppers and carrots for his famous Down East boil, a true loaves and fishes experience."
She explained that Carteret Local Food Network also hosts a tent to display information, handouts and maps to area farmers and local food producers.
"People are often quite surprised at how many local ranchers of grass-fed cows, happy muddy pigs, and healthy free-range chickens we have in Carteret County, all of which turn into beautiful frozen and fresh beef, pork and poultry products sold at a variety of shops and farm stands," she added. "We have many produce vendors selling fresh fruits and vegetables as well as some value-added items."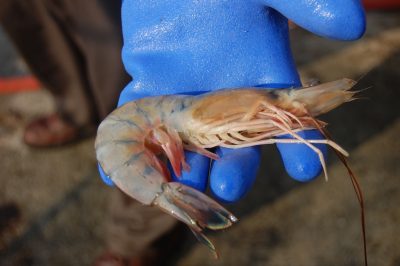 Elkins directed those interested in learning more to visit the network's website, where there's more information about how to find local farmers and also promotes the "Farms, Food, and Friends" Sunday supper series, the organization's  fundraisers that help finance the nonprofit organization.
Pam Morris, president of Carteret Catch, said that Carteret Catch is a grassroots, nonprofit organization devoted to connecting consumers to healthy local seafood, and the Wild Caught Festival is devoted to bringing attention to the importance of asking for local seafood.
"Carteret Catch devotes all of our attention to increasing consumer awareness of these issues with the desire to maintain access for the public to the superior seafood provided by our commercial fishermen," Morris said.
She explained that many consumers don't know that somewhere between 88 to 90 percent of seafood consumed in the United States is imported.
"Much of the volume of imported seafood originates from countries who do not have sufficient environmental or fisheries restrictions in place for sustainability or ecosystem preservation," Morris continued. "Additionally, the bulk of imported seafood has a large carbon footprint and inferior quality of product."
Larry Baldwin became the Crystal Coast Waterkeeper in 2015. In 2002, he served as the Lower Neuse Riverkeeper, located in New Bern until his resignation in November 2011, after more than nine years of service. He then joined the Waterkeeper Alliance as coordinator of the effort to address the environmental effects of North Carolina's large number of concentrated animal feeding operations.
Learn More