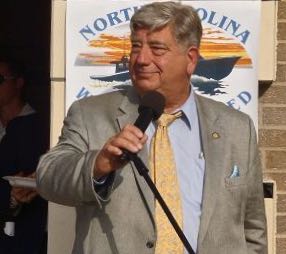 From an Outer Banks Voice report
Four-term state lawmaker Sen. Bill Cook, R-Beaufort, announced Tuesday he will not seek re-election in 2018.
Cook, representing North Carolina's 1st District, confirmed recent speculation that he would retire from office regardless of how he fared in the federal court-ordered redistricting process.
"I've tried to be a good servant to the people of eastern North Carolina," Cook said in a statement. "However, the recent redistricting changes have prompted me to reevaluate my commitment to my family."
The maps that will receive final approval this week by lawmakers shift Cook out of the district that includes Dare, Currituck and Hyde counties.
A retired utility executive from the Washington D.C. area, Cook began his General Assembly career seven years ago when he defeated incumbent Democrat Rep. Arthur Williams in the 6th District, part of a wave of Republican wins that shifted control of the General Assembly to the GOP for the first time in over a century.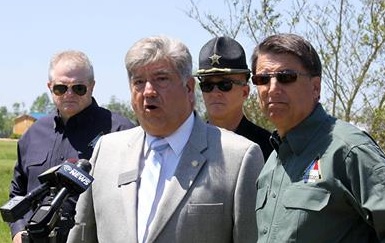 The 2014 election featured a rematch between Cook and White, which Cook handily won by a 53-to-47 percent margin.
Cook won re-election a third time in 2016, defeating Democrat Brownie Futrell by over 16,000 votes.
Since 2015, Cook has served as co-chairman of the Senate Appropriations Subcommittee on Agriculture, Natural and Economic Resources as well as the Senate Agriculture, Natural and Economic Resources Committee.
Last year, a federal court in Greensboro rejected North Carolina's 2011 state legislative districts, ruling the GOP-controlled legislature relied too much on race when drawing the districts.
The new maps, which have to be submitted to the panel of judges by Sept. 1, create a 12-county 1st District with no incumbent.
House Rep. Bob Steinburg, R-Chowan, in the 1st District, has already said he will seek his party's nomination for that Senate seat next year.
Beaufort will be placed in the 3rd District with Martin, Bertie, Northampton, Warren and Vance, which still lean Democratic, and Cook would be double-bunked with Sen. Erica Smith-Ingram, D-Northampton.
Cook was one of three Republican senators to vote Monday against the latest maps.
This story is provided courtesy of the Outer Banks Voice, a digital newspaper covering the Outer Banks. Coastal Review Online is partnering with the Voice to provide readers with more environmental and lifestyle stories of interest about our coast. You can read other stories about the Outer Banks here.