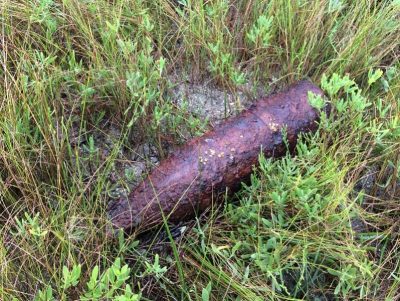 Reprinted from the Outer Banks Voice
For the second time in less than a week, an artifact from the Battle of the Atlantic has washed up on a Hatteras Island beach.
A World War II-era unexploded training ordnance was discovered Tuesday in a remote area on the southern end of Hatteras Island, according to a National Park Service news release.
The U.S. Navy's Explosive Ordnance Disposal unit from Joint Expeditionary Base–Little Creek in Norfolk arrived Wednesday and used a controlled detonation to render it safe.
A similar device was found Friday morning on the large sandbar that has formed off Cape Point, known as Shelly Island, which led to the evacuation of the area south of ramp 44 for much of the day.
Some of the heaviest losses for shipping in the Atlantic Ocean during World War II were suffered off the coast of North Carolina.
As many as 70 ships were sunk by German U-boats in March 1942 alone within sight of the Outer Banks, and the subs continued to prowl the waters and sink ships through the duration of the War In Europe.
The U.S. military has used the Outer Banks and eastern North Carolina as training grounds for decades, with bombing ranges scattered up and down the once uninhabited parts of the islands. The Navy and Air Force continue to operate a range on the Dare County mainland.
"The disposal of two unexploded ordnances in the last six days serves as a reminder of the part the Outer Banks played during World War II," said NPS Outer Banks Group Superintendent David Hallac. "I greatly appreciate the support the U.S. Navy has provided."
This story is provided courtesy of the Outer Banks Voice, a digital newspaper covering the Outer Banks. Coastal Review Online is partnering with the Voice to provide readers with more environmental and lifestyle stories of interest about our coast. You can read other stories about the Outer Banks here.