Reprinted from the Outer Banks Voice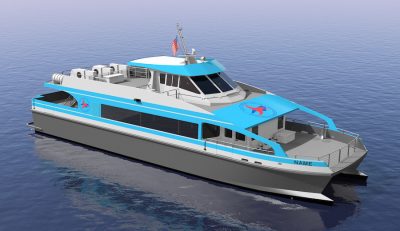 The National Park Service has approved a plan submitted by the North Carolina Department of Transportation to build a system to support the Hatteras-Ocracoke Passenger Ferry, which is scheduled to start running in 2018.
A Finding of No Significant Impact was recently signed by Stan Austin, director of the Southeast Region of the National Park Service, completing the National Environmental Policy Act and National Historic Preservation Act processes that began earlier this year, according to a news release.
NCDOT requested a special use permit from the Park Service to construct several facilities within the boundaries of Cape Hatteras National Seashore to support the ferry's operation.
 The passenger ferry project is aimed at easing long waits for the vehicle ferry that crosses Hatteras Inlet.
The existing Hatteras ferry terminal space will be converted into two additional parking areas to accommodate passenger vehicles and NCDOT ferry division employees, and an open air passenger waiting facility will be built in front of the Ocracoke Visitor Center.
Sidewalk improvements will be constructed to connect the passenger waiting area to the Ocracoke Visitor Center and ferry dock, while the existing boardwalk/ramp will be relocated to the right side of the deck area.
A transit pullout area in front of the Ocracoke Visitor Center will be added for passenger pick-up and drop-off, and a new restroom facility will be constructed behind the Ocracoke Visitor Center.
NCDOT plans to begin construction during the upcoming off season.
Learn More
This story is provided courtesy of the Outer Banks Voice, a digital newspaper covering the Outer Banks. Coastal Review Online is partnering with the Voice to provide readers with more environmental and lifestyle stories of interest about our coast. You can read other stories about the Outer Banks here.