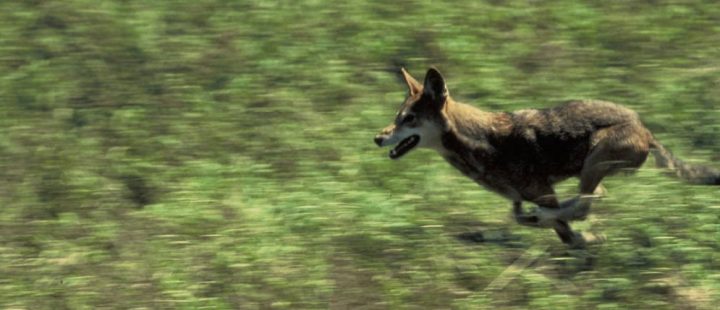 This story has been edited to reflect that killing coyotes on private lands in the recovery area requires a permit.
MANTEO – The fate of endangered red wolves could be settled by year's end, when wildlife managers are expected to complete reconsideration of the endangered predator's management in the wilds of northeastern North Carolina.
The U.S. Fish and Wildlife Service is seeking suggestions from people residing in the five-county red wolf recovery area – parts of Hyde, Tyrrell, Washington, Beaufort and Dare counties – to address conflicts and promote cooperation. As part of its process set out under the Endangered Species Act, the agency is reviewing management strategies and assessing alternatives in order to draft a revised management rule.
"These rules that we're operating under were written in '95," Pete Benjamin, field supervisor in Fish and Wildlife's Raleigh office, said at a scoping meeting held last week in Manteo. "A lot has changed, so that's why they're being rewritten."
Most detrimental to the wolves is the change in their population: From a peak of about 150 red wolves in 2005, there are 40 or fewer wolves now roaming the 1.7 million acres in the recovery area. But other changes also have not helped the wolves. When coyotes arrived on the Albemarle Peninsula in the 1990s, the neighborhood for wolves went downhill quickly. Coyotes look similar to red wolves, making it easy to mistake one for the other. It is illegal to kill red wolves and a permit is required to kill coyotes on private lands. That's the result of a May 2014 federal court settlement that blocks authorization of coyote hunting — including at night — in the recovery area.
Since October 2016, there have been eight known wolf deaths: five from gunshots, one from poison, one from a vehicle strike and one from natural causes.
One of the more serious and worsening issues is that wolves will mate with coyotes, creating a problem with hybridization and questions about whether wolves are even genetically wolf enough to warrant protection.
Meanwhile, conflicts have increased with private property owners and the number of wolves killed by gunshots and poison has increased. But perhaps the most challenging problem the wolves face is the lack of public support from the owners of the private property the wolves inhabit. Landowners have complained about the animals depleting the numbers of deer for hunters, killing pets and livestock and endangering and scaring people.
"We're looking for ideas," Benjamin told the packed meeting room at the Alligator River National Wildlife Refuge headquarters.
Another meeting was also held in Swan Quarter earlier in the week.
Under the Endangered Species Act, a review of designated species is supposed to be done every five years, but the most recent review of red wolf management was in 2007. In September, the agency proposed changes that, among other things, would limit the wolves' range to Alligator River refuge land and the Navy bombing range in Dare County.
In addition to reviewing how the wolf population is managed in northeastern North Carolina, Benjamin said, the wildlife service is also considering potential re-introduction sites. A species status assessment – a snapshot of the likelihood, or not, of species recovery – is also planned, as well as a revision of the Endangered Species Act rule that governs what the law calls "the non-essential, experimental" population of red wolves.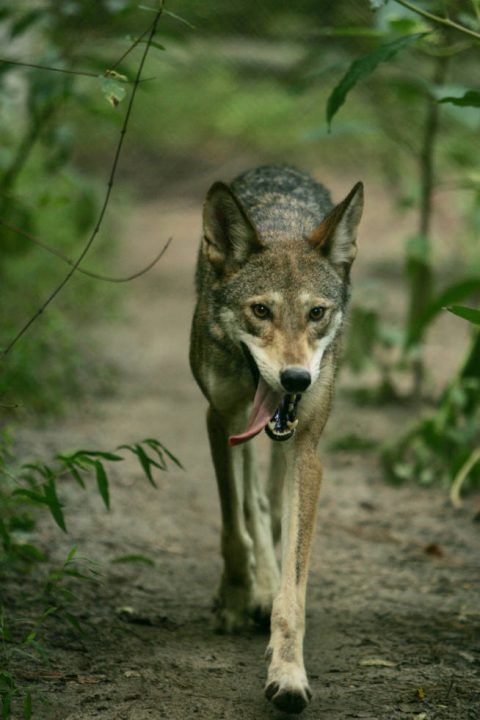 Either an environment assessment or a more complicated and lengthier environment impact statement will be conducted, but Benjamin said he does not know when that will be decided. When the proposed rule is completed, it will give a detailed picture of updated management options. Portions of the updated reviews also may be released prior to publication of the rule.
By any account, it's been a conservation roller coaster for the red wolf. The species had been declared extinct in the wild at the time four pairs of captive wolves were transported in 1987 from Texas to Alligator River. Complex and innovative management strategies, including placement of captive newborn pups in dens with wild pups, led to steady increases in the wild population. Even after coyotes encroached on wolves, a "placeholder" method that involved using a sterile coyote to keep out other coyotes was used successfully to protect wolf territory.
But budget shortfalls, increased controversy and numerous other challenges have forced the wildlife service to re-think its wolf recovery program.
"The way we're doing things is very labor intensive," Benjamin said. "We've got to manage things wolf-by-wolf."
Radio collars have been placed on 26 of the wolves, and their locations are monitored once or twice a week by airplane. Dens are also still inspected, but no longer are newborn captive pups placed in a wild litter.
The wolf recovery program costs about $1.2 million a year, Benjamin said.
Conflicting Opinions
Jett Ferebee, a Tyrrell County landowner and Greenville developer who has led the charge against the red wolf conservation program since at least 2013 – most publicly on the online forum nchuntandfish.com – attended the meeting in Manteo, but declined to be interviewed afterward.
In the past, Ferebee has accused the wildlife service of breaking the law by not permanently removing trespassing "coywolves" from private property.
Benjamin said in a recent interview that the most recent DNA analysis in 2014 has shown that red wolves have about 4 percent coyote DNA. But red wolf genetics is not settled science, and the agency is continuing to work with researchers on the issue.
From the beginning of the recovery program, there have been conflicting opinions about whether the red wolf is indeed a separate species, or just a wolf version of a mutt. As it is now, Benjamin said, it is listed as endangered under the ESA, and the wildlife service is obligated to protect it until and if the status is changed.
"It's kind of something that overarches everything to do with the wolf populations," he said.
Public sentiment on the wolves, he added, ranges the full spectrum in attitudes between supporter and opponent. The agency's goal, he said, is to hear reasonable ideas from landowners, hunters, tourism folks, area residents and environmental groups on ways to make wolf conservation more effective and to help differentiate between wolves and coyotes. It is also important to better engage the public so that wolves may be judged to be a benefit in communities where they exist, he said, rather than a burden – "anything to make the program more efficient, effective and successful."
Even as a veteran wildlife manager, Benjamin sees red wolf conservation as more difficult than most. There's the usual antipathy toward the federal government, coupled with state versus federal control, then multiplied by private property versus public policy versus environmental conservation friction. But bringing wolves back into environments where humans live can be a tough sell.
"More so than most (issues), when you're talking endangered predators and their re-introduction," Benjamin said, "it is particularly complicated."
D.J. Sharp of Kill Devil Hills worked in 2009-10 as a caretaker for the wolves in Alligator River. Sharp is rooting for the wolves, but he acknowledges that success will not come easy.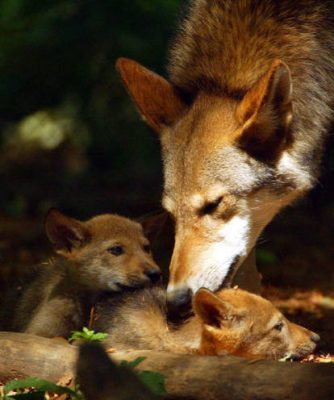 "I feel that the people involved are very conscientious and have done as good a job as can be done," Sharp said after the meeting. "Obviously, the public needs to support this for it to work."
But under the circumstances, Sharp said, he thinks it will be "very challenging" to restore the wolf population in the current recovery area.
"A friend of mine has talked to some of the hunters," Sharp said. "He said they told him if they had the opportunity to shoot one (a wolf) illegally, they would do so without hesitation."
Joe O'Grady, owner of Coastal Kayak Touring Co. of Kitty Hawk, which offers tours in Alligator River refuge, said he sees the red wolves as an asset to an area that prides itself on its rich natural resources. Still, coyotes may have ruined the wolves' newfound chance of survival.
"Most people root for the underdog," O'Grady said. "The coyotes moved in and it became a big human conflict."
For O'Grady, the way to help the wolves is to "stop shooting them."
"Educate people," he said. "They're not weakening the deer pack. If anything, they make the herd healthier."
Kim Wheeler, the executive director of the nonprofit Red Wolf Coalition in Columbia in Tyrrell County, said she is concerned about the wolves' recovery, and she wants to trust that Fish and Wildlife sees the wolf population as a value to the ecosystem.
"I think at this point in time, it's going to take everybody's collective voices to make this work," she said. "I think it's important to engage the stakeholders. I like to think we can all have a rational conversation."
At the same time, she said she sees nothing wrong with resetting the program.
"I just know we can't go back in time," Wheeler said. "I guess the simple answer is we need to find a way for these animals to stay in the wild. We owe it them."
Comment on Proposed Rule
Public comments will be accepted through July 24. So far, Benjamin said, there had been 2,100 comments filed online. Once the proposed rule is completed – expected by the end of the year – there will be another public meeting and another opportunity to comment.
To submit comments:
Electronically: Go to the Federal eRulemaking Portal: http://www.regulations.gov. Search for FWS-R4-ES-2017-0006, which is the docket number for this action. You may submit a comment by clicking on "Comment Now!"
By hard copy: Submit by U.S. mail or hand-delivery to: Public Comments Processing, Attn: FWS-R4-ES-2017-0006; Division of Policy, Performance, and Management Programs; U.S. Fish and Wildlife Service Headquarters, MS: BPHC, 5275 Leesburg Pike, Falls Church, VA 22041–3803.
Comments will be posted on http://www.regulations.gov
The service seeks comments and suggestions specifically on the following:
The appropriate size and scope of the non-essential, experimental population area.
Contribution of the non-essential, experimental population to recovery goals for the red wolf.
Tools for population management.
Management strategies to address hybridization with coyotes.
Appropriate provisions for "take" of red wolves.
Protocols for red wolves that leave the non-essential, experimental population area, including, but not limited to, requests for removal of animals from private lands.
Learn More