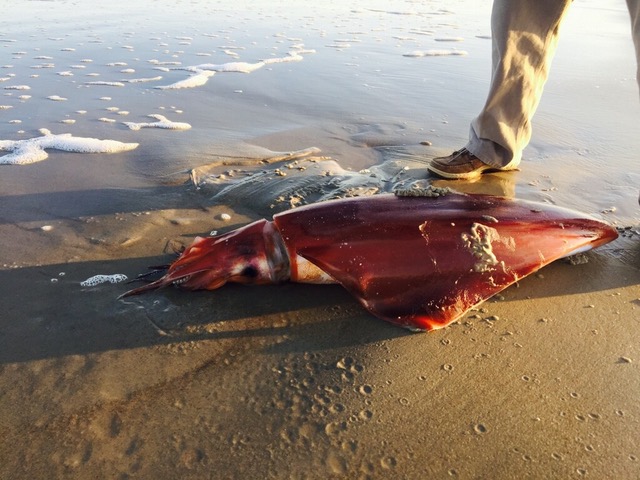 PORTSMOUTH ISLAND — It's not every day you see a big red squid alive on a beach in Carteret County. If it were, folks might be a bit alarmed. They are, uh, different-looking when they're big. Maybe not the "Creature from the Black Lagoon" different. Weird enough, though.
But Winterville resident Carey Walker, who was driving down Portsmouth Island in late March, wasn't alarmed, just curious, when he saw the unusual specimen. He picked it up, and like any good visitor to Core Banks, cared enough about marine life to put it back in the water, after getting a photo or two, of course.
He never saw the squid come back. But he has wondered what it was. And so have many others who've seen the photos.
"It was low tide, and we were coming back to the cabins at about 5:30 p.m., and I just saw this thing out of the corner of my eye down at the edge of the water," Walker recalled. "I actually went past it. But I wanted to see what it was, so I backed the truck up and got out and saw that it was still alive. So I picked up and we got a couple of pictures, and then I put it back in the water."
Walker and his companions were there for a few more days, and never saw the squid on the beach again. Nor did anyone else they talked to.
"We saw some seals and some other things, but we never saw the squid again," he said. "It was really just a five-minute encounter, but it was pretty cool. It's not something you see every day, that's for sure."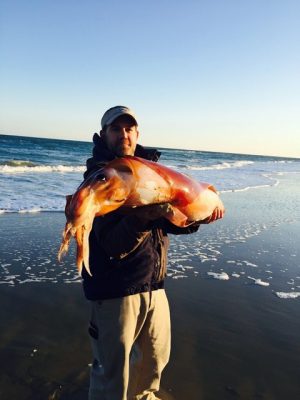 Walker, who works for Barnhill Construction Co., estimated the squid weighed 35 to 40 pounds and was about 3 1/2 feet long, maybe 4 feet including its tentacles.
"I've caught some little squid before, but I'd never seen anything this size, and it was really red," he said.
Walker thought that was the end of it. Eventually, though, through mutual friends, Carey's photos wound their way to Todd Miller, executive director of the North Carolina Coastal Federation.
Miller emailed the photos to Charles H. "Pete" Peterson, a longtime and renowned marine biologist at the University of North Carolina Institute of Marine Sciences in Morehead City. Peterson has been around the watery block a few times, and he's also a frequent beachgoer.
But he had no clue.
"Todd thought I might know, because he knows I've seen some weird stuff on the beach, but I didn't," Peterson said. "I've heard reports of giant squid around here, but I've never seen one."
Although Carteret County is home to a wide variety of marine biologists and oceanographers – at Peterson's lab as well as the North Carolina State University's Center for Marine Science and Technology, or CMAST, also in Morehead City, and the National Marine Fisheries Service on Pivers Island near Beaufort, Peterson didn't know of any "big squid" experts in the area.
But Miller did some research on the internet, and turned up the name of Steve O'Shea, who, indeed, is a marine biologist and environmentalist known for his expertise on giant squid.
He began working with the creatures with the National Institute of Water and Atmospheric Research, or NIWA, in New Zealand in 1996, and became director of the Earth and Oceanic Sciences Research Institute at the Auckland University of Technology, or AUT, in 2005. He was a Discovery Channel Quest Scholar until 2009, when he resigned to focus on research on coastal conservation, environmental matters and postgraduate supervision and teaching; but has remained involved in squid research and their preservation.
He's even got a squid named for him: AUT science student Heather Braid, according to the university's website, discovered a new species in the Mastigoteuthidae family a few years back and named it "Magnoteuthis osheai" for the man who had inspired her, years earlier, to get into squid research. It's got to be a bit unusual for someone to inspire you to get into squid research.
But O'Shea would be the one to do that. He's published more than 40 papers on squid, octopus, whales, fisheries and conservation, and has been involved in many documentaries.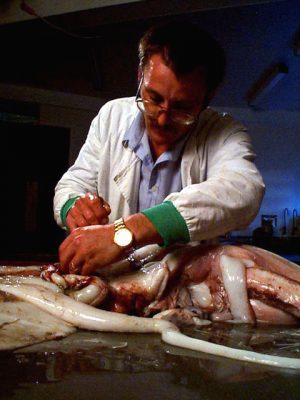 So, you think that O'Shea might know the identity of the squid Carey Walker found on the Portsmouth Island Beach, just by looking at an emailed photo or two? Indeed, he did. After a couple of days of back-and-forth emails – it can be difficult to connect consistently with a world-famous man who lives now in Australia – he reported that, while unusual to be seen on beaches in our parts, this was not a particularly unusual squid: It was a diamondback squid, known in scientific nomenclature as Thysanoteuthis rhombus.
T. rhombus, also known as the diamond squid or diamondback squid, is a large species that grows to about 100 centimeters in length, which translates to about 39 inches, and ranges in weight from 20 to 30 kilograms, which translates to 44 to 50 pounds. Which means that, if nothing else, Carey Walker is pretty good at estimating the weight and length of big red squids he picks up on remote beaches.
O'Shea said the species occurs worldwide, throughout tropical and subtropical waters. Its arms have two sets of suckers, while the tentacles have four sets. Its named for its fins, which run in equal length along its mantle, making it look sort of like a rhombus, everyone's favorite middle school geometrical shape, unless of course one favors parallelograms.
In his email, O'Shea said "There's a significant commercial fishery for this species in more tropical waters," and internet sources specifically mention the waters around Okinawa and Japan.
"Every now and then you get a stray, and that may well be the case with this one," O'Shea wrote. "I've had them from (about) 127 metres (466 feet) depth at almost 55 degrees South, subAntarctic waters, south of New Zealand.
"Whether this has anything to do with changes in oceanography, currents, eddies or climate in general I don't know, but of course anything is possible."
There could, he said, have been a warm-water eddy, or a general warming of the surface layers of the water in the area, "bearing in mind this squid may have been living at depth. Whatever way you look at it, it is an important museum specimen and I hope it has been saved."
Alas, it might have been saved, thanks to Carey Walker, but not for a museum, just for a longer life. Surely a squid expert would prefer that …
For his part, Walker conceded the thought of "calamari" crossed his mind when he saw the squid, but those thoughts didn't prevail.
Nor would it have been worth a whole lot to take the thing to a fish house, because squid just aren't worth a lot 'round here. According to North Carolina Division of Marine Fisheries statistics, the top year for commercial squid landings was in 2004, when watermen brought in 2,465,394 pounds, worth $522,115. That's about 21 cents a pound. Landings by 2015 had decreased to 25,516 pounds, worth $22,212. That's 87 cents a pound. It wouldn't have been a big payday.