ELIZABETH CITY — The sprawling 104-turbine Amazon Wind Farm, one of the first of its kind in the southeastern United States, is now fully operational, as commissioners in one of the two counties the wind farm overlaps level criticism at a legislator's involvement in an attempt to shut it down.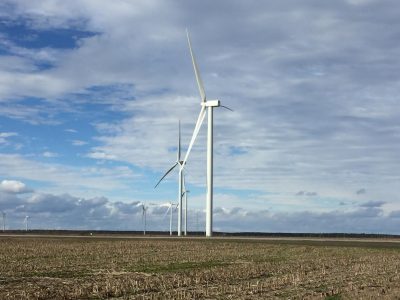 The wind farm, which stretches over 22,000 acres in Pasquotank and Perquimans counties, began producing energy in December 2016 and is expected to produce enough energy to power 61,000 homes a year. The facility reached full commercial operation this month, developer Avangrid Renewables announced Thursday. It will power cloud data centers for Amazon Web Services Inc., which says it is committed to eventually using 100 percent renewable energy.
Last month, 10 state lawmakers, including House Speaker Tim Moore, R-Cleveland, and a retired Marine Corps general, signed a letter asking President Trump to shutter the project, citing security concerns to a nearby naval radar. The Navy later responded saying it had worked with Avangrid Renewables to avoid problems and that the project's plans were approved.
Moore later toured the wind farm and has since appeared to soften his opposition. However, during a meeting this week, Pasquotank County commissioners expressed frustration with Sen. Bill Cook, R-Beaufort, for missing the tour and for his role in the letter, the Daily Advance of Elizabeth City reported.
The commissioners decided to pass a resolution in support of the wind farm and to write a letter to Cook about his attempt to shut down the wind farm without talking to the counties.
The Amazon Wind Farm enjoys support from the communities around it because of the investments and jobs it created. During the 18-month construction, Avangrid Renewables said that $18 million were spent locally and that at its peak, the wind farm created more than 500 jobs.
The project  is expected to be a tax boon to the two counties, especially Pasquotank, which is one of the most economically depressed in the state. Both counties expect $250,000 in property tax revenue. The turbines will also provide a steady annual income to farmers who are leasing their land to the project. Farmers will still be able to farm around the turbines and can use roads installed during the project's construction.
"Farms have been growing corn, soybeans, and wheat for a long time here, and the wind farm revenue means a lot of families are protected from pricing swings, floods or droughts going forward," said Horace Pritchard, one of nearly 60 landowners associated with the project. "We're just adding another locally grown crop to our fields, with very little ground taken out of production, and the improved roads really help with access, so it's a great fit here."
Learn More