TOPSAIL BEACH – Topsail Beach's long-standing protective dune ordinance is no more.
Town commissioners Wednesday night repealed the more than 20-year-old ordinance following a public hearing on a set of controversial amendment proposals the board had been asked to consider.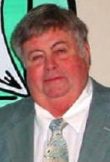 The 4-1 vote, with Commissioner Julian Bone opposed, in favor of wiping the ordinance from the town books was cast a little more than 24 hours after the board received a letter signed by five North Carolina senators urging commissioners against adopting the proposed changes.
The Dec. 13 letter signed by Sens. Bill Rabon; R-Brunswick; Michael Lee, R-New Hanover; Harry Brown, R-Onslow; Norman Sanderson, R-Pamlico; and Bill Cook, R-Beaufort, further raised the frustrations of a town board that has for more than a year been trying to balance maintaining the protective dune system while allowing "reasonable use" of oceanfront properties.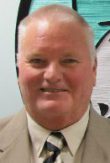 "If these guys wanted to be involved they should have been involved a long time ago," Commissioner Morton Blanchard said. "It's pure political b.s. as far as I'm concerned. To get politicized at the end of it, it's got me. This is way out of hand from what should have happened."
Commissioner Tom Eggleston made the motion to repeal the dune ordinance and let North Carolina's Coastal Area Management Act, or CAMA, rules on oceanfront building take precedence.
"I don't think they even looked at this," Eggleston said of the senators. "This thing is a waste and it's meddling and I think we need to give them what they asked for. Let's give them CAMA. Just let CAMA prevail, if not permanently, just let CAMA prevail until something happens."
Mayor Howard Braxton said the town received the senators' letter via email late Tuesday afternoon.
The letter came with the specific request that it be read aloud to be included in the public hearing.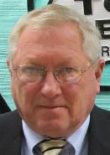 "The proposed creation of an 'Oceanfront Protective Dune System Overlay District' represents a weakening of the Town's current policy on wholesale preservation of the dynamic dune system adjacent to New Topsail Inlet," the letter reads.
The senators go on to write that the proposed changes, "in an effort to expand development opportunities, has the potential to degrade protections to the dune system – many times the last line of defense against natural hazards such as storm surge. We will be back in session in less than a month and stand ready to work with Town leaders and other stakeholders to explore opportunities for new development while ensuring dune protection is not compromised."
Chris Gibson, president of TI Coastal Services Inc. and the town's resident coastal engineer, said the proposed amendments go above and beyond CAMA regulations, which require a 60-foot building setback from the first line of vegetation.
What's important, he said, was that both the ordinance that was in place and the proposed revisions to it would provide more protection for second- and third-row homes landward of the dune system.
"Any excavation on the property has to stay on the property," he said. "Keep your material on your property and if you've got to knock it down push it forward so it stays in the system."
Topsail Beach has had a protective dune ordinance since 1994. After commissioners in June 2015 adopted revisions to the ordinance, several oceanfront property owners began challenging the changes, arguing that the revisions rendered their properties unbuildable.
Town code requires onsite parking for three vehicles at a house. A dozen owners of vacant, oceanfront lots south of the Sea Vista Motel at the southern end of town said that more sand would need to be moved on the lot than allowable to create enough space for parking on a practical driveway grade.
"We've been very tolerant throughout this process, but we can't continue down this path," said Kevin Combopiano, one of the property owners. "This is a property rights issue, not a political issue."
Property owners throughout the town, particularly those at the south end, opposed the proposed ordinance amendments. They've consistently raised concerns about whether moving more sand would weaken the protective dunes, which reinforce the frontal dunes immediately landward of the beach, and whether the proposed changes would affect flood insurance rates.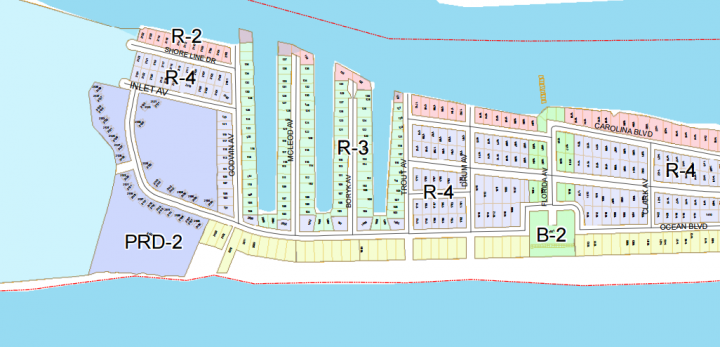 The vacant lots are adjacent to man-made finger canals connecting to the inlet. About 200 homes are built along the canals.
Jack Mackmull owns one of those homes.
"Many of us bought homes here because of the dune ordinance that's in effect," he said Wednesday during the public hearing.
Property owners on both sides of the argument have hired lawyers.
Attorneys representing opposing sides were among several who spoke during a two-hour-long public hearing the board held Saturday.
Raleigh-based attorney Todd Roessler said Wednesday that he represents a group of property owners opposed to the proposed amendments.
"I am somewhat surprised we're here tonight," Roessler said. "The dunes provide critical protection to floods. What you could be doing if you flatten this secondary dune is you would be scattering sand over the lot. It would increase the flood hazard and the town would be in jeopardy of losing its National Flood Insurance Program rating. We're not just talking about a handful of property owners. This could affect the entire community."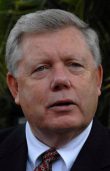 Commissioner Steve Smith said he takes the threats of lawsuits "with a grain of salt."
"We've been threatened a number of times with suits," he said. "Well, there's probably going to be a suit. Our job here is to protect the community for the lifestyle we want, how we want to run our community, and what we want to see in our community."
He called the senators' letter an "intrusion."
"They just can't come in and tell us how we can run our community," Smith said.
Commissioner Bone, as the sole board member to cast a nay vote on Eggleston's motion to repeal the ordinance, suggested his fellow board members table a vote.
"Did you have this letter written?" Eggleston asked Bone.
"I don't have that kind of power, Tom, but I appreciate that you think I do," Bone replied.
Board members alluded to the possibility of discussing in the future reinstating a protective dune ordinance.
"It doesn't mean we've stopped," Braxton said.
Learn More